2023 CAA Football
New & Comeback Talents Make 2022 Year Of The Quarterback In CAA
New & Comeback Talents Make 2022 Year Of The Quarterback In CAA
The CAA lost some standout quarterbacks, but a crop of players limited in 2021 and some newcomers promise to fill the void during the 2022 season.
Aug 2, 2022
by Kyle Kensing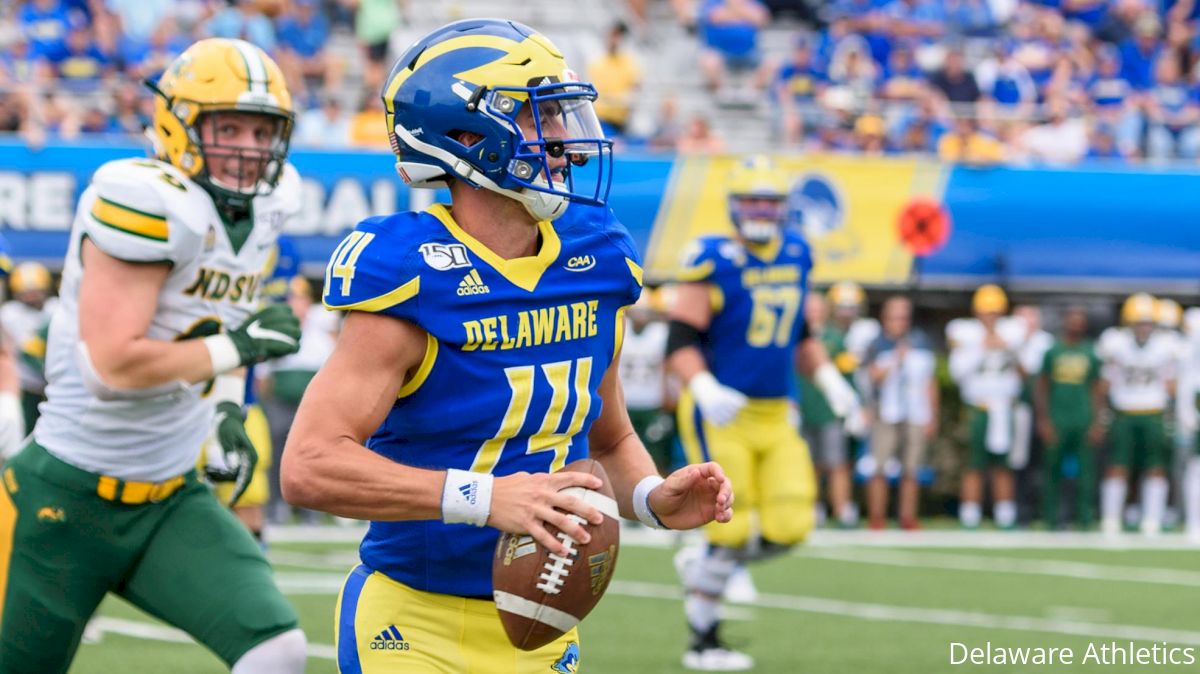 Losing Cole Johnson, Davis Cheek, Joe Mancuso and Dan Smith from its ranks seems like a surefire way for a downturn in quarterback play around the Colonial Athletic Association.
Not the case.
The 2022 campaign promises to be a showcase for some of the best quarterbacking of any conference in the Football Championship Subdivision, thanks to a variety of returns and new additions.
Quarterbacks either making their CAA introductions or returning from limited action in 2021 join the likes of Kasim Hill (Rhode Island) and Darius Wilson (William & Mary) to make this a special crop around the Colonial.
Joe Fagnano
Maine's Joe Fagnano emerged as a breakout performer in the latter-half of 2019, completing better than 60 percent of his pass attempts in seven appearances with 17 touchdowns and just three interceptions.
He produced two games with four passing touchdowns during the abbreviated spring 2021 season, and was set to put up big numbers in the fall with a wide-receiving corps that included Andre Miller.
A high-ankle sprain suffered early in the Week 2 loss to James Madison derailed plans for a big season, both for Fagnano and the Black Bears as a team. His return in November to lead wins over UMass and New Hampshire may not have been enough for Maine to mount a playoff push, but Fagnano's presence at the end of a 5-1 season finish set into motion the hopes for 2022.
"A lot of confidence brings a lot of energy to the team, knowing when we put it together, we can stack wins," Fagnano said.
Miller is gone, but Montigo Moss and Jacob Hennie should flourish with more touches. Tight end Shawn Bowman, meanwhile, is among the best pass-catchers at his position in the CAA and a proven target for Fagnano. Bowman caught a touchdown pass in each of the final two games with Fagnano back behind center.
TOUCHDOWN BLACK BEARS!!

Fagnano finds a wide open Shawn Bowman for the score!

Maine - 17
UNH - 20
2Q | 4:07#BlackBearNation | #ChampionshipMentality | #CAAFB pic.twitter.com/Wg50xXoFWw

— Maine Football (@BlackBearsFB) November 20, 2021
Max Brosmer
Veteran wide receiver Brian Espanet, New Hampshire's leading pass-catcher in 2021, said that Max Brosmer "was great as an 18-year-old kid in 2019," even though the Roswell, Georgia, native Brosmer "would admit he was average that year."
If Brosmer's average includes performances akin to his 25-of-32 passing with three touchdowns against Villanova in November 2019, and 24-of-34 with two scores to claim that season's Brice-Cowell Musket, then expect a monster 2022.
In addition to his consistent passing touch, Brosmer has wheels. His strength is passing in the pocket, but he will run when the situation dictates.
Brosmer with the fake!

First career rushing TD for true freshman Max Brosmer! 'Cats up 14-0 after the PAT!#CAAFB #UNHFootball #BeTheRoar pic.twitter.com/mpZFnn4akR

— UNH Wildcats (@UNHWildcats) September 21, 2019
Brosmer played just once since his promising freshman campaign, the result of COVID-19 shutting down New Hampshire's spring 2021 season and an ACL tear sustained before Week 1 a season ago.
"We're excited to have Max back," Espanet said. "I think he throws the most catchable and accurate ball in the entire league. … Having him back, he's the true leader of this offense. He's a guy who, when he got injured, there was no doubt he would come back and come back stronger."
Nolan Henderson
Delaware has no shortage of reasons to be excited about the Blue Hens offense in 2022. Ryan Carty returns to Newark after overseeing one of college football's most electrifying passing attacks at Sam Houston, during a run that included a spring 2021 national championship.
Another familiar face returns to operate the system, with Nolan Henderson back at 100 percent from the high-ankle sprain that limited him in the fall.
"Our offenses, that we've been in a part of on our offensive staff, it's about our quarterback, too. And our quarterback is one of the best in the league," Carty said.
Henderson was rock-solid while leading Delaware to the semifinals in the spring 2021 season, combining accurate passing with just enough of a threat to run that he kept defenses off-balance.
Sam Houston's tendency to put the ball in the air at one of the more active rates in the FCS means Henderson will have plenty of opportunity to make up for the passes he was unable to throw in 2021. But beyond just the change in offensive philosophy, Henderson expects to flourish under the tutelage of a head coach who intimately knows the job of Delaware quarterback.
"It's a really unique situation when you have your head coach be a former quarterback and do it at a high level," Henderson said. "Being able to have conversations like that where, if you aren't playing quarterback or never played quarterback before, you don't necessarily get…it's just next-level thinking."
Tony Muskett
Tony Muskett may head up a Monmouth team new to the conference, but his reputation proceeds him as evidenced by a 1st Team All-CAA selection.
"It's very awesome to be viewed by other coaches and be respected," Muskett said. "But it doesn't mean that much. It's preseason for a reason. We haven't played a game yet in the CAA."
True, the honor is only a predictive accolade, but Muskett arrives in the Colonial having earned plenty of honors while in the Big South Conference. He was twice named all-league, including earning Freshman of the Year in the spring 2021 campaign.
Muskett followed up his impressive debut with nine passing touchdowns and a completion percentage north of 63 with more than 2,600 yards, 25 touchdowns and 65 percent completions in the fall. Muskett also rushed for four touchdowns in the autumn season.
His presence running the Hawks offense could make them immediate challengers in a new-look CAA.
Reece Udinski
VMI transformed into one of the most prolific passing attacks in the country with Reece Udinski manning its air-raid offense. He passed for nearly 3,300 yards in 2019 and threw 19 touchdowns against only five interceptions.
Udinski was lighting up defenses once more while positioning the Keydets for a historic playoff appearance in spring 2021, but sustained a knee injury down the stretch. He spent the fall at Maryland but reunited with former VMI offensive coordinator Billy Cosh this spring at Richmond.
Future Maryland transfer QB Reece Udinski just threw this beautiful pass for his first touchdown of the 2021 spring season with VMI.

Udinski's stats as halftime nears: 20-29, 141 yards, one TD. Two rushes for 12 yards. pic.twitter.com/voK9UfjAeY

— Wesley Brown (@W_Brown21) February 27, 2021
"Having Reece all spring was huge for him, and us to get acclimated to him," Spiders coach Russ Huesman said.
Time to build chemistry with Richmond's deep and impressive rotation of pass-catchers should make Udinski dangerous. The Spiders bring back proven Swiss Army knife Aaron Dykes, as well as electric young receiver Jasiah Williams. But while Udinski gets comfortable with the returners at Richmond, his likely No. 1 target is someone the quarterback knows quite well: preseason All-American Jakob Herres. The 6-foot-4 Herres played with Udinski at VMI.