2022 CAA Football
Villanova Picked To Win CAA Football Championship In 2022
Villanova Picked To Win CAA Football Championship In 2022
CAA Football also announced its preseason all-conference team, Delaware led all schools with five players honored while Villanova had four.
Jul 28, 2022
by FloFootball Staff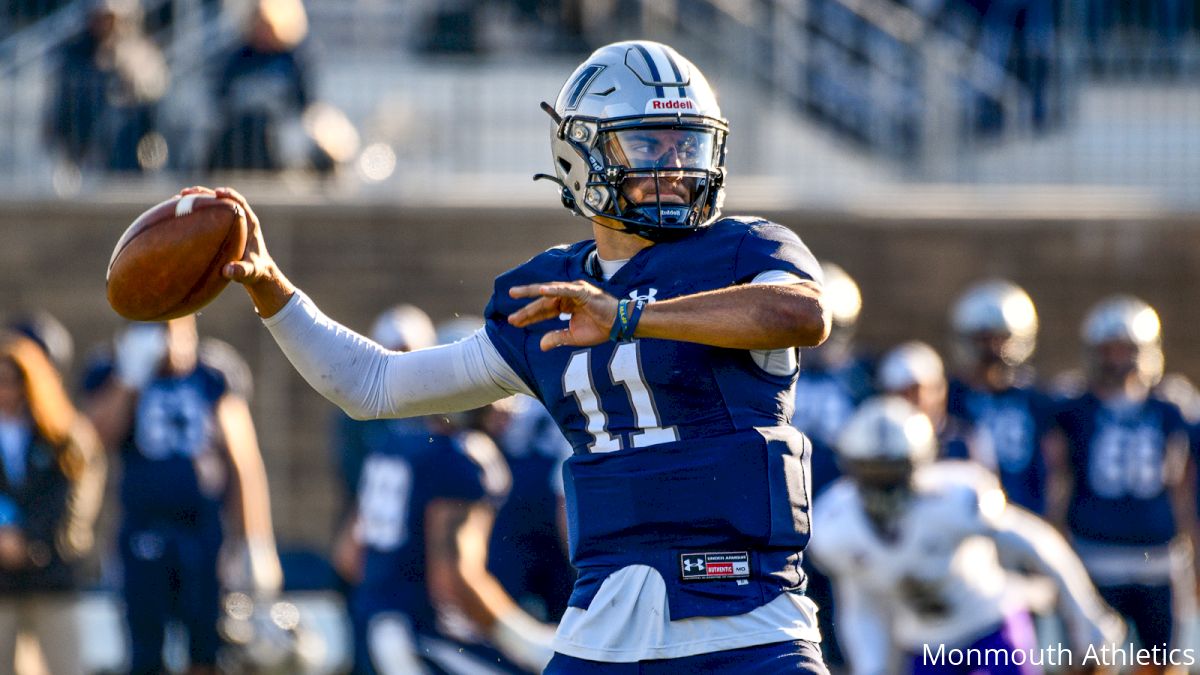 Villanova, which went 10-3 overall last season and earned a share of the CAA Football championship for the first time since 2012, has been picked to capture the CAA Football title again in 2022 according to a vote of the league's head coaches and media relations directors.
The Wildcats got 16 first-place votes and 270 points in the poll, topping rival Delaware, which received seven first-place votes and finished second with 235 points. Rhode Island placed third with 224 points and Richmond was close behind in fourth with 219 points. William & Mary, which picked up two first-place votes, and Elon, which received one first-place vote, finished fifth and sixth respectively in the poll. Stony Brook placed seventh followed by Maine, New Hampshire, Monmouth, Towson, UAlbany and Hampton.
Villanova returns many of its top offensive performers from last year's team that advanced to the quarterfinals of the FCS playoffs for the first time since 2014 and was ranked No. 8 nationally. Back for the Wildcats are receivers Rayjoun Pringle and Jaaron Hayek, who combined for 17 touchdown catches, running backs Jalen Jackson and DeeWil Barlee, and All-America offensive lineman Michael Corbi. On defense, safety Ethan Potter is among three returning starters.
Delaware begins its first season under new head coach Ryan Carty. Nine starters are back for the Blue Hens defensively, including All-America safety Kedrick Whitehead and All-CAA performers Johnny Buchanan, Noah Plack, Artis Hemmingway and Chase McGowan. Offensively, quarterback Nolan Henderson returns after a season-ending injury in 2021, along with top receiver Thyrick Pitts.
Rhode Island is coming off a 7-4 campaign, which marked its highest win total since 2001. The Rams feature quarterback Kasim Hill, All-CAA tight end Caleb Warren and an offensive line that returns four starters. Seven starters are back on the URI defense, highlighted by All-CAA cornerback Jordan Jones and leading tackler Evan Stewart.
Richmond closed the 2021 season on a four-game winning streak to finish 6-5 overall. Running back/returner Aaron Dykes tops a group of seven starters back for the Spiders' offense, which has added graduate transfer quarterback Reece Udinski and receiver Jakob Herres. There are also seven starters back on the Richmond defense, including All-America linebacker Tristan Wheeler.
CAA Football expands to 13 teams for the first time in 2022 as Hampton and Monmouth join the conference. CAA Football has had a team in the FCS championship game 11 times since 2003, a squad in the semifinals of the playoffs for the past nine seasons and a team in the quarterfinals every year since 1991. Eleven of the league's 13 current members have participated in the FCS playoffs since 2015
CAA Football also announced its preseason all-conference team. Delaware led all schools with five players honored while Villanova had four. Stony Brook running back Ty Son Lawton, who rushed a league-high 1,088 yards and 10 TD's in 2021, was named the preseason Offensive Player of the Year. William & Mary defensive end Nate Lynn, who was among the nation's best with 12 sacks and six forced fumbles in 2021, was chosen as the preseason Defensive Player of the Year.
2022 CAA FOOTBALL PRESEASON ALL-CONFERENCE TEAM
(Selected by a vote of Head Coaches and Media Relations Directors)
OFFENSE
Name, School Cl. Pos. Ht. Wt.
Tony Muskett, Monmouth Jr. QB 6-2 195
Ty Son Lawton, Stony Brook Sr. RB 5-10 215
Bronson Yoder, William & Mary Sr. RB 5-11 195
Luke Hamilton, Towson Sr. FB 6-0 245
Jackson Parham, Elon Sr. WR 6-3 205
Thyrick Pitts, Delaware Gr. WR 6-3 200
Rayjoun Pringle, Villanova Jr. WR 5-9 190
Caleb Warren, Rhode Island Sr. TE 6-3 235
Michael Corbi, Villanova Gr. OL 6-3 335
Nick Correia, Rhode Island Jr. OL 6-6 330
Colin Gamroth, Villanova Gr. OL 6-4 305
Michael Gerace, Maine Gr. OL 6-4 305
Kyle Nunez, Stony Brook Gr. OL 6-2 340
DEFENSE
Name, School Cl. Pos. Ht. Wt.
Artis Hemmingway, Delaware Sr. DL 6-2 265
Nate Lynn, William & Mary Sr. DL 6-3 265
Chase McGowan, Delaware Sr. DL 6-1 240
Josiah Silver, New Hampshire So. DL 6-2 234
Jackson Ambush, UAlbany So. LB 6-0 222
Johnny Buchanan, Delaware Sr. LB 6-0 230
Tyler King, Stony Brook So. LB 6-1 235
KeShaun Moore, Hampton Sr. LB 6-3 240
Tristan Wheeler, Richmond Jr. LB 6-2 228
Jordan Jones, Rhode Island Sr. CB 6-0 170
Ryan Poole, William & Mary Sr. CB 5-11 185
Cole Coleman, Elon Sr. S 5-10 193
Kedrick Whitehead, Delaware Sr. S 5-11 195
SPECIAL TEAMS
Name, School Cl. Pos. Ht. Wt.
Aaron Dykes, Richmond Sr. KR 5-11 202 .
Eddie Morales III, Monmouth Gr. PR 5-9 180
Skyler Davis, Elon Sr. PK 5-8 170
Tyler Pastula, UAlbany Jr. P 6-3 200
TD Ayo-Durojaiye, Villanova Sr. SPEC 5-11 210
CAA FOOTBALL PRESEASON OFFENSIVE PLAYER OF THE YEAR
Ty Son Lawton, RB, Stony Brook
CAA FOOTBALL PRESEASON DEFENSIVE PLAYER OF THE YEAR
Nate Lynn, DL, William & Mary
Honorable Mention
Nolan Henderson, QB, Delaware; Kasim Hill, QB, Rhode Island; Freddie Brock, RB, Maine; Juwon Farri, RB, Monmouth; Malachi Imoh, RB, William & Mary; Jadakis Bonds, WR, Hampton; Jaaron Hayek, WR, Villanova; Shawn Bowman, TE, Maine; Patrick Flynn, OL, New Hampshire; Colby Sorsdal, OL, William & Mary Anthony Lang, DL, UAlbany; Torrence Williams, DL, Elon; Evan Stewart, LB, Rhode Island; Tre'Von Jones, CB, Elon; Pop Bush, S, New Hampshire; Noah Plack, S, Delaware; D'Ago Hunter, KR/PR, Towson; Jourdan Townsend, PR, Delaware; Ryan Kost, P, Monmouth; Alex Washington, SPEC, William & Mary
2022 CAA FOOTBALL PREDICTED ORDER OF FINISH
(Selected by a vote of Head Coaches and Media Relations Directors)
Villanova (16 first-place votes) 270
Delaware (7 first-place votes) 235
Rhode Island 224
Richmond 219
William & Mary (2 first-place votes) 206
Elon (1 first-place vote) 191
Stony Brook 151
Maine 134
New Hampshire 117
Monmouth 105
Towson 81
UAlbany 64
Hampton 31