2023 CAA Football
CAA Study Guide: A Primer On The New Schools Joining In 2022-23
CAA Study Guide: A Primer On The New Schools Joining In 2022-23
Hampton, Monmouth, North Carolina A&T and Stony Brook were added to the CAA, here's a quick rundown on what each school brings to the table.
Apr 15, 2022
by Briar Napier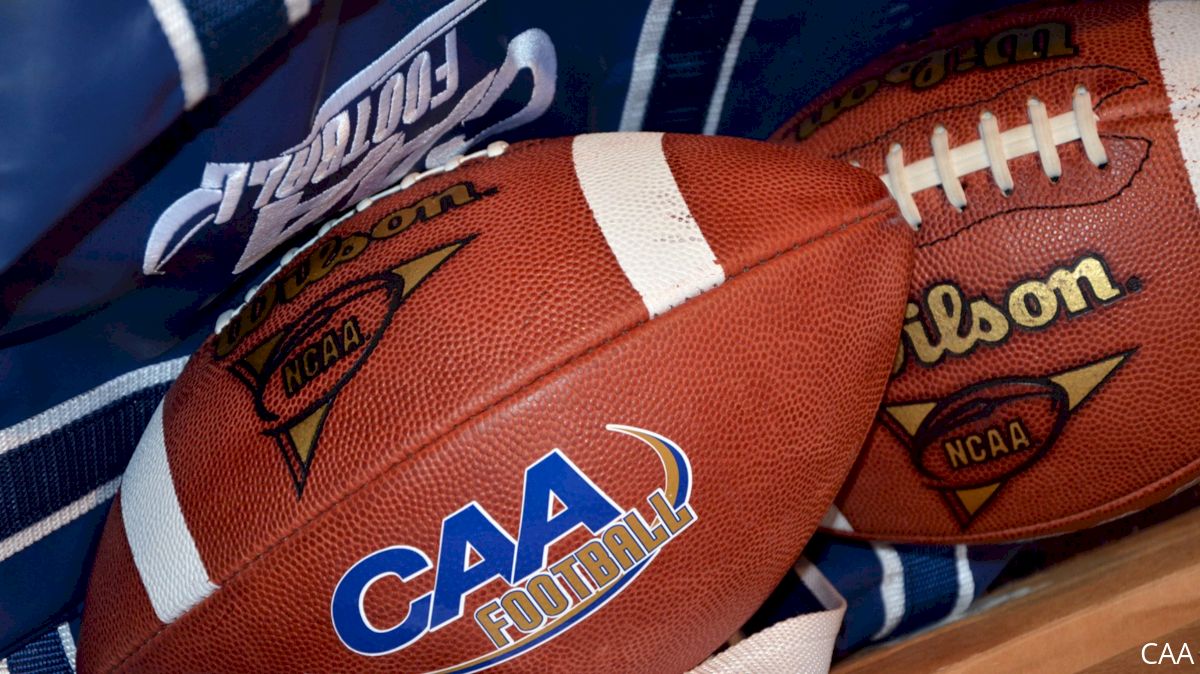 Welcome to the party, Hampton, Monmouth, North Carolina A&T and Stony Brook.
Those four schools will be full members of the Colonial Athletic Association soon, with most making the switch this summer following announcements to do so over the past year. Their addition will be a kickstart to the quality of competition across numerous CAA sports as all bring plenty of pedigree to the table.
But for CAA fans who may not know much about the new faces on the block coming next year, what are they all about?
Here's a quick look at each program joining the CAA fray in the near future, including their football histories, men's basketball culture and other notable sports.
Hampton Pirates
Outgoing League: Big South
Football:
As one of two historically Black colleges and universities (HBCUs) joining the CAA next year, Hampton brings an instant injection of history, tradition and school pride to the league for 2022-23. Hampton football is no different in that regard, winning five Black college national championships under former Hall of Fame coach Joe Taylor, including a three-peat from 2004-06. The program has produced many NFL vets including former linebacker Justin Durant and former defensive end Kendall Langford, but as of now is still trying to find its feet under fourth-year coach Robert Prunty. After not playing in 2020-21 due to COVID-19, the Pirates marked their return by going 5-6 in 2021.
Men's Basketball:
Hampton has made six NCAA Tournament appearances since the turn of the century, picking up a famous moment in Big Dance lore as the No. 15 Pirates shocked No. 2 Iowa State in the first round of the 2001 tournament—pulling off the 15-2 upset before the likes of Florida Gulf Coast, Oral Roberts and Saint Peter's made it cool. Coach Edward Joyner Jr. (who has been with the program since 2009-10) had some struggles during the team's four years in the Big South, but no one can take away the fact that Hampton has been to four different postseason events with him in charge: the CIT, CBI (twice), NIT and March Madness (three times).
Other Notables:
Hampton hired Ana Popovic, a Serbia native, to be the men's and women's tennis coach in 2021. Popovic played five years of tennis at Norfolk State from 2014-18 and later joined its former MEAC rival for the 2021-22 season. There have been some hiccups—the men went 3-14 while the women went 1-11—but the change in atmosphere could prove beneficial to both teams' separate growth. It's also one of the few HBCUs to have a lacrosse program as the men have been active since 2016.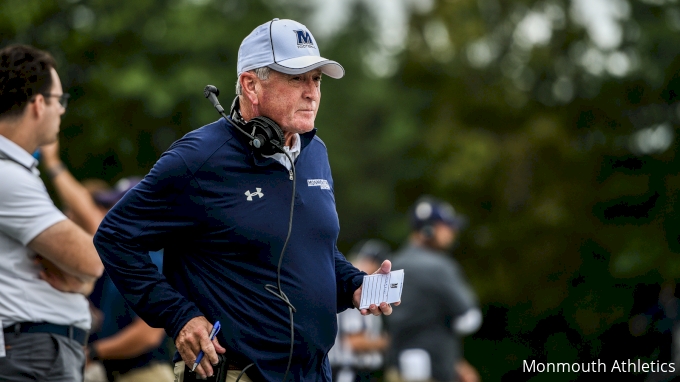 Monmouth Hawks
Outgoing League: Big South (football), MAAC (other sports)
Football:
Only one man, Kevin Callahan, can lay claim to being the football coach at Monmouth, a role he's held at the school since it created the football program in 1993. Seven conference championships and 173 wins later, it appears the administration in West Long Branch, New Jersey made the right choice. The past three years in particular, however, have been an especially exciting time for the Hawks, as they've been ranked in the FCS Top 25 on numerous occasions and won two Big South titles in 2019 and 2020. Boasting a solid crop of NFL alums such as wide receivers Miles Austin and Chris Hogan, Monmouth may be a program on the up at the FCS level—and a future key piece of CAA football.
Men's Basketball:
North Carolina star King Rice has been at the helm since 2011, the former Bahamas national team head coach having already seen one conference move in his tenure when the Hawks shifted from the NEC to the MAAC in 2013. That time in the MAAC, by the way, has been pretty solid: Rice helped take Monmouth to a trio of league regular-season titles in 2016, 2017 and 2021 plus two trips (in 2016 and 2017) to the NIT—though he hasn't taken it to the NCAA Tournament quite yet. Still, Monmouth has been a reliable mid-major in his time there, which has included a two-time AP Honorable Mention All-American (Justin Robinson) and a viral sensation in the form of its bench celebrations, particularly throughout the 2015-16 season.
Other Notables:
Monmouth baseball has been a bit of an under-the-radar pro factory. Eighteen players have been selected in the MLB Draft in school history, the highest selection being 2012 first-rounder Pat Light, who had a seven-year career in the pros and made it to the major leagues with 16 games as a relief pitcher. Pitchers Ed Halicki (who threw a no-hitter for the San Francisco Giants in 1975) and Brad Brach (a 2016 All-Star with the Baltimore Orioles) can claim themselves as former Hawks stars on the diamond, too. Longtime coach Dean Ehehalt's squad last won a conference title in 2018, but is still seeking a trip to the NCAA Tournament for the first time since 2009.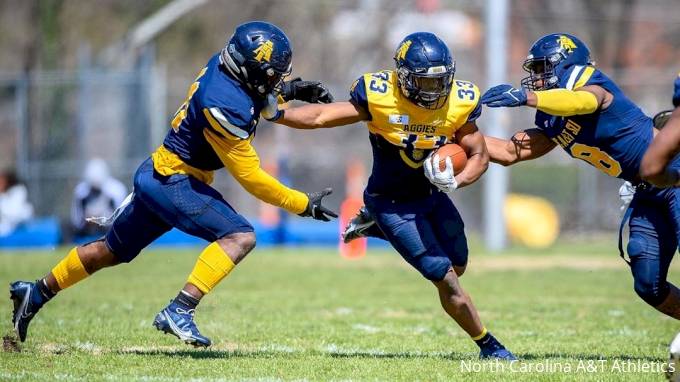 North Carolina A&T Aggies
Outgoing League: Big South
Football:
A&T football will be a year behind the rest of its school sports as it won't join the CAA in it until 2023. But once the Aggies come around, the league gets the most dominant HBCU football program of the past decade. Former coach Rod Broadway retired in 2017 after winning Black college football national titles in 2015 and 2017, but his defensive coordinator and eventual replacement, Sam Washington, didn't miss a beat as he followed up with two more Celebration Bowl wins in 2018 and 2019 to make it three straight. Featuring an esteemed history that includes being the alma mater of Hall of Fame defensive end Elvin Bethea, A&T will immediately compete upon entry into CAA football.
Men's Basketball:
The Aggies have 10 trips to the NCAA Tournament in school history on their resume—the most recent came in 2013 when A&T notched its first-ever win in March Madness with a triumph over fellow No. 16 seed Wagner in the First Four. Coach Willie Jones left the MEAC in 2021 in style with a regular-season conference title, but Year 1 in the Big South this past season likely didn't go to plan as the Aggies finished 12-20 with a 6-10 record in league play. Aggie basketball doesn't quite have the prestige the football program carries, but former guard Al Attles—who had a long career with the Golden State Warriors as both a player and coach—has his number retired both by his college team and his only professional one.
Other Notables:
The most famous student-athlete currently on campus doesn't play football, basketball or even, technically, on a field. Men's golfer J.R. Smith isn't like most freshmen in the fact that he's both 36 years old and spent 16 years from 2004-2020 as a high-flying shooting guard with five different NBA teams, winning two NBA titles and the league's Sixth Man of the Year Award in 2013. Smith made his collegiate debut in October and has competed with the Aggies throughout the season, making him not just the most recognized golfer in the CAA next year—but possibly the entirety of college golf.
Stony Brook Seawolves
Outgoing League: America East
Football:
The section is a bit moot as Stony Brook has been a member of the CAA in football since 2013. The school will likely hope that the full-school commitment to the CAA will be as successful in other sports as it has been in football, which has seen six players make NFL rosters since the switch from the Big South nearly a decade ago.
Men's Basketball:
Current Rutgers coach Steve Pikiell first made a name for himself at Stony Brook, where he spent 11 years coaching the Seawolves from 2005-16 and led the program to likely their crowning achievement—a 26-7 record, a sweep of the America East title and a No. 13 seed in that year's NCAA Tournament. His replacement, Jeff Boals, continued the positive momentum for three years with two CBI appearances before accepting a job at his alma mater, Ohio. Now, it'll likely be former Kent State and Bradley head coach Geno Ford at the helm for the move to the CAA, looking to build some consistency of his own after rebounding from a 9-14 season in 2020-21 with an 18-13 mark this past year.
Other Notables:
What's the most successful program in Stony Brook history at the Division I level in terms of conference championships? Without a doubt, it's lacrosse, and both the men and women can claim plenty of silverware. The men have three NCAA Tournament appearances in program history—even making the tournament quarterfinals in 2010—but are truly dominant in the women's game, being ranked as high as No. 1 in national polls under the winningest coach in program history, Joe Spallina. Additionally, the Battle of Long Island (Stony Brook's rivalry against Hofstra) will now get to be a conference showdown after years mending their schedules to fit each other in as a non-conference matchup.