2022 CAA Football
Breaking Down New CAA Members Hampton & Monmouth
Breaking Down New CAA Members Hampton & Monmouth
Hampton and Monmouth are bound for the CAA beginning in July, while Stony Brook—a football member since 2013—joins as a full partner.
Jan 28, 2022
by Kyle Kensing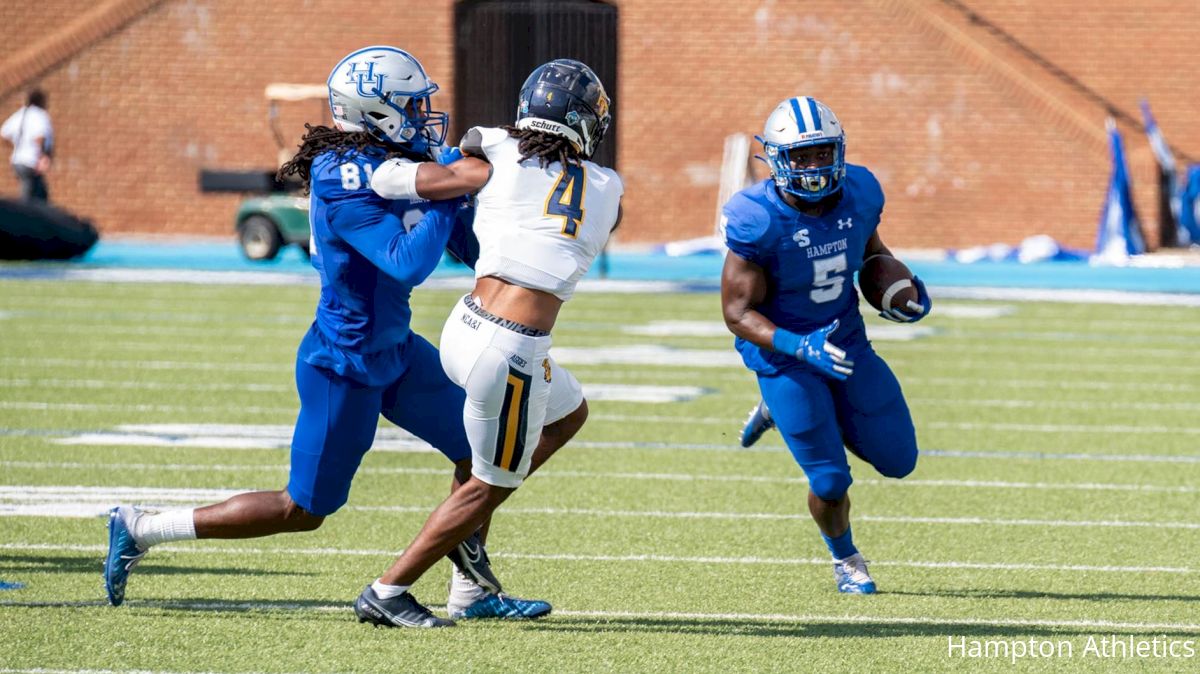 Colonial Athletic Association football makes it lucky No. 13.
Hampton and Monmouth are bound for the CAA beginning in July, while Stony Brook—a football member since 2013—joins as a full partner.
Both Hampton and Monmouth football exit the Big South Conference after brief memberships: Monmouth joined the league in 2014, Hampton came aboard the league in 2019.
The new arrivals make the CAA the largest football conference in the Football Championship Subdivision. League commissioner Joe D'Antonio said that decisions about scheduling formats—including the possibility of divisions, a concept the Colonial used during the shortened spring 2021 season—"will be made in the coming months."
As it stands, the geographic make-up of CAA football in 2022 spans nine states from New England down to North Carolina.
Maine
New Hampshire
Rhode Island
New York (UAlbany and Stony Brook)
New Jersey (Monmouth)
Pennsylvania (Villanova)
Delaware
Maryland (Towson)
Virginia (Hampton and William & Mary)
North Carolina (Elon)
The CAA welcomes more than an increase in size and footprint with the additions of Hampton and Monmouth. Each has a unique history and lofty potential as Colonial members.
Hampton
Hampton football celebrates its 120-year anniversary in 2022, launching the program 10 years after the first Black universities played the budding game.
In the century-plus since, Hampton's gone through a metamorphosis. Joining the CAA is a landmark moment in what university president Dr. William Harvey called "the evolution" of the athletic department.
Pirates football has indeed undergone an evolution in its long and storied history. Gideon Smith coached Hampton to the first of seven Black National Championships in 1922, but most of those crowns came under the leadership of one coach.
Joe Taylor—a 2019 inductee to the College Football Hall of Fame—led Hampton's seamless transition from Div. II to Div. I in the '90s. His Pirates teams went without a loss in the CIAA before moving up to Div. I-AA, and by their third year in the MEAC, they claimed the league's crown.
The 1997 MEAC championship marked the first of Hampton's five under Taylor, each of which resulted in a Div. I-AA/FCS Playoffs berth. Hampton won three straight from 2004 through 2006 and piled up 31 combined victories.
Hampton's playoff appearances over that stretch all ended against new conference counterparts: William & Mary in 2004, Richmond in 2005, and New Hampshire in 2006. The Pirates played both William & Mary and New Hampshire to thrilling finishes.
Just a few weeks after the late Denny Green famously shouted, "They are who we thought they were" following an Arizona Cardinals' loss to the Chicago Bears, then-New Hampshire quarterback Ricky Santos used similar language evaluating Hampton—though his assessment of Hampton was far more complimentary than Green's of the Bears.
"They were everything we thought they were," Santos told the Daily Press following New Hampshire's 41-38 win.
Santos is now New Hampshire's head coach, and will be among the CAA counterparts for the new era of Hampton football.
Robert Prunty is heading into his fourth season at the helm, taking over at Hampton in 2018 after tenures as an assistant at Texas Tech, Cincinnati and East Carolina. He has a defensive background, but in 2021, his Pirates were noteworthy for putting up points.
Hampton averaged 28 points per game last season, good for 46th in the nation. Two of its key playmakers return for 2022 in running back Elijah Burris, who rushed for 640 yards and six touchdowns, and wide receiver Jadakis Bonds.
Bonds should immediately contend to be the top pass-catcher in the CAA coming off a junior season in which he nearly amassed 800 yards and hauled in six touchdowns.
Monmouth
Fellow newcomer Hampton was celebrating its 91st year of football when Monmouth launched its program in 1993. The Hawks have had only one coach in that time, and what a career it's been for Kevin Callahan.
Callahan led Monmouth from inception, to independence, into the partial-scholarship Northeast Conference where the Hawks won five league championships. His 2004 team was named mid-major national champions, and the 2006 squad played in the Gridiron Classic against a University of San Diego squad with a coaching staff that included Jim Harbaugh and David Shaw.
Callahan's start came through new CAA counterpart UAlbany. He coached running backs there under Great Danes legend Bob Ford.
Forty-five years into his career, and entering his 30th season as the Hawks head coach, Callahan has done some of his best work in more recent years.
Monmouth transitioned to full scholarship commensurate with its agreement to join the Big South, and by 2017, the Hawks were in the league title hunt. Monmouth claimed two Big South championships in 2019 and the truncated 2020 season, the former culminating with an FCS Playoffs matchup against James Madison.
The Dukes—exiting the CAA for the Bowl Subdivision and Sun Belt Conference—won that meeting. However, Pete Guerriero made a lasting impression with one of the most exciting runs in FCS Playoffs history.
The Hawks come in swinging 🔥

Touchdown @MUHawksFB by Pete Guerriero!!!#FCS#FCSPlayoffs Q1 | MONMOUTH 7 | (2) JAMES MADISON 0 pic.twitter.com/33KnICiMxL

— NCAA FCS Football (@NCAA_FCS) December 7, 2019
The 2021 Hawks put up more than 32 points per game with a balanced attack: multifaceted in the run game, led by Juwon Farri's 705 yards, and dangerous through the air with Tony Muskett. Muskett finished 2021 completing 65.1 percent of his 367 attempts with 25 touchdowns and just six interceptions.
Both return in 2022. Monmouth also welcomes back Eddie Morales III for the Hawks' debut CAA season. Morales picked off three passes for last year's seven-win Monmouth bunch.