2022 CAA Football
Strong Run Vs. Strong Defense In Villanova Quarterfinal Matchup
Strong Run Vs. Strong Defense In Villanova Quarterfinal Matchup
Confidence in, and commitment to, the fundamental scheme has Villanova on the cusp of its first trip to the semifinals since 2010.
Dec 10, 2021
by Kyle Kensing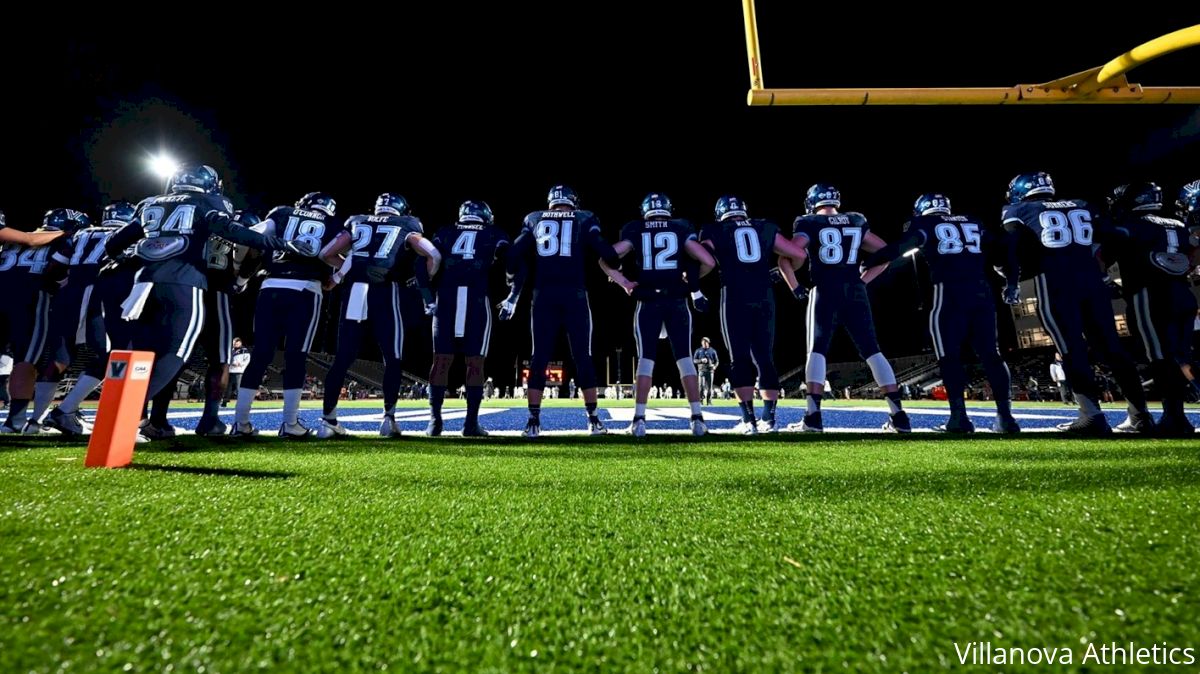 Strong works as an apt adjective for South Dakota State's run game, in more ways than one.
Pierre Strong Jr. comes into Saturday's FCS quarterfinal matchup with Villanova second in the subdivision at 121.2 rushing yards per game, powering the No. 9-most prolific ground offense in the nation.
"Pierre Strong's name's been out there for awhile," Villanova coach Mark Ferrante said. "But our philosophy's not going to change regardless who we're playing, whether it was the backs of Penn State, whether it's Pierre Strong, or whether it's anybody within our league of the [Colonial Athletic Association]."
Ferrante noted South Dakota State's 215-yard per game rushing offense is multidimensional. And indeed, Amar Johnson has added 365 yards with four touchdowns on the season.
But the return of Isaiah Davis to the Jackrabbits lineup in time for the playoff push makes South Dakota State particularly dangerous. Davis rushed for 217 yards and a touchdown in the 1st Round rout of UC Davis, and followed up with 108 yards and two scores at Sacramento State.
Isaiah Davis turns the corner and scores from 6 yards out

Second touchdown of the night and eighth touchdown in six career postseason games

South Dakota State 24, Sacramento State 0#GoJacks 🐰🏈

Video: ESPN+ pic.twitter.com/CWhYZZaiJO

— SDSU Football (@GoJacksFB) December 5, 2021
Add a trio of All-Missouri Valley Football Conference selections on the offensive line—Wes Genant, Aron Johnson and Mason McCormick—and the strength of the Jackrabbits rushing attack is that it's more than Strong.
Villanova would seemingly have to go deep into the bag to counter such a multifaceted look, but don't expect Wildcats defensive coordinator Ola Adams to make much in the way of changes.
"We're going to do what we do," Ferrante said. "We're going to look at their overall scheme and what they're trying to do offensively, and we're going to start with trying to stop the run."
Ferrante's assessment may seem cliched, but a Villanova defense that ranks 10th in the nation, holding opponents to an average of less than 100 yards per game, has thrived in 2021 with a straightforward approach.
One of the Wildcats' best performances during the regular season was one in which it allowed more yards than usual. In the win at James Madison, they surrendered 165 yards but limited the Dukes—playing just about the closest they had been to full-strength at running back all season—to 3.6 yards per carry.
Villanova didn't throw anything unexpected at James Madison as far as deviating from its 3-3-5 base, nor will it on Saturday.
"Their ability to not gimmick and line up in base defense and everybody knows what they're doing," South Dakota State coach John Stiegelmeier said, adding with a chuckle: "They do change some stuff up, but if they had their way, they would just line up in base defense and say, 'Show me.'"
Confidence in, and commitment to, the fundamental scheme has Villanova on the cusp of its first trip to the semifinals since 2010. Reaching Saturday's quarterfinals forced the Wildcats to test their excellent defense in a manner few opponents have been able to, with Holy Cross going for 161 yards at four per carry.
It helps when trying to counter the deep and diverse running offenses like James Madison, Holy Cross or South Dakota State when a defense has a linebacker like Forrest Rhyne.
The CAA Defensive Player of the Year was outstanding through every game to this point, but arguably the two best games to Rhyne's credit in 2021 were against James Madison, when he made 20 tackles; and in the playoff win over Holy Cross.
Rhyne racked up 21 tackles, including three for loss with two sacks, against the Crusaders.
ICYMI Forrest Rhyne led the defense in Friday night's WIN over Holy Cross with a career-high 𝟐𝟏 𝐭𝐚𝐜𝐤𝐥𝐞𝐬 💪#TapTheRock #GoNova pic.twitter.com/by5Tl9BG4m

— Villanova Football (@NovaFootball) December 7, 2021
The veteran linebacker has been a heat-seeker whether pursuing a ball-carrier or converging on pass-catchers in shorter routes. Ferrante described a symbiotic dynamic between Rhyne and the three-man front.
Malik Fisher, Bryce Ganious and Garrett Zobel all have proven ability to get into the backfield, but contribute just as much to Villanova's dominance against the run by eating up blocks.
"The reason Forrest has 21 tackles is our [defensive] linemen are doing a good job covering up the [offensive] linemen and they're not getting to the linebacker level," Ferrante said.
Creating push into the second level hasn't worked for many offenses against the Wildcats, but it's the Jackrabbits' bread-and-butter.
South Dakota State opened the season physically battering FBS opponent Colorado State, averaging 7.1 yards per carry. Strong went off for an average of almost 11 yards a touch with touchdowns.
The Jacks' signature win over North Dakota State, a 27-19 decision more lopsided than the score suggests, was a byproduct of South Dakota State getting 4.5 yards per carry on a defense that averages just 2.7 allowed.
Those games were South Dakota State's physical offense at its best. Even a sluggish showing like that, which the Jacks survived to beat Sacramento State in the round of 16—Stiegelmeier said. "If we play like that again, we're probably going to put our pads away"—was won thanks to their run game leaning on the line.
Ferrante said that while the fourth-down conversion that sealed the Jacks' victory was celebrated in the media as a "trick play," Sacramento State didn't flinch on the Wildcat snap to Davis.
South Dakota State's front just made a strong play to get the necessary few feet. And a few feet is all Saturday's quarterfinal could come down to.