2023 CAA Football
Powerhouse Montana Has Significance For James Madison
Powerhouse Montana Has Significance For James Madison
The 2021 Dukes can stake their claim as one of, if not the best in program history with a run to the national championship, but first, Montana.
Dec 8, 2021
by Kyle Kensing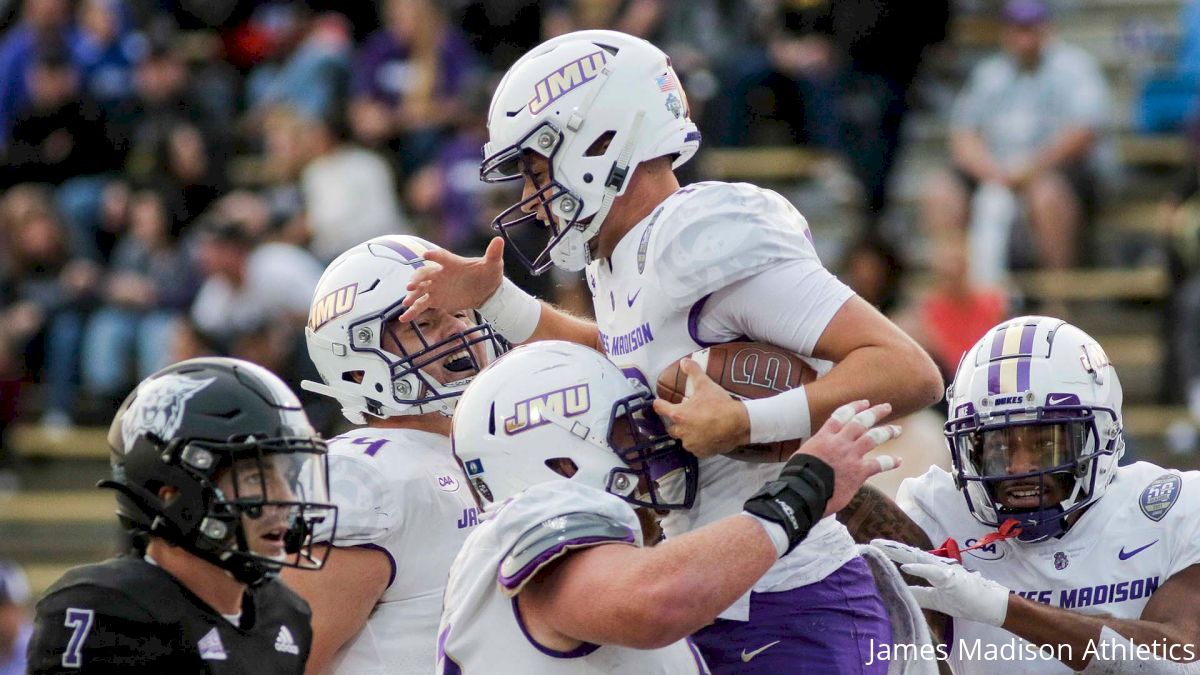 In its half-century existence, James Madison football has reached countless memorable milestones. None can ever surpass the culmination of the Dukes' 2004 season when they won their first national championship, by virtue of it being the first.
James Madison's pursuit of a third title—and what would be its final Div. I-AA/FCS championship by virtue of the Dukes' impending move to the FBS—calls back to that first crown claimed 17 years ago.
Montana visits Bridgeforth Stadium on Friday, one week from the day of the 2004 Div. I-AA National Championship Game. Things on the national landscape have not changed so much as both Montana and James Madison have remained consistently in the postseason hunt.
What's more, the Grizzlies have the same head coach in 2021 as they did 2004—albeit in his second tenure.
Bobby Hauck coached his alma mater from 2003 through 2009, in that time leading Montana to three National Championship Games. After the last of those title-game runs, in which the Griz lost to Andy Talley's Villanova Wildcats, Hauck accepted the head coaching position at UNLV.
His return to Montana in 2018 restored a program that had met uncharacteristic struggles for most of the decade into the title contender visiting Harrisonburg on Friday.
"Been a good program for a long time," James Madison coach Curt Cignetti said. "Coach Hauck's won a lot of games at Montana, does a great job."
Hauck is 108-28 in his two runs at Montana, including back-to-back 10-win seasons in the Griz's past two full seasons. Montana won 10 twice in the entire time Hauck was gone, and have yet to return to the National Championship Game.
"The expectation in the locker room is there," Hauck said of upperclassmen leading the Griz in advancing in the Playoffs, a process that began in the round of 16 with a convincing win over Eastern Washington. "They're not hoping that we win, they know we're going to win. They know the mechanism for it…and that leads to us being a hard team to beat."
If the 2021 squad is to reach Frisco, it will do so by emulating an opponent that made the trip two years ago.
"They remind me some of our '19 team," Cignetti said. "They have a great defense."
The 2019 Dukes stormed to the title game in part on the strength of a deep, talented defense that excelled in every facet. The 2021 Griz feature playmakers at every position, and hold opponents to 15.3 points per game.
That's good for eighth in the country, one spot ahead of James Madison at 15.8 points allowed a contest.
2021 Montana also bears a similarity to the 2004 runners-up in its proficiency intercepting passes.
Seventeen years ago, the Griz racked up 23 interceptions; good for third in the nation. They come into this year's matchup with 18, also good for third, behind the FCS leader in picks, Justin Ford.
A significant difference in these Playoffs compared to 2004: Bridgeforth Stadium. While the National Championship Game was played at Finley Stadium in Chattanooga, the Dukes did not play a single postseason contest at home.
As former Dukes head coach Mickey Matthews told the Associated Press ahead of the championship: "We've traveled the rough road."
Another difference over the decade-plus since James Madison and Montana faced: Bridgeforth itself.
Four years after that championship-game encounter, the Dukes and Griz met in what is the only other matchup between the two—perhaps surprisingly, given how good the two programs have been consistently.
Montana won a 35-27 decision in the 2008 FCS semifinals, advancing to the National Championship to face Richmond. James Madison would have to wait another eight years before winning it all.
Bridgeforth Stadium underwent dramatic changes in the 13 years since that meeting. The Dukes also aim for a different result.
Bridgeforth had a different look last time Montana came to town…

New house, same fight!

Make your plans now - it's time to pack the place this Friday night!

🎟 | https://t.co/hCBPk5Txzr#GoDukes pic.twitter.com/Imw8AUhdA9

— James Madison Athletics (@JMUSports) December 5, 2021
"We were kind of a young team that entered the season without much regard for it," Hauck said. "Had gotten better through the season. We played well…Mickey Matthews is a good friend of mine, and he was pretty disappointed because that was the best team he had at JMU."
The 2021 Dukes can stake their claim as one of, if not the best in program history with a run to the national championship. While it wouldn't be the first, winning it in their last opportunity would be a special moment—and takes beating one of the forerunners of FCS football again to continue the pursuit.