2022 CAA Football
Villanova, Holy Cross Share Unlikely History
Villanova, Holy Cross Share Unlikely History
When the Wildcats and Crusaders cross paths, historic implications have followed.
Dec 3, 2021
by Kyle Kensing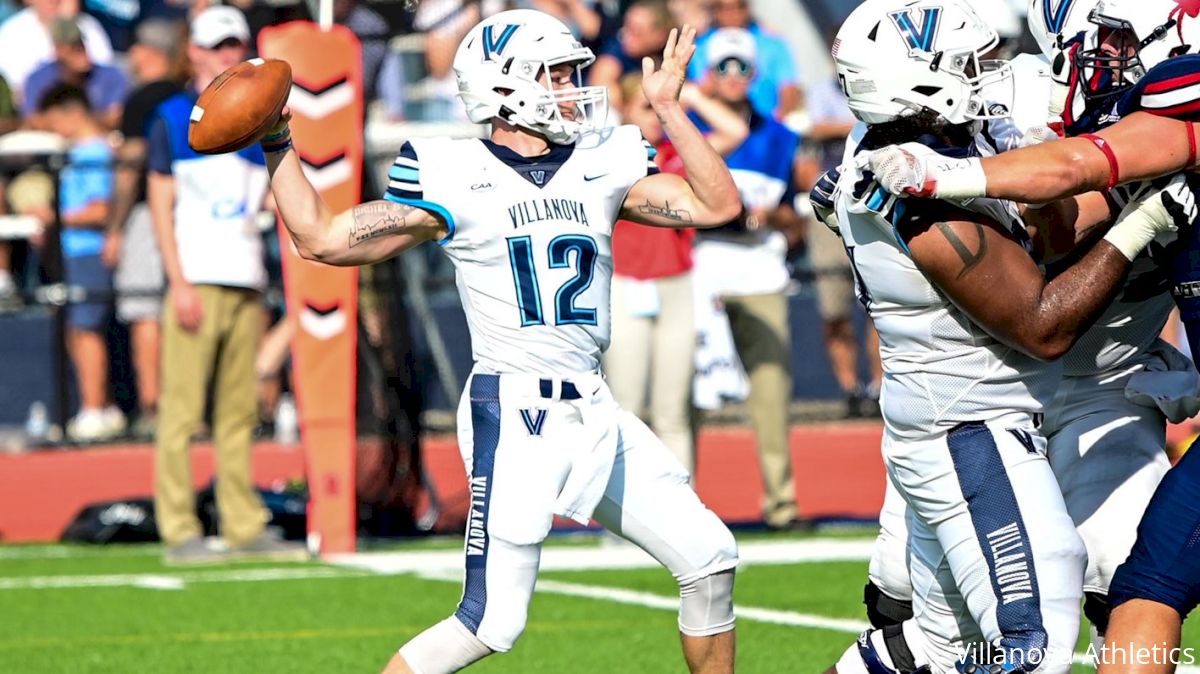 FCS Playoffs opponents Holy Cross and Villanova have not played often; Friday at Villanova Stadium marks the 23rd meeting in 99 years since they first met.
But when the Wildcats and Crusaders do cross paths, historic implications have followed.
Their intersection of landmark moments include 1961, when one of the all-time great Villanova teams—a squad that capped the season beating Wichita State in the Sun Bowl—beat Holy Cross early in the campaign, 20-6.
Fast-forward a quarter-century, and Holy Cross captured the imagination of the entire college football world.
Crusaders two-way standout Gordie Lockbaum joined Oklahoma linebacker Brian Bosworth, Temple running back Paul Palmer, Michigan quarterback Jim Harbaugh and the winner, Miami quarterback Vinny Testaverde, at the 1986 Heisman Trophy presentation.
Lockbaum returned to the Heisman picture in 1987 and finished third in the voting. Aside from Steve McNair in 1994, no other Div. I-AA/FCS player has ever earnestly been in the Heisman conversation, let alone finish as a finalist—say nothing of doing it twice.
Through his historic runs to New York City, Lockbaum today imparts lessons from his experiences to another historic Crusaders team.
"He was doing this on the biggest stage before this school probably had any thoughts of being on that stage," current Holy Cross coach Bob Chesney said. "He lived it, and had the experience of it, and in the end when he comes back and talks to these guys, it's about their time together and cherishing those moments together."
At this time of year in particular, when the next loss signifies a team's last game, the urgency to make each moment memorable is heightened. Lockbaum certainly accomplished that in his Holy Cross swan song.
He caught 15 passes for 196 yards in his final collegiate game, both program records, and surpassed the school's career marks in both categories. The Crusaders won in a 39-6 rout that night to complete a perfect 1987 season.
Their opponent? Villanova.
Chesney joked about having Lockbaum come speak to the 2021 Crusaders, having been on "one of the last ones to beat this Villanova team down there."
September 1989 marked the last Holy Cross win in the series. Twenty years later was the last time they played at all, a 38-28 Villanova win that kicked off the Wildcats march through the 2009 FCS Playoffs to the national championship.
Each program's small place in truly landmark moments for the other provides the backdrop for what could be another historic installment.
The Crusaders head into Villanova having already reached a new milestone in their 130 years of fielding football. The 13-10 defeat of Northeast Conference champion Sacred Heart in the First Round marked the first playoff win in Holy Cross history—and what a way to win.
Lockbaum's message of cherishing special moments applies to Crusaders quarterback Matt Sluka, who delivered on one of the most dramatic touchdowns in FCS Playoffs history.
We're just gonna keep watching this over and over. @MatthewSluka ➡️ @jalencoker #GoCrossGo pic.twitter.com/KTw6jnXKUa

— Holy Cross Football (@HCrossFB) November 28, 2021
"I was just going through my reads, checking the safeties, starting with the middle," Sluka said. "Just seeing if Justin [Shorter] or Ayir [Asante] were open. Then I saw the safety rotate over, and that worked out to Jalen [Coker] and we were able to make a play on it.
"Having Jalen out there definitely makes it a lot easier," Sluka added.
The Holy Cross of 2021 is significantly different from the 2009 version, which Hall of Fame Villanova coach Andy Talley said following the playoff win had "probably the best passing game we have seen this year."
These Crusaders rely more heavily on the run, starting with the versatile Sluka and his 762 yards rushing. But as he proved to beat Sacred Heart, Sluka can make key plays with his arm.
More than just making a play, Sluka's pass and Coker's incredible catch made history.
"Just making history is always great," Sluka said. "But just doing it in the way he did made it a little more special."
One playoff win for Holy Cross is historic; a trip to the quarterfinals with a defeat of fifth-seeded Villanova would be perhaps the most significant moment for this program since Lockbaum's Heisman contention garnered national attention.
But this Villanova team may be the most equipped for a national championship run since the 2009 Wildcats. The multifaceted run game with Justin Covington, Jalen Jackson and DeeWil Barlee at running back, and Dan Smith at quarterback is humming.
Forrest Rhyne has made tackles all over the field, and Christian Benford has the numbers to back up the case that he's the nation's best cornerback. Villanova may be primed for a special postseason, a culmination of the tireless work Talley and now Mark Ferrante put into building Wildcats football.
Chesney knows of that work well.
Another intersection of these programs came when a young Chesney spent the early portions of his career near greater Philadelphia.
Before turning Assumption into an unlikely Division II contender, Chesney worked as defensive coordinator at Division III Delaware Valley in Bucks County. He then spent time at King's College in Wilkes-Barre before landing at Johns Hopkins.
"We've gone down and worked those camps [at Villanova]," Chesney said. "When I was at Johns Hopkins, I'd go quite a bit. When I was at Assumption, I'd go down and work those camps and [they have] just great, great people all the way around."
Chesney said he spoke to Talley on Tuesday, and considers Ferrante "a friend." And the bonds run deeper with Wildcats outside linebackers coach Matt Colangelo, a captain on Chesney's first team at Assumption.
Colangelo coached with Chesney at both Assumption and Holy Cross between Colangelo's two tenures at Villanova. That added bit of familiarity gives a more personal touch to the surprisingly rich history of this series.