2022 CAA Football
Turnover-Causing Machine Christian Benford Powers Nova Defense
Turnover-Causing Machine Christian Benford Powers Nova Defense
Playing what Mark Ferrante called "super corner," Benford has been central to one of the best defenses in the nation.
Dec 3, 2021
by Kyle Kensing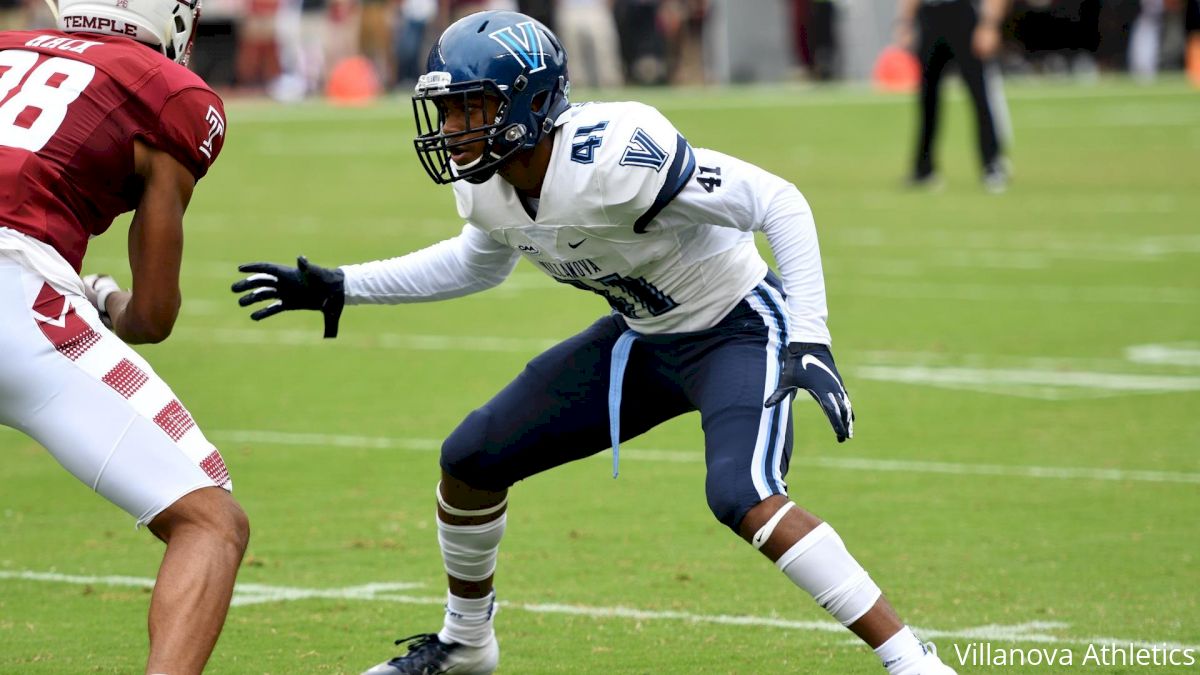 Coming up as a young football player, Christian Benford was often around the ball either as a running back, quarterback or wide receiver.
Benford said that his experiences at Randallstown High School in Maryland gave him "a feel for the ball," that still shows up today at Villanova—even if Benford now plays defense.
Playing what Mark Ferrante called "super corner," Benford has been central to one of the best defenses in the nation. The Wildcats rank No. 8 in FCS in points allowed, No. 5 in passing defense and No. 3 in total yards given up.
Ahead of a playoff matchup with 10-win Patriot League champion Holy Cross, Benford leads the FCS with 16 pass break-ups and 23 total passes defenses. The closest competition in the latter category, Jason McLeod of Penn, defended 18 passes.
Benford ranks second nationally in interceptions with seven, including a pair of two-pick games against Holy Cross' Patriot League counterparts Lehigh and Bucknell.
Christian Benford PICK SIX! @NovaFootball with 38! First-half points and still 9 minutes until the break.#CAAFB pic.twitter.com/bkxwW5XfUY

— CAA Football (@CAAFootball) September 11, 2021
He kept it up in Colonial Athletic Association play with interceptions against Rhode Island, Stony Brook and the conference championship-capping defeat of rival Delaware.
𝗦𝗻𝗮𝗴𝗴𝗲𝗱!

That's 🖐 interceptions this season for Christian Benford! pic.twitter.com/osYn4Fp4MO

— Villanova Football (@NovaFootball) October 26, 2021
Benford's otherworldly play earned him First Team All-CAA alongside teammate and Colonial Defensive Player of the Year, linebacker Forrest Rhyne.
His 2021 campaign elevates the remarkable standard Benford set in 2018, his freshman season.
Ferrante said Benford "has played ever since he arrived on campus as a true freshman," and the Maryland product validated his coaches' confidence with a five-interception, 11 pass-defense debut season that culminated in his winning CAA Defensive Rookie of the Year.
All are impressive accomplishments on their own, and doubly so considering Benford made a position move upon arriving at Villanova.
He said he played on both sides of the ball in high school, but his defensive contributions were at safety.
"It wasn't my dominant position," Benford said of playing safety. "When I would go to camps, I'd do both sides [offense and defense]. Some schools liked me on offense. Obviously, Villanova liked me on defense."
Choosing a program was less about the position Benford would play, and more about the school's appeal. Benford said Villanova provided "a great feel," so committing to defense was no problem.
Neither was transitioning to cornerback. Despite playing safety in high school, Benford acclimated to corner instantly.
He debuted with five tackles and a pass breakup in the 2018 season-opening defeat of FBS rival Temple. Benford broke out in a big way later that year with a three-interception performance against Richmond.
Congratulations to freshman Christian Benford on being named @CAAFootball Co-Rookie of the Week #GoNova #TapTheRock pic.twitter.com/ztAlvcB8hk

— Villanova Football (@NovaFootball) November 5, 2018
Establishing himself as a quick learner prompted the Villanova staff to give a heavier workload to Benford.
"Coach [Ola] Adams, our defensive coordinator [and] defensive backs coach, he'll give Christian even a couple other tips beyond what he gives everybody, just to have him do things that some of the other guys aren't ready for."
Indeed, Benford credited the Villanova coaching staff for nurturing his interest in studying the game and facilitating his workout regimen.
And the responsibilities Benford has been willing to take on go beyond practice. While an offense might typically counter a cornerback as proficient at creating takeaways as Benford is by throwing away from him, Villanova ensures opponents don't have that option by lining the cornerback up against teams' best wide receivers.
In the Wildcats' signature win over James Madison, he helped limit Antwane Wells Jr. to 47 yards on four receptions. Benford closed the regular season with what was arguably his most impressive showing to date, picking off a pass, breaking up two, and holding Delaware's Thyrick Pitts—a potential NFL receiver—to one catch for 12 yards.
Benford's Villanova career is one for the record books if it ended now. With a playoff run still to come, however, the quarterback/running back/wide receiver/safety-turned-cornerback has plenty more opportunities to be around the ball.