2021 Pop Warner Football Super Bowl
The Pop Warner Super Bowl Is Upon Us
The Pop Warner Super Bowl Is Upon Us
The 2021 Pop Warner Football Super Bowl is set to begin on the morning of Dec. 4 and runs through Dec. 11, with all of the action LIVE on FloFootball.
Dec 2, 2021
by FloFootball Staff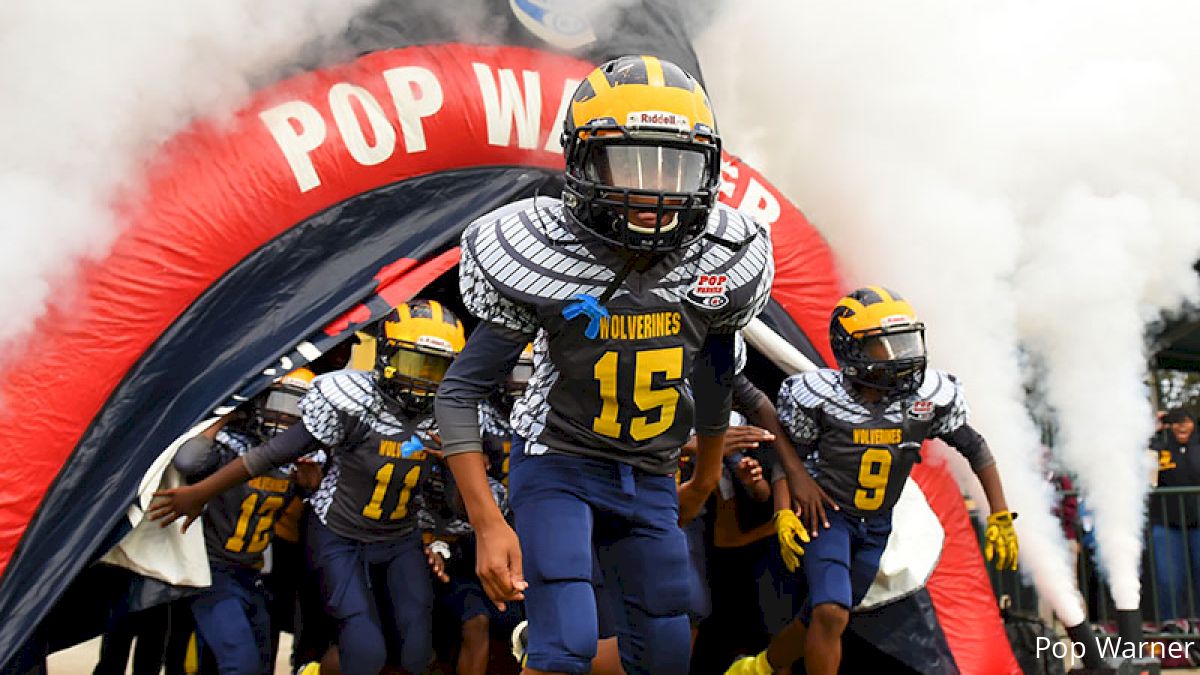 With the holidays upon us, it is once again time for a December tradition unlike any other — and, no, we're not talking about fighting through crowds at the mall or incessantly hitting 'refresh' on those FedEx tracking links.
It's time for the Pop Warner Super Bowl hosted by Florida Citrus Sports.
The brackets have been released and an overview of the schedule is included below, so take a look, set your alerts and settle in for a week full of the best youth football in the world. And don't forget to check out the Bracket Release show on YouTube.
The action kicks off on Saturday, Dec. 4, bright and early, with a flurry of games slated for 8:30 AM EST and all of the action will be coming to you LIVE on FloFootball.
Traditional | Jr. PeeWee
Saturday, Dec. 4
Fontana Falcons vs. Portage Indians @ 12:30 PM
Lower Perk Longhorns vs. Westchase Colts @ 2:30 PM
Capital City Steelers vs. East Orange Jr. Jaguars @ 2:30 PM
Far West Snakes vs. Highlands Ranch Mt. Lions @ 2:30 PM
Traditional PeeWee
Sunday, Dec. 5
NRWF Red Bulldogs vs. Souderton Braves @ 8:30 AM
Westchase Colts vs. Brea Wildcats @ 10:30 AM
Traditional Jr. Varsity
Saturday, Dec. 4
Lake Mary Rams vs. IL Jr. Celtics @ 8:30 AM
Santa Margarita Eagles vs. Highlands Ranch Mt. Lions @ 10:30 AM
---
Age Base D1 - 8, 9, 10
Sunday, Dec. 5
Titletown Titans vs. East Bay Warriors @ 8:30 AM
Abington Raiders vs. Tampa Bay Cardinals @ 8:30 AM
La Costa Canyon Mavericks vs. KC Dynasty @ 8:30 AM
Portsmouth Bruins vs. Mt. Hope Cowboys @ 8:30 AM
Age Base D1 - 10, 11, 12
Sunday, Dec. 5
Escondido Wolves vs. Port Charlotte Bandits @ 10:30 AM
Northampton Indians vs. Patriots YFL @ 10:30 AM
West Lake Chaps Red vs. Churchland Tigers @ 10:30 AM
Danbury Trojans vs. Santa Cruz Seahawks @ 10:30 AM
Age Base D1 - 12, 13, 14
Sunday, Dec. 5
Dorchester Eagles vs. Richmond Heights Conquerors @ 12:30 PM
Hartford Hurricanes vs. FOE Nicetown Titans @ 12:30 PM
Wilmington Eagles vs. Vista Panthers @ 12:30 PM
Pine Hill Trojans vs. Saddlerback Valley Bears @ 12:30 PM
---
Age Base D2 - 8, 9, 10
Saturday, Dec. 4
Coastal Cowboys vs. West Haven Seahawks @ 8:30 AM
Portage Indians vs. Palm Beach Gardens Gators @ 8:30 AM
Schenectady Belmont Patriots vs. Reno Miners @ 8:30 AM
Creekside Warriors vs. Northampton Indians @ 8:30 AM
Age Base D2 - 10, 11, 12
Saturday, Dec. 4
Truckee Wolverines vs. Satellite Beach Seahawks @ 10:30 AM
Oceanway Buccaneers vs. Wilmington Eagles @ 10:30 AM
Colorado Springs Vikings vs. Edgewood Eagles @ 10:30 AM
Downingtown Young Whippets vs. Munster Colts @ 10:30 AM
Age Base D2 - 12, 13, 14
Saturday, Dec. 4
Windsor Jr. Warriors vs. Churchland Tigers @ 12:30 PM
Derita Warriors vs. Northampton Indians @ 12:30 PM
Carlsbad Battling Lancers vs. Fort Pierce Firehawks @ 12:30 PM
Addison Cowboys vs. Reno Miners @ 12:30 PM