2021 UMASS vs New Mexico State
NMSU, UMass Look To Close 2021 On A High Note
NMSU, UMass Look To Close 2021 On A High Note
After a pair of road trips to SEC Country for games against Alabama and Kentucky, NMSU returns to Las Cruces for the finale.
Nov 24, 2021
by Kyle Kensing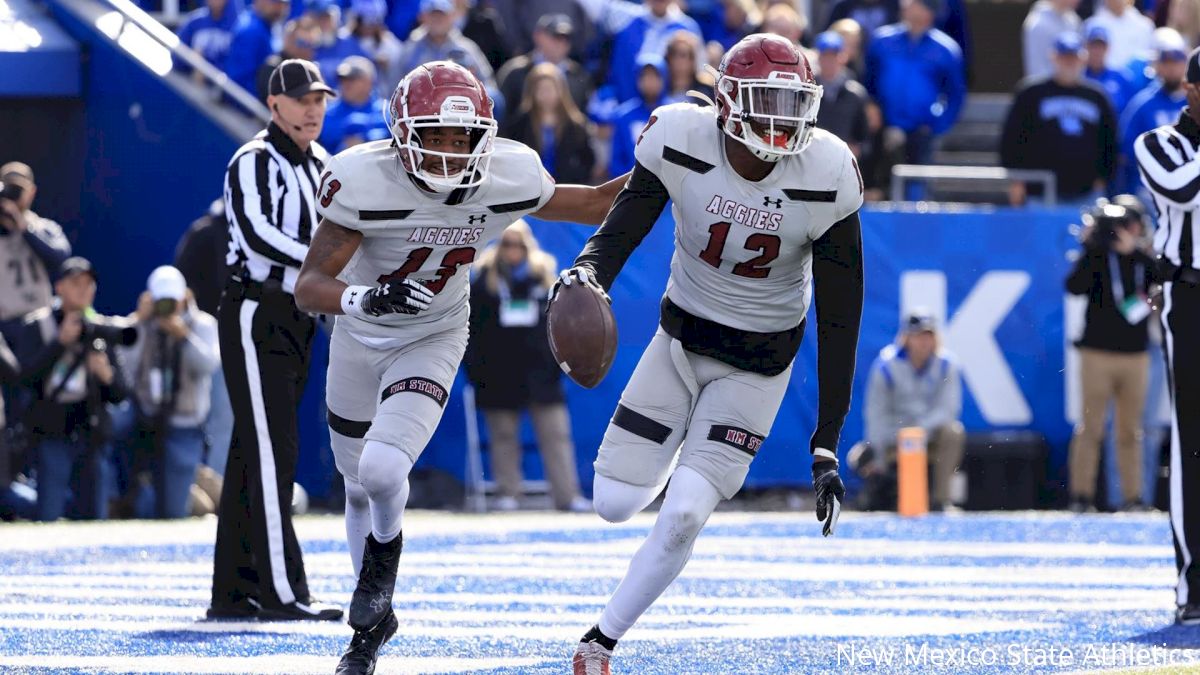 An opportunity to close 2021 on a positive and start building for 2022 awaits UMass and New Mexico State in Week 13.
After a pair of road trips to SEC Country for games against Alabama and Kentucky, NMSU returns to Las Cruces for the finale. Aggies coach Doug Martin welcomes the return, and chance to send out the graduating players with a win.
"This has been a great senior group," Martin said in his postgame press conference following the Nov. 20 game at Kentucky. "They've been through a lot of adversity so it would be nice to send those guys out with a win. I appreciate all of their efforts through the years, and I'm sure our guys will show up and play as hard as they can for them."
UMass aims to spoil New Mexico State's Senior Day and put an exclamation point on a big week for the program. The university announced the hiring of Don Brown as its new head coach earlier this week.
Brown returns to Amherst where, from 2004 through 2008, he coached the Minutemen to winning records every year he was there. The 2006 team reached the FCS National Championship Game.
Until Brown arrives for the 2022 season, he's finishing up business about three hours to the west of where the 2021 Minutemen play on Saturday. Interim coach Alex Miller seeks his first win before exiting the post.
Who Runs It?
Neither UMass nor New Mexico State has been particularly strong at stopping the run this season. The Aggies rank No. 105 nationally at 188 yards allowed per game, while the Minutemen have given up almost 240 for the fifth-highest per-game yield.
However, New Mexico State's offense leans primarily on the pass at 256 yards per game and a little more than 91 per rushing. Although that's partially by design, with the Aggies attempting about 100 more throws than runs on the year, NMSU has produced just three yards per carry when it does go to the ground.
How much Martin opts to set up the passing game through the run should be an interesting subplot. Opportunities will be there if UMass' previous outings are any indication, and the Aggies are coming off a game at Kentucky in which quarterback Jonah Johnson was able to make some plays with his feet.
UMass attacks with the run more frequently and averages almost a yard more per attempt. Running back Ellis Merriweather has been solid with an output of 88.2 yards per game, good enough to rank in the top 40 of all Division I ball-carriers. He should eclipse the 1,000-yard game for the season after Saturday.
Takeaways And Tone-setting
NMSU and UMass have been on two opposite ends of the spectrum when it comes to turnover creation. The Aggies boast one of the most prolific takeaway-generating defenses in the country with 20 on the season.
D.J. McCullough and Caleb Mills have picked off multiple passes; so has Syrus Dumas, who has played two of his best games in the Aggies' last couple. He made two tackles for loss at Alabama and broke up three passes at Kentucky.
Chris Ojoh, who had three tackles for loss at Alabama, has had a knack for jarring the ball loose. All told, New Mexico State has multiple ways to take away the ball.
UMass has been on the wrong side of the turnover battle for much of the season, averaging a differential of almost minus-one per game. Maintaining possession is critical for the Minutemen, as is finding some ways to create takeaways.
They have just two interceptions as a team on the year, but Johnson can be prone to picks: He's thrown as many (eight) as he has touchdown passes. Gerrell Johnson has forced three fumbles for the Minutemen on the year and could be a difference-maker against the Aggies.
Finish The Game, Finish The Season
Both NMSU and UMass have had flashes in losses this season suggesting with a little bit more depth, they would have stronger overall records. While the very brief leads New Mexico State held at both Alabama and Kentucky aren't indicative of larger trends, the Aggies did put up strong fights throughout against Mountain West opponents San Diego State, Hawaii and Utah State.
Attrition impacted NMSU in those losses. Against a more comparable opponent, the Aggies should have an opportunity to close in the fourth quarter.
The same is true for UMass, however. The Minutemen struggled down the stretch in their home finale against Maine, and played Army West Point to within two points going into the fourth quarter a week ago.
Sustaining the level of play for a full 60 will get one of the two into the win column for a second time in 2021.