2021 Richmond vs William & Mary
Red-Hot Richmond Can Spoil William & Mary Playoff Hopes In Capital Cup
Red-Hot Richmond Can Spoil William & Mary Playoff Hopes In Capital Cup
One of either Richmond or William & Mary will pull ahead when they meet Saturday in Williamsburg for the Capital Cup.
Nov 19, 2021
by Kyle Kensing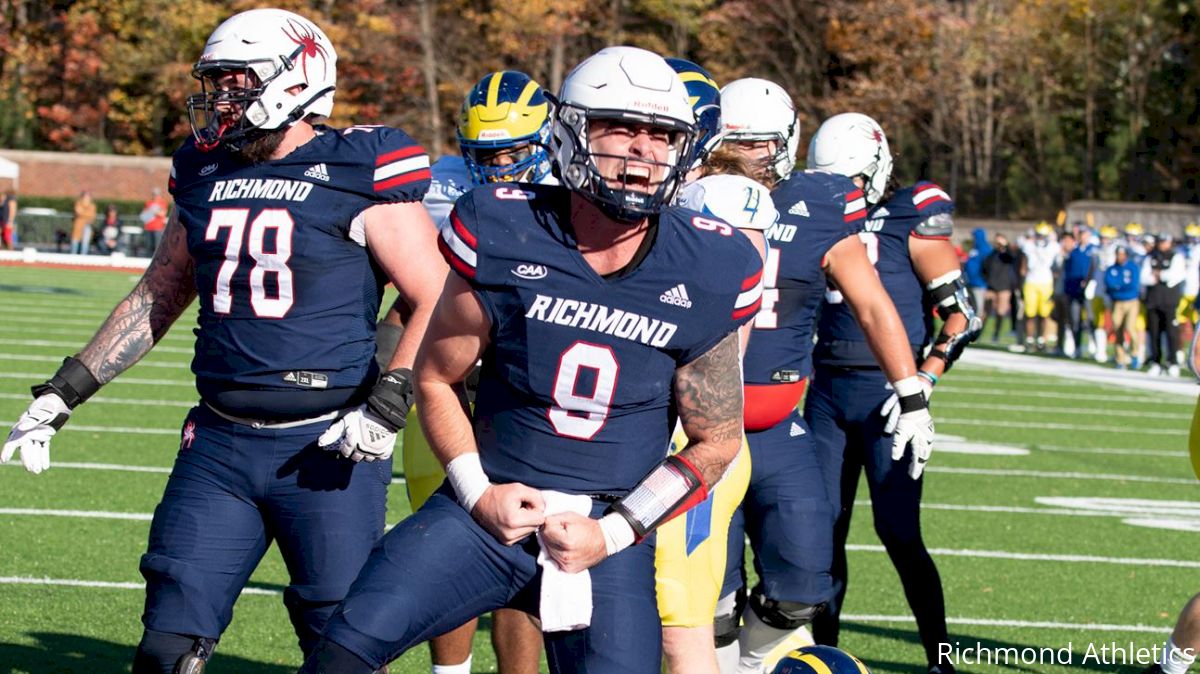 The South's Oldest Rivalry is also the most competitive in college football: 63-63-5 since its inception in 1897.
One of either Richmond or William & Mary will pull ahead when they meet Saturday in Williamsburg for the Capital Cup.
"The Capital Cup is huge," said Richmond coach Russ Huesman. "I know it's very, very important to WIlliam & Mary and it's very, very important to the University of Richmond."
No more motivation needed.

oUR Capital, oUR Cup!#OneRichmond @CandFBank pic.twitter.com/CR3077sP5X

— Richmond Spider Football (@Spiders_FB) November 17, 2021
For the Spiders, this season's edition is an opportunity to close a trying 2021 with a winning record and on a four-game winning streak. Richmond's one of the hottest teams in the country over the past few weeks, rolling by double-digit-point margins in each of the last three.
"This is the last game of the regular season...and the last week for a lot of us. That's another thing going into this week that's important," said Spiders defensive tackle Kobie Turner.
For the Tribe, winning the Capital Cup could send them to the Playoffs for the first time since 2015. But that part of Saturday's contest is secondary to William & Mary coach Mike London.
"I'm gonna go with Jim Mora: Playoffs?!" he joked, invoking one of the all-time great press-conference rants.
"We're going to take care of the things we can take of," London added. "That's playing for the Capital Cup. That's playing for the opportunity to have seven wins."
No Average Joe
Joe Mancuso's return to the lineup ignited Richmond's winning streak. He accounted for four touchdowns (three passing, one rushing) against New Hampshire on Oct. 30, and five (three passing, two rushing) last week vs. Delaware.
Mancuso's dual-threat playmaking opens up the rest of the field in turn for explosive running backs Aaron Dykes and Savon Smith. Limiting Mancuso's options thus becomes job No. 1 for the William & Mary defense.
"You better have your eyes on him<" London said. "You better have your defenders knowing where he's at at all times. He does a great job with their play-action passes, he does a great job with their RPOs. He distributes it to [Jasiah] Williams and Aaron Dykes and all those other guys."
The Tribe will need an effort similar to their showing in the win at Villanova, when they held Dan Smith to just 10 yards rushing. Shutting down running lanes turned into opportunities for takeaways in the passing game, and William & Mary made four interceptions in their marquee win.
Defensive Line Dominance
Saturday's matchup features arguably the two best defensive lines in the CAA. Not for debate is that each team has one of the conference's two leaders in sacks between William & Mary's Nate Lynn and Richmond's Darius Reynolds.
Lynn has been a terror this season, combining his tenacious pass-rush with an uncanny ability to generate turnovers. Reynolds is no slouch in that regard, either, having helped set up Kobie Turner for a fumble-recovery touchdown in the Spiders' Nov. 6 defeat of Towson.
Kobie Turner coming up huge to give @Spiders_FB it's first lead of the game!#CAAFB on @FloFootball
:https://t.co/JHpSKnO4zj pic.twitter.com/gYCGhKsYoB

— CAA Football (@CAAFootball) November 6, 2021
As for Turner, the standout tackle comes into the Capital Cup with touchdowns in each of the last two games.
That's two TD's in two weeks for Kobie Turner!

And don't forget that sack by Philip O'Connor!@Spiders_FB up 37-21 in the third #CAAFB pic.twitter.com/3eU0BlwIhx

— CAA Football (@CAAFootball) November 13, 2021
Turner's much more than a touchdown-scoring machine, of course. The Conductor's made 50 tackles on the year, a lofty number for an interior lineman, with 10 tackles for loss, four sacks and a remarkable nine quarterback hurries.
On the flipside, William & Mary's defensive line dares opposing offenses to double-team Lynn⁠—in which case, Carl Fowler and Will Kiely can wreak havoc.
Freshman In A Big Spot
William & Mary offensive coordinator Christian Taylor doesn't overthink the Tribe's attack. With a variety of run-game weapons, they find what works and attack.
"Once they find that crease, they're going to keep exposing that," Turner said.
Some of William & Mary's depth is uncertain, with leading ball-carrier Donavyn Lester missing the last two games. Malachi Imoh's return to the lineup in recent weeks provides a boost, and versatile Bronson Yoder made a statement with a touchdown last week against James Madison.
All eyes could be on Darius Wilson, however. The freshman quarterback has been an electric playmaker in his debut campaign and one of the primary rushing threats for the Tribe. Saturday, he'll be spied by a linebacker corps that includes some of the CAA's best in Tyler Dressler, Tristan Wheeler and Philip O'Connor.
Wilson has a chance to carve out his name in the illustrious history of the Capital Cup. Responding to the pressure with a potential playoff bid on the line promises to be his highest hurdle.