2022 CAA Football
CAA Notebook: Plenty Left To Play For
CAA Notebook: Plenty Left To Play For
In these final two weeks, more opportunities to create memories, to celebrate with teammates and to accomplish goals.
Nov 9, 2021
by Kyle Kensing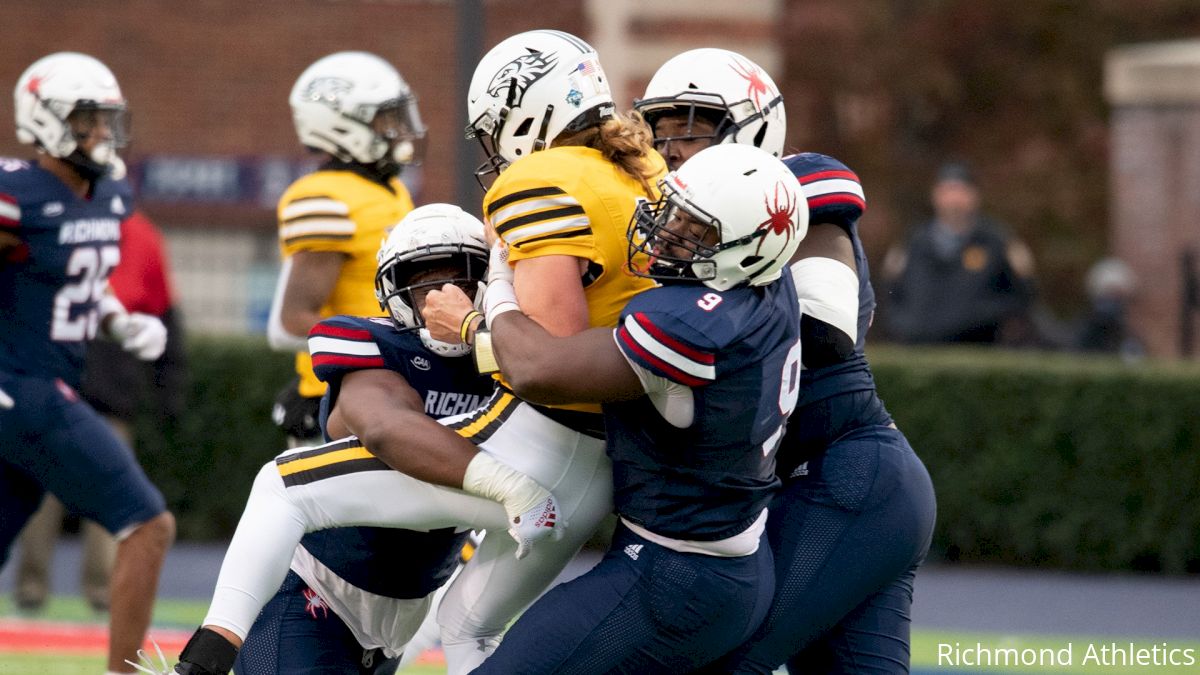 A midseason lull amid injuries and a difficult schedule ended Richmond's hopes of a Colonial Athletic Association championship and berth in the FCS Playoffs. But after a 28-17 win over Towson—the Spiders' second consecutive CAA win—coach Russ Huesman detailed how his team keeps motivated in pursuit of a strong finish.
"Our guys wanted to play. They're playing for each other right now," he said. "They know we've got two more, and we want to play as hard as we can, as well as we can for these next two games and send the [seniors] out [on a winning note]."
The college football landscape has evolved in unimaginable ways. When the Supreme Court ruled on NCAA v. Board of Regents of the University of Oklahoma in 1984, the Justices could not have imagined a world in which fans could watch games from anywhere in the world on handheld devices.
And as the sport's popularity grew exponentially with a brave new television world opened four decades ago, the quality of play has elevated to match that.
Division I football players look like pros on Saturdays. But the operative word in the sport's title is still college. For those other six days of the week—and oftentimes, before and after games on Saturdays—they are still students pursuing goals beyond the gridiron.
"We've got a bunch of guys [who] are never going to play football again. Darius Reynolds is one of them," Huesman said.
It's hard to imagine Reynolds not at least getting a look at the next level given his play in 2021. But if the coming weeks are indeed the end of his career, Reynolds is going out with a bang.
He recorded an astounding 4.5 sacks against Towson, a total so eye-popping it prompted Huesman to marvel.
"I was shocked! That's a year for a lot of guys," he said.
✅ Program-record 4.5 sacks
✅ Most sacks in a CAA game since 2012
✅ Eight tackles & a forced fumble
✅ Dominant defensive performance @dvrius_jermvine is the @CAAFootball Co-Defensive Player of the week for his performance against @Towson_FB!#OneRichmond @SpiderAthletics pic.twitter.com/vAC2oE7Cei

— Richmond Spider Football (@Spiders_FB) November 8, 2021
Reynolds' season's worth of production in one day included a strip-sack that set up another Spiders senior, Kobie Turner, for a touchdown.
"I forced the fumble, so I'll take credit for that," Reynolds said with a wry smile. "But nah, I love Kobie. Any time he's doing well, usually the rest of the defense is doing well...I love that guy. It's nice to see him rewarded with a touchdown."
Another Spiders senior, linebacker Tyler Dressler, put his stamp on the season with a pick-six in Saturday's win.
Tyler Dressler wants in the end zone too!

Second defensive TD on the day for @Spiders_FB #CAAFB on @FloFootball
:https://t.co/JHpSKnO4zj pic.twitter.com/ZRZZxQzX1v

— CAA Football (@CAAFootball) November 6, 2021
Manifestations of the sacrifice put in through countless hours of practices, weight-room workouts and film sessions fuel those nearing the end of the road.
Even in a trying season, the opportunity to earn these rewards and leave an imprint on a program remains. UAlbany, which suffered repeated heartbreak in an 0-8 start, finally broke through in Week 10 with its 20-7 defeat of New Hampshire.
"It's good to see our hard work come to fruition," Great Danes running back Karl Mofor told WTEN in his postgame interview.
And no one saw more coming to fruition than Mofor, who rushed for 222 yards and two touchdowns on a whopping 45 carries.
TOUCHDOWWNNN GREAT DANES!@MR__PLAYMAKER pushes the lead lead to 20-0 with a HUGE run! #BeGreat #WinTheDay 🟪🟨 pic.twitter.com/JRV8KY1m8a

— UAlbany Football (@UAlbanyFootball) November 6, 2021
"I really trust him with the football in his hand," said UAlbany coach Greg Gattuso, who also heaped praise on a physically battered offensive line, down two guards and a tackle. "It's a team effort when you run the ball well."
And that sense of team kept UAlbany together in pursuit of success, even when the dream of matching a historic 2019 season fell out of reach.
"I can't really say enough about our kids. They're good teammates, they care about the program. They've stuck together," Gattuso said. "Karl said it best after the game…'Sometimes you start doubting, what you're practicing for when things aren't going your way.' But they never gave up, and that's really the key."
More opportunities to create memories, to celebrate with teammates, to accomplish goals the vast majority of people can only dream of remain in these final two weeks.
If the record-setting days Mofor and Reynolds put together in Week 10 are any indication, expect the CAA's outgoing seniors to wrap with a flourish. Then, expect them to excel in whatever comes next.
"They're all going to be successful someday," Huesman said. "That's what you go to college for. A small percentage go on to play in the NFL or any of the other leagues. They come here, they picked the University of Richmond because they know it's going to provide them an opportunity for the next 40 years of their life."
The Playoff Chase
For those CAA teams still in the conversation for the Playoffs, the coming two weeks are critical. James Madison and Villanova are the closest the conference has to locks, but they don't want to leave anything to chance on selection Sunday.
The Dukes and Wildcats are also at the forefront of the conference championship chase. If Villanova wins out in games against Stony Brook and at rival Delaware, it earns a conference championship and an automatic bid into the FCS Playoffs.
James Madison begins its final stretch with William & Mary, which also remains in the conference title hunt despite its loss at Delaware last week. A Tribe win on Saturday gives William & Mary the head-to-head tiebreakers over both JMU and Villanova, thus Mike London's squad would only need another Villanova loss and to beat Richmond for the Capital Cup in order to claim the CAA championship and automatic bid.
Rhode Island's emphatic win over UMass rejuvenated the Rams' prospects for their first Playoffs since 1985. URI closes with New Hampshire and a trip to Elon.
At 8-3, the Rams would have a difficult resume for the selection committee to ignore.
Warm It Up Kris
Kris Thornton has been outstanding at wide receiver for James Madison all season, but even he sounded a little surprised assessing his performance in a 51-14 rout of Campbell.
Thornton noted his four touchdown catches, a James Madison record, nearly matched his scoring output for the entire campaign thus far.
Touchdown @JMUFootball. Cole Johnson finds Kris Thornton for a 25-yard strike. pic.twitter.com/smRBEdnbL8

— CAA Football (@CAAFootball) November 6, 2021
"It obviously feels great to have a record," he said. "Hopefully it can stand for some time."
Big South Conference member Campbell fast discovered the tough choice CAA defenses have had to face when matching up with the Dukes' passing game in 2021: To focus on Antwane Wells Jr., or lock in on Thornton?
Either decision can prove costly.
"We had a lot of one-on-one opportunities with them trying to slow down Antwane, and I took advantage of them," Thornton said.
A Career To Remember
Elon's Homecoming matchup with Villanova did not go the way the Phoenix would have liked, but the day was not without its high points.
Aaron Mellette was inducted into the Elon Sports Hall of Fame in recognition of one of the all-time standout FCS careers. Mellette caught for more than 1,000 yards each season from 2010 through 2012, including a whopping 1,639 in 2011.
His encore in 2012 came in the form of 18 receiving touchdowns.
The two-time All-American gave plenty of fans moments to remember, and he's now a part of Elon history forever.
What a day it was to be inducted to my alma maters sports hall of fame . One of the best days of my life @ElonPhoenix @elonuniversity https://t.co/7VYVIWQh5H

— Aaron Mellette (@A_Mellette3) November 7, 2021