2021 Utah State vs New Mexico State
New Mexico State Aims To Slow Surging Utah State
New Mexico State Aims To Slow Surging Utah State
Juwaun Price is coming off a monster performance in Oahu. The NMSU running back went off for 159 yards and two scores.
Nov 5, 2021
by Kyle Kensing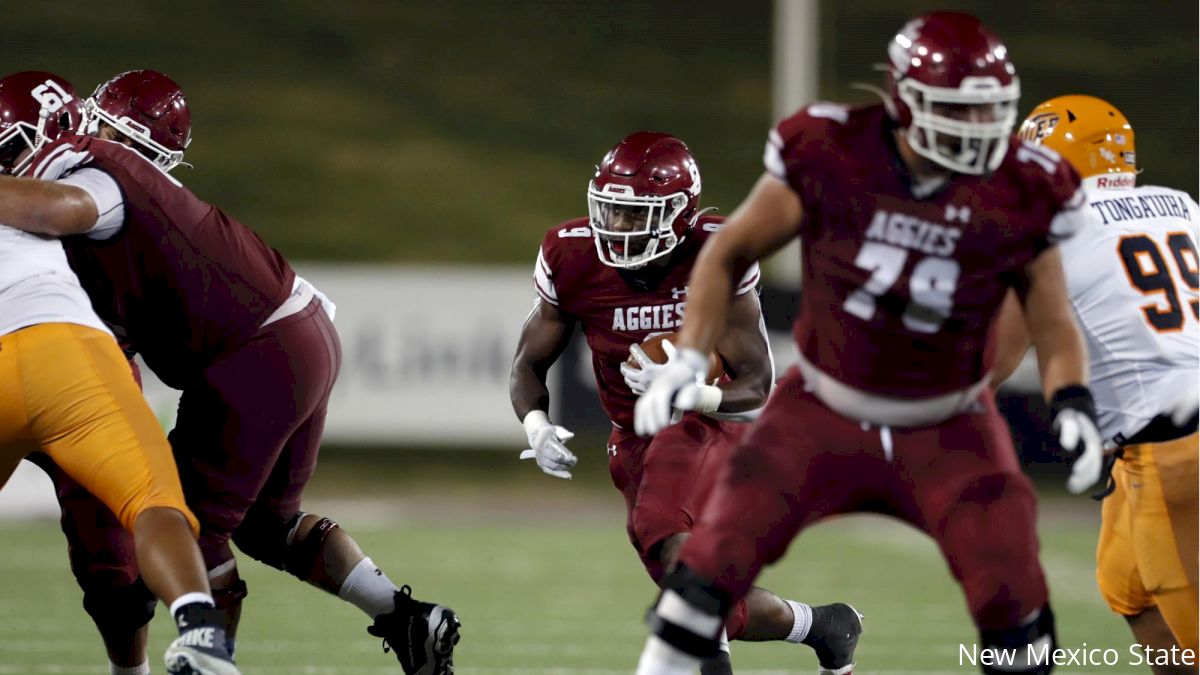 One of this college football season's most remarkable stories is the first-year turnaround of Utah State under coach Blake Anderson.
The longtime Arkansas State coach left Jonesboro for Logan in the offseason, and his success in the Sun Belt immediately carried over to the Mountain West. Utah's Aggies are 6-2, leading the MW's Mountain division and in control of their path to the conference championship game.
They're just a year removed from a 1-5 finish and midseason split with the head coach.
Utah State breaks from its pursuit of a Mountain West championship for a non-conference tilt at New Mexico State. Saturday marks the Aggies'—Las Cruces Aggies—fifth game against its fourth MW opponent since Sept. 25.
Anderson noted in his press conference on Monday that New Mexico State took San Jose State to the wire on Oct. 2 and was tied with Hawai'i in the late third quarter two weeks ago.
NMSU also gave a handful to one of the co-leaders in the MW West division, San Diego State, early in the season. The New Mexico State Aggies will look to break through against the Mountain West when the Utah State Aggies come to town.
The Price Is Right
Juwaun Price is coming off a monster performance in Oahu. The NMSU running back went off for 159 yards on just 17 carries and scored twice.
Aggies coach Doug Martin told the Las Cruces Sun Price has "emerged as a go-to running back."
How about @JuwaunPrice_9 Saturday night!

🏈 - 17 rushes
🏈 - 159 yards
🏈 - 2 touchdowns
🏈 - 9.4 YPC #AggieUp | 🏈 pic.twitter.com/P9FW8s9r4c

— New Mexico State Football (@NMStateFootball) October 26, 2021
Price's outburst against Hawai'i adds some needed balance for a New Mexico State offense that was one of the nation's least consistent on the ground. That's partially by design; Utah State's Anderson noted in his press conference that NMSU isn't afraid to throw early and often.
The 374 pass attempts New Mexico State quarterbacks have combined for, the majority of which have come from Jonah Johnson, are fifth-most in the FBS.
However, NMSU's best hope for applying pressure to Utah State may be in leaning on Price and the run game. USU ranks No. 99 in FBS against the run, and have allowed five yards per carry on the season.
Establishing an effective ground game is partially contingent on limiting Utah State's excellent ball-hawking linebacker, Justin Rice. Rice has 70 tackles on the season, including 9.5 for loss, and has at least been in on a TFL in every game.
Turnovers Equal Upsets
Utah State, which is dead even on turnover margin this season, has two games in which it finished minus-two in takeaways. No coincidence those are the Aggies' only two losses.
Amid a three-game winning streak, Utah State has finished on the plus-side of the turnover margin each time out.
New Mexico State's defense has had its struggles, but garnering takeaways is a strength. The Aggies have generated multiple turnovers in five of their last eight games. Syrus Dumas can be a game-changer, boasting three interceptions despite missing four contests.
Linebacker Chris Ojoh's ability to generate pressure could factor into New Mexico State's turnover-creation prospects. Ojoh has forced a pair of fumbles and wreaked some havoc with nine tackles for loss and four sacks.
At 64 tackles for loss allowed, Utah State has been one of the nation's most susceptible offenses to allowing opposing defenses into the backfield.
Finish In The Fourth
New Mexico State's upset bids against other Mountain West opponents have repeatedly hit snags in the fourth quarter. Whether it was seeing a tie in the late third quarter evaporate last time out at Hawai'i, giving up a touchdown after cutting the deficit to two points at San Jose State, or sputtering late at San Diego State, the Aggies have seen strong starts falter down the stretch.
In contrast, Utah State's best quarter collectively has been the fourth. They are averaging more than 10 points in final periods, and have engineered some dramatic late rallies in wins over Washington State, Air Force and UNLV.