2022 CAA Football
CAA Notebook: William & Mary Controls Its Championship Destiny
CAA Notebook: William & Mary Controls Its Championship Destiny
The Tribe have exceeded preseason expectations pretty much weekly in 2021, but the defeat of Villanova was their strongest statement.
Nov 3, 2021
by Kyle Kensing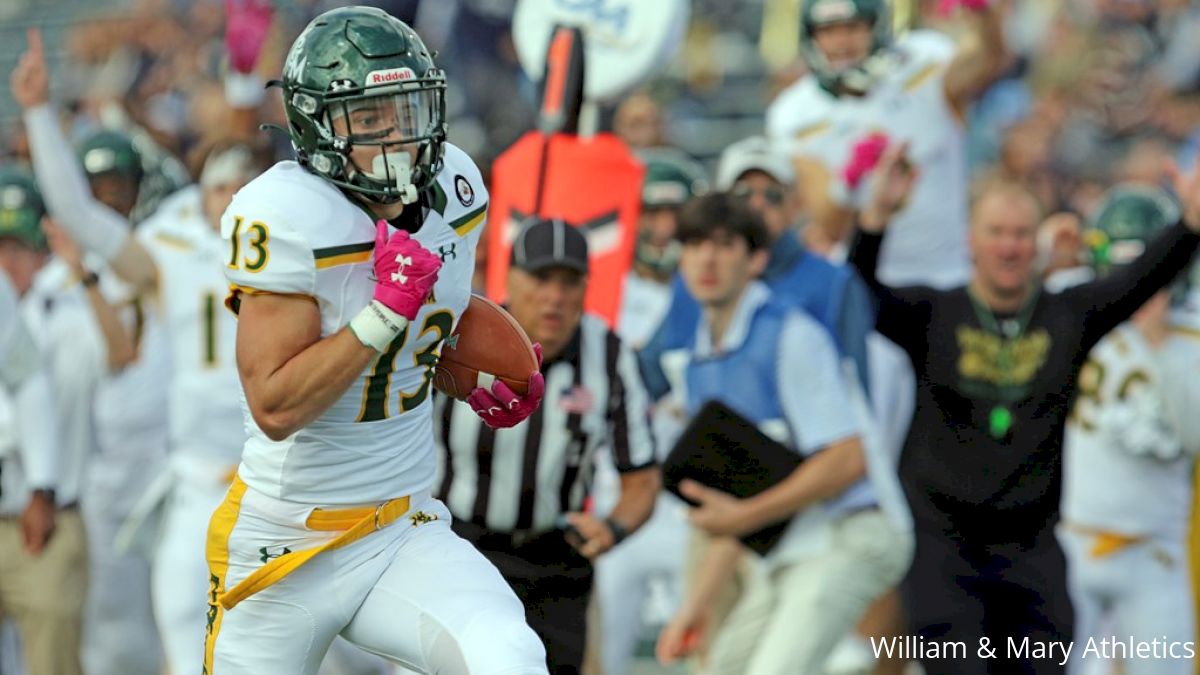 Welcome William & Mary to the Colonial Athletic Association championship chase.
Week 9 arrived in the CAA with Villanova alone ahead of the pack and three teams—Elon, James Madison and William & Mary—all just one game back in the loss column. With their emphatic, 31-18 win at Villanova, the Tribe have made it a three-team tie for first place with just three weeks to go.
"This conference is excellent with a lot of good coaches in it," said William & Mary coach Mike London. "Going on the road and playing a really good football team like Villanova, and coming away with a win, it's an accomplishment."
The Tribe have exceeded preseason expectations pretty much weekly in 2021, but the defeat of Villanova was the strongest statement they've made in a surprising campaign.
Wildcats coach Mark Ferrante credited William & Mary for running the ball more effectively on the Wildcats than any opponent they've faced this season. With Bronson Yoder setting the pace at 106 yards, the Tribe totaled 258 yards on the ground and got four players into the end zone on the ground.
One was quarterback Darius Wilson. The freshman was not among the 22 players named to the Jerry Rice Award watchlist, but his importance to William & Mary's surprise playoff and conference title pursuit makes him undeniably one of the most impactful first-year players in the country.
Wilson has rushed for 330 yards and four touchdowns, thrown for another five scores, and completed 62.5 percent of his pass attempts.
"We don't throw the ball a whole lot. That's because we've been able to run," London said. "But you look at the completion percentage, there's success.
"When we do throw, I believe it's attributed to the ability to run the wide zone and then run the bootleg; to run the isolation and then run the RPOs off of that," London added. "The fact that he's a gifted and talented guy with his legs and his arm, that adds to his ability to be effective and efficient."
W&M crosses midfield with a 21-yd strike from Darius Wilson to Cole Blackman!

💻 | @FloFootball
📻 | 92.3 FM The Tide | https://t.co/pqrf112Mhc
📊 | https://t.co/x3fPYuVwli#GoTribe pic.twitter.com/ki4unkffqY

— William & Mary Tribe Football (@WMTribeFootball) October 30, 2021
A ball-control offense completing a stout defense, which just in the last few weeks re-added standouts Tyler Crist and Carl Fowler, has William & Mary in position to win the CAA.
London mentioned earlier in the season the push to be "relevant" down the stretch of a season, and William & Mary has done just that. The Tribe are the only of the three one-loss teams in complete control of their championship destiny, boasting the head-to-head over Villanova and still awaiting a matchup with James Madison.
Before the Dukes come to Zable Stadium on Nov. 13, however, William & Mary travels to spring 2021 Colonial champion Delaware. The Tribe close out with Capital Cup rival Richmond, a talented team, rejuvenated with a big Week 9 win.
London said every game down the stretch is "most important" to William & Mary. Coming off their last most important game, the Tribe look like they are built for a playoff push.
Maine Making A Case
Writing off Maine's FCS Playoffs prospects at the beginning of October would have been understandable. A home loss Oct. 2 to Elon dropped the Black Bears to 1-4 and 0-3 in the CAA.
But following its best offensive performance of the season in a 45-24 defeat of Rhode Island, Maine is a winner of three straight and sitting at .500 with three games to play.
MAINE WINS!!

The Black Bears rack up 526-yards, tally their highest point total since 2019, and capture their third-straight win!#BlackBearNation | #ChampionshipMentality | #CAAFB pic.twitter.com/KOh2trClzM

— Maine Football (@BlackBearsFB) October 30, 2021
Should the Black Bears win out in matchups with Stony Brook, at UMass and at New Hampshire for the Brice-Cowell Musket, they'll be 7-4 with a six-game winning streak; a defeat of an FBS program; and accounting for William & Mary's lone CAA blemish.
"We don't talk about that, in terms of playoffs here. I use the term 'everything's still in front us,' because it is," said Maine coach Nick Charlton. "We need to respect every opponent that we play and worry about that. The rest of the stuff takes care of itself."
Any postseason case the Black Bears might make hinges on winning out, but the November stretch starts tough with Stony Brook. The Seawolves come into Orono off a bye and carrying a two-game winning streak of their own.
One unifying theme in every Maine win this season to look for when the Black Bears host Stony Brook: Freddie Brock has rushed for a touchdown in each victory.
Freddie Brock rushed for a career-high 123 yards and a touchdown on 18 carries as @blackbearsfb beat No. 24 Rhode Island, 45-24

It was the most yards by a Maine running back since 2018 pic.twitter.com/kdHoB9MI4m

— CAA Football (@CAAFootball) November 1, 2021
Cole In The Zone
Last year's Pixar film Soul offers some artistic interpretation on being "in the zone." Had the creators waited 10 months, they could have used Cole Johnson's performance against Elon to represent the concept.
Johnson passed for a James Madison record six touchdown passes and completed 20 consecutive throws over a game-breaking stretch in the first half of a 45-21 Dukes win.
"Midway through the second quarter, I was kind of feeling in that zone," Johnson said. "Did a great job of game-planning so we could see what kind of formations they'd be in, see what blitzes they might bring. Just going out there and seeing everything clearly is the biggest thing as a quarterback, and knowing where you'll go with the ball."
Cole Johnson had a day for @jmufootball on Saturday completing 22-of-25 passes

His completion percentage (88%) is the 4th-best in FCS this season and the 6 TD's are tied for the 3rd-most in FCS pic.twitter.com/435ugvHP1Z

— CAA Football (@CAAFootball) November 1, 2021
Johnson went just about everywhere on the Bridgeforth Stadium turf en route to a final line of 22-of-25 for 307 yards.
"He was just very comfortable. You could tell by the way the ball was just dropping [into] receivers' hands," said wide receiver Antwane Wells Jr. Wells caught eight of Johnson's dimes for 114 yards and two touchdowns.
The quarterback had the unflappable look of someone playing catch in an empty field, despite playing a defense that allowed just 40 combined points in its previous three games and is among the nation's very best in the red zone.
For a quarterback to enter that space takes help, and Johnson had it from a variety of sides. The JMU offensive line welcomed back Liam Fornadel, the All-American lost to a knee injury in Week 1.
The efforts of the offensive line gave Johnson the physical space to go into that metaphysical place we know as The Zone.
"It just seemed like we had guys open and Cole was putting there, and he had time to do it," said Dukes coach Curt Cignetti.
James Madison's receivers also played a part, not just with their pass-catching but with input on the game plan. Cignetti highlighted the group for relaying information from the field to the coaching staff to help dictate playcalls.
"We really communicate when the defense gets on-field and we get a break. We draw on the board and tell [the coaches] what we see," Wells explained. "That one was a little different because I was on the field, we had a little break, I was like, 'Coach, I see this look right here, let's run this play!'
"It happened, and it worked," he added.
Antwane Wells, Jr. 😤

What a grab to make it a two-score game!#GoDukes pic.twitter.com/4SEPiM7lRS

— JMU Football (@JMUFootball) October 30, 2021
Getting In The Win Column
Richmond endured plenty of bad luck in a winless start to CAA play, whether it was misfires in the red zone or injuries. The Spiders finally breaking through via a monster fourth quarter at New Hampshire was an occasion for well-earned celebration.
That's gonna be a sweet ✈️ home! #OneRichmond pic.twitter.com/XIDSyT5uGZ

— Richmond Spider Football (@Spiders_FB) October 30, 2021
Losing sight of what a win means once a team's eliminated from conference title and postseason contention can be too easy for an outsider, particularly in the case of a playoff-caliber roster like Richmond's.
And at full-strength, the Spiders do indeed have the look of a playoff team. Opponents around the CAA have continuously raved about the team's front seven, with playmakers like Kobie Turner, Tristan Wheeler and Tyler Dressler.
"They've got the best front seven in the country," said Towson coach Rob Ambrose, whose team faces Richmond in Week 10. "They've got their quarterback back now. To be honest, they might be the most most dangerous team in the league now that they've got their pieces in place."
"Bad time for us to have to go down there and play them," Ambrose added.
As Ambrose mentioned, the return of Joe Mancuso at quarterback offers a look at what might have been for the Spiders. He was responsible for four touchdowns—three passing, one rushing—in the win at New Hampshire.
Richmond may not be in the playoff picture, but the Spiders have an opportunity to put their imprint on this CAA season over a final stretch that includes Towson, Delaware and William & Mary.
"Our locker room was really, really excited," said Spiders coach Russ Huesman of Saturday's win. "They knew they overcame some tough situations, probably some bad coaching on my part. They overcame it and got it done.
"I really love this football team," Huesman added. "Great kids. We've lost some tough ones this year, but they're hanging in there with us."
Jumpin' Jerry Howard Jr.
"There's a natural skill set that certain backs have, their ability to read guys trying to tackle them," said Rob Ambrose. "Some guys spin, some guys juke, some guys go through, and some guys go over."
The last of those skill sets applies to Tigers running back Jerry Howard Jr.
Howard racked up 145 yards and scored a touchdown in Towson's 38-24 defeat of UAlbany, but the space he covered above the field that didn't make the stat book provided the back's most impressive highlight of the day.
JERRY HOWARD JR WITH THE HURDLE!

💻 - @flosports (https://t.co/GZkV5hamtW)
📊 - https://t.co/e5oaLHJ0Oe#UnitedWeRoar x #NCAAFCS pic.twitter.com/1zKjir4s7V

— Towson Football (@Towson_FB) October 30, 2021
It's not the first time Howard played Vince Carter to a defender's Frederic Weis. He got into the end zone after clearing a San Diego State defender in September, as well.
TOUCHDOWN TOWSON! Jerry Howard Jr. with the catch, then a JUMP to keep going and get into the end zone! 7-0 Tigers, 5:36 in the 1st.#UnitedWeRoar | #NCAAFCS | #SCTop10 pic.twitter.com/AB9QcUJvOS

— Towson Football (@Towson_FB) September 25, 2021
Ambrose credited Howard's leaping ability, saying the back could clear "a five-foot hurdle" if need be.
"I just hope he's got a good plan for how to land," Ambrose added.