2021 West Georgia vs Valdosta State
UWG, Valdosta State Will Shape The Super Region
UWG, Valdosta State Will Shape The Super Region
Not many teams have been as hot as West Georgia, but Valdosta State is one that can make that claim.
Oct 29, 2021
by Kyle Kensing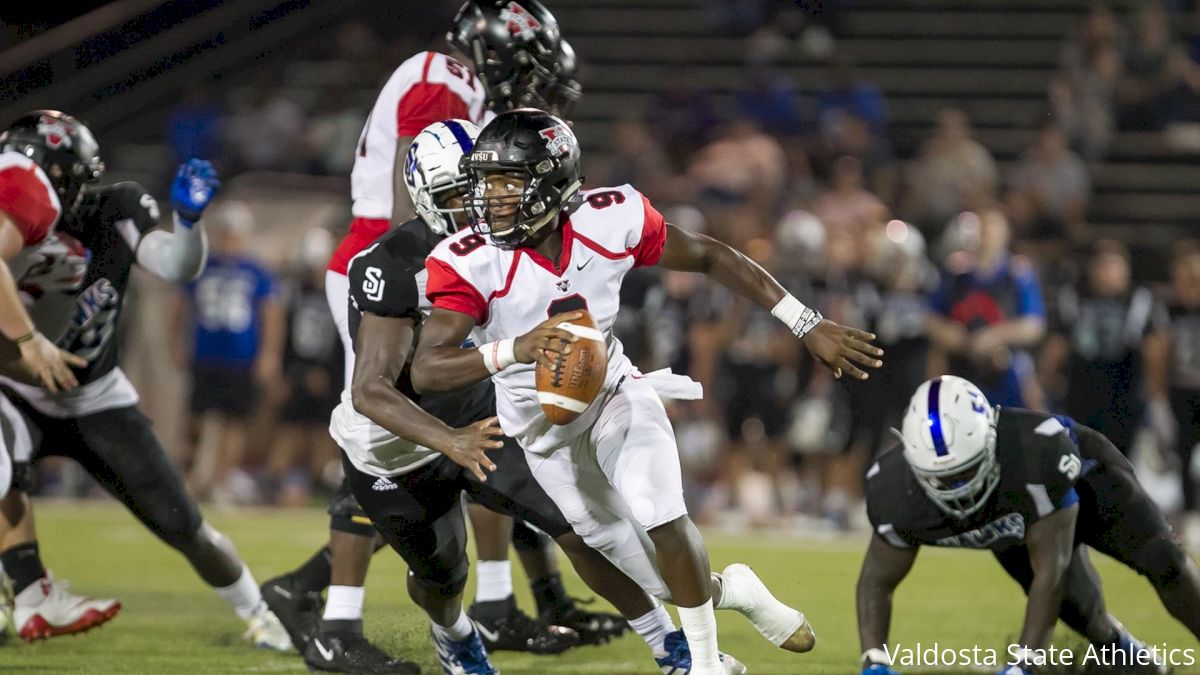 A heavyweight showdown in the Gulf South Conference could shape the landscape of Div-II's Super Region II.
Valdosta State—no. 2-ranked in the AFCA Top 25 and the Super Region II top squad in the first Regional Rankings—welcomes AFCA No. 3 and Super Region II No. 4 West Georgia to town on Halloween eve, kicking off the regular season's pivotal home stretch.
"This is kind of what you play for," West Georgia coach David Dean said in his weekly press conference. "If you're in the ninth week of the season, having an opportunity to play for playoff position, that's where you want to be."
Since losing to West Alabama on Oct. 2, UWG has been one of the hottest teams in the country. The Wolves routed Mississippi College and North Greenville as bookends to a 30-26 defeat of reigning national champion West Florida on Oct. 16.
West Georgia has flourished with a combination of prolific passing offense behind quarterback Harrison Frost and an aggressive defense. Last week, the Wolves held North Greenville to a season-low 82 rushing yards.
Not many teams have been as hot as UWG, but Valdosta State is one that can make that claim. The Blazers have yet to really be tested this season, winning every outing by at least 18 points.
The closest of Valdosta State's seven wins came on Sept. 18 over Albany State, 21-3. The Rams are third in Super Region II.
Valdosta State's dominance so far in 2021 heightens the significance of Saturday's matchup to a degree that makes this a memorable edition of the Battle for the Peach Basket on par with 2018.
In that one three years ago, both teams came in undefeated. The Blazers' 47-31 win propelled them to a First Round bye in the NCAA Playoffs, en route to the national championship.
West Georgia slipped to a Regional No. 2 ranking and were paired with a tough Wingate team that scored the opening-round upset.
The aftermath of that 2018 affair speaks to the importance of Saturday's encounter not just for the GSC title, but national championship pursuits as well. Avoiding a repeat of how that game played out for West Georgia means slowing one of the Blazers key to the Valdosta State win, Ivory Durham.
"I don't know if you can contain him. All you've got to do is go back and look at the 2018 game and what he did before the half," Dean said of Durham. "He ran for, I think, 600 yards and scored that touchdown. Just amazing the number of tackles he broke."
The run officially went for 53 yards, but may have totaled 600 yards when adding the east-to-west movements as he traversed the field to follow his blockers.
Durham also passed for a 25-yard touchdown in the first half of the Blazers win that night.
Durham's been excellent in 2021, passing for more than 1,400 yards and rushing for more than 400 with 20 total touchdowns. He scored Valdosta State's first touchdown of the afternoon last week vs. Mississippi College on a long run, selling the option handoff perfectly to misdirect the Choctaw defense and leave one side of the field wide open.
Of course, that option deception doesn't work if the defense isn't keyed on the running back. Defenses have plenty of reason to key on Seth McGill and Jamar Thompkins.
At 276 yards per game, Valdosta State ranks sixth in the nation in rushing offense. Blazers coach Gary Goff said on his coach's show this week that McGill and Thompkins "are two of the best running backs in the conference, and have been for three years."
This week marks perhaps the biggest test the UWG defense faces all year. The defensive line tandem of Cody Gast and Derrick Shaw can expect back-line support from Deontae Overstreet, who has been a disruptive force for the Wolves in recent weeks.