2023 CAA Football
CAA Notebook: Two Games With Playoff Implications
CAA Notebook: Two Games With Playoff Implications
Heading into the home stretch of the regular season, the Tribe and Phoenix are tied for second and play in the two biggest games of October's final weekend.
Oct 26, 2021
by Kyle Kensing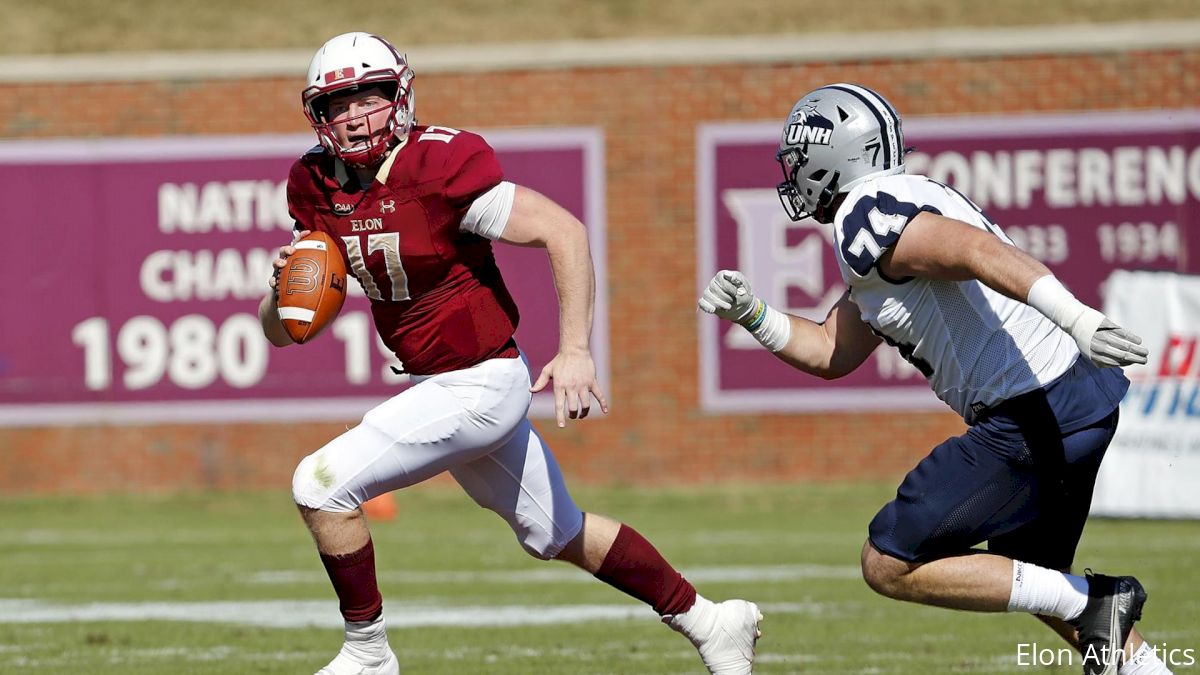 The preseason Colonial Athletic Association tabbed William & Mary and Elon 11th and 12th, the bottom two spots in the conference.
Heading into the home stretch of the regular season, the Tribe and Phoenix are tied for second and play in the two biggest games of October's final weekend.
Elon heads to James Madison on Halloween eve, while William & Mary travels to Villanova on the most significant Saturday to date of this CAA campaign. The four teams sit atop the conference in the loss column, with Elon, JMU and William & Mary all carrying just one league defeat; and Villanova still undefeated after Week 8.
For James Madison and Villanova, their status as front-runners heading into the final month of competition comes as no surprise. The perennial powerhouse Dukes were picked to win the CAA title, and the Wildcats were slotted third.
The Phoenix and Tribe, on the other hand? Their push for conference title contention defies preseason expectations—and perhaps even expectations as recently as September, in Elon's case.
The Phoenix dropped three of their first four with a heartbreaker against Wofford in Week 1; a tough second half at Appalachian State; and the furious comeback against William & Mary that fell just short.
Elon flipped the season's trajectory in October and extended a winning streak to three games with an impressive, 24-10 win over New Hampshire in Week 8. The decisive victory was arguably the best all-around performance the Phoenix have had in 2021, continuing a trend of week-to-week improvement evident not only in the winning streak but in the weeks prior.
"That's how it was early in the season, too," Phoenix coach Tony Trisciani said following Saturday's win. "From Wofford to Campbell, we got better. You can go right down the line. Every week, our guys are practicing with a purpose.
"They were coming out, win or lose, with a good attitude and enthusiasm and effort."
"I've been saying it since day one. Maybe it's a little louder now that we're rolling," said Elon quarterback Davis Cheek. "Part of the process at the beginning of the season was learning to win. We've learned how to win."
He added that the Phoenix have "played nowhere near a perfect game," but have continued to build throughout the season. And while Elon has yet to see perfection, Cheek himself was awfully close the last time out.
He won national Offensive Player of the Week honors after going 27-of-31 for 328 yards with two touchdowns and a third rushing vs. New Hampshire.
Big time effort awarded as National Offensive Player of the Week. Congratulations @cheek2017! #AED pic.twitter.com/QAsszE56rD

— Elon Football (@ElonFootball) October 25, 2021
And while Elon is playing its best ball at a critical juncture, William & Mary is getting back some important playmakers at the same point.
Defensive lineman Carl Fowler, safety Marcus Barnes, and linebacker Tyler Crist all rejoined the Tribe defense for the first time in more than a month. Barnes in particular made an immediate impact, contributing to the Tribe's six takeaways in a 40-14 rout of Towson with an interception.
That's 4 picks for the Tribe defense! Marcus Barnes makes the acrobatic snag as the Tribe lead 40-14 with 7:55 left in the game. #GoTribe pic.twitter.com/7nobhaRKCk

— William & Mary Tribe Football (@WMTribeFootball) October 23, 2021
"It's huge," William & Mary coach Mike London said of their returns. "The last time they played was the Virginia game [in Week 1]. Two of them are captains.
"It's not just what they do on the field," London added. "It's their leadership, it's during the week in practice, it's in the locker room, it's between the series. That senior leadership helps, and a talented guy like Marcus being able to come back and provide a spark...that also helps, as well."
Week 8 brings both teams their biggest opportunities yet to completely turn the preseason poll on its head.
Stony Brook Surging
Stony Brook endured one of the most difficult starts to the season of any CAA program, losing five of its first six and the first three in league play. While the Seawolves are most likely out of playoff or conference title contention, they're shaping up to be dangerous spoilers.
Saturday's 27-14 win over Richmond marked Stony Brook's second straight victory—the first time the Seawolves have won back-to-back games since Sept. 21 and 28, 2019, and their best consecutive defensive showings in conference play since the 2018 season.
Stony Brook held Delaware to 17 points a week prior.
Key to the Seawolves' outstanding play of late: takeaways. They've generated eight in the past two games.
"We've been in position, but we went four straight games without a turnover being caused," noted Stony Brook coach Chuck Priore. "It's interesting how that goes. I'm not so sure you coach it or plan it. It's just playing hard and sometimes, a little bit of luck."
Luck can certainly help create turnovers. So can otherworldly plays like Randy Pringle's second pick against Richmond.
INT in the end zone for @StonyBrookFB. Randy Pringle grabs his second interception of the game as the Seawolves defense holds tough in the red zone. #CAAFB pic.twitter.com/gEXiQsSbZo

— CAA Football (@CAAFootball) October 23, 2021
Back In Black
Another midseason resurgence brought on thanks to a defense playing its best football in some time is that of Maine. The Black Bears are winners of two straight after holding off UAlbany in Week 8, 19-16.
With Maine also holding William & Mary to 16 points the week prior, the Black Hole Defense looks like it's back.
"We had some pretty serious conversations after the Elon game," Maine coach Nick Charlton said in reference to the Black Bears' 33-23 loss on Oct. 9. It was the fourth time this season Maine surrendered at least that many points; no coincidence, the Black Bears lost all of those games.
"We needed to make some changes. We've practiced really, really well. Our energy and tempo and way we're going about our business is where it needs to be, and it's getting reflected on game day," Charlton said. "We've turned a little bit of a corner. Now, we've got to keep it going."
Maine heads into the final month a game below .500, but realistically in the hunt for a postseason berth. Winning out over the next four would give the Black Bears an intriguing playoff resume.
CAA Celebrates National Tight End Day
The CAA got in on the Oct. 24 National Tight End Day festivities a day early. One of the routinely best pass-catching tight ends in the conference, Villanova's Todd Summers, was predictably part of the action.
Sunday is National Tight End Day in the @NFL.@NovaFootball's Todd Summers is celebrating a day early.#CAAFB on @FloFootball:https://t.co/JHpSKnO4zj pic.twitter.com/UwYoJ5IUmz

— CAA Football (@CAAFootball) October 23, 2021
The Maine-UAlbany game featured a pair of tight-end touchdowns, with the Great Danes L.J. Wesneski getting into the end zone…
TOUCHDOWN GREAT DANES!!!@Jcuff13 finds @LJ_Wesneski for the score!#BeGreat #WinTheDay 🟪🟨 pic.twitter.com/ZhnS0kwGOL

— UAlbany Football (@UAlbanyFootball) October 23, 2021
...along with Maine's Steve Petrick.
Yeah, we need to see that one again, Steve! 👀#BlackBearNation | #ChampionshipMentality | #CAAFB pic.twitter.com/V61GQ1JcJO

— Maine Football (@BlackBearsFB) October 23, 2021
The Robert Morris transfer Petrick hauling in a scoring catch was a big moment for the Black Bears.
"I knew Steve was a team favorite. I didn't know the cult following he has," Nick Charlton said. Guys were very excited for Steve in the team meeting."
The emergence of star pass-catching tight ends at various levels in recent years may have perhaps changed perceptions of the position. Tight end is an oftentimes unglamorous position more focused on blocking than big receptions.
Charlton credited Petrick for his excellent blocking, an attribute that sparked some of the celebration of his scoring grab.