2021 James Madison vs Delaware
Spring Semifinalists JMU And Delaware Clash
Spring Semifinalists JMU And Delaware Clash
Delaware is playing for its postseason life after dropping successive conference games on the road to Rhode Island and Stony Brook.
Oct 21, 2021
by Kyle Kensing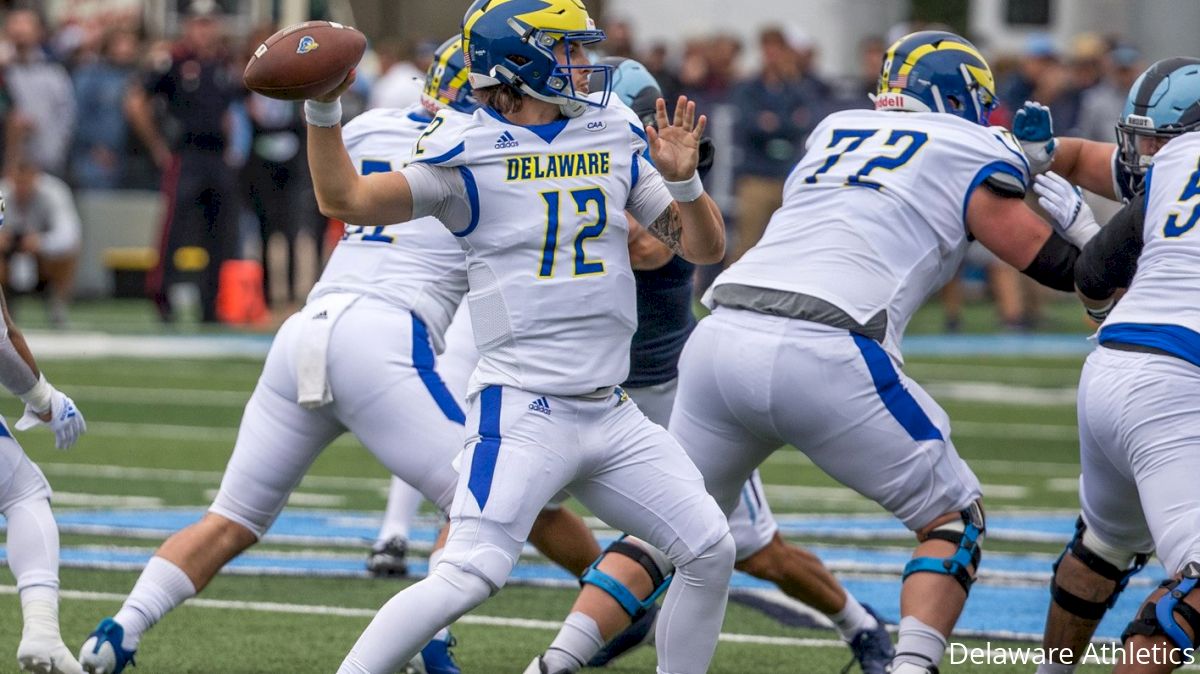 The scoreboard, not the ballot box, will determine Saturday's matchup between Delaware and James Madison.
Both programs finished the spring regular season undefeated, but the Blue Hens officially won the Colonial Athletic Association championship by virtue of a league vote. Each team then advanced to the semifinals of the FCS Playoffs.
Autumn has taken on a new look. The Dukes are looking to stay in the hunt for this CAA championship, which likely means no more slip-ups after losing to Villanova on Oct. 9.
Delaware is playing for its postseason life after dropping successive conference games on the road to Rhode Island and Stony Brook. The Blue Hens were already down quarterback Nolan Henderson before last week when Zach Gwynn was also forced out of the lineup.
"He'll be very much day-to-day," Delaware coach Danny Rocco said of Gwynn on Monday. "I'm optimistic that Zach will play."
The injury issue looms large on Delaware's Homecoming weekend, as the Blue Hens return to Newark in need of a signature win.
The Quarterback Question
Even before Gwynn came out in the second half at Stony Brook, Delaware tinkered with Anthony Paoletti at quarterback in running situations. His mobility can cause defenses headaches, evident in the long touchdown run he broke off against UAlbany.
"We anticipate seeing a lot of him [with] a lot of different run frames, personnel groupings and all the stuff you do out of Wildcat," JMU coach Curt Cignetti said.
The Dukes defense is coming off its most dominant overall performance of the season, holding Richmond to just three points in Week 7, but James Madison must prepare for two distinctly different looks with Paoletti and Gwynn if available.
Gwynn has connected well with Thyrick Pitts, who Cignetti praised as a "big receiver [who] can make contested plays."
Zach Gwynn ➡️ Thyrick Pitts!!!@delawarefb 42-yard TOUCHDOWN#CAAFB pic.twitter.com/knzbBcUOAK

— CAA Football (@CAAFootball) October 9, 2021
Dukes In The Backfield
In addition to quarterback concerns, Delaware has faced some shuffling along the offensive line.
"The more you have moving parts in front of him, the more likely you [are to] have an inconsistent product," Rocco said.
The Blue Hens must get consistent in a hurry with James Madison coming in fresh from a stellar showing at Richmond. The Dukes made six sacks in the 19-3 win, including two apiece from Tony Thurston and Bryce Carter.
Thurston and Carter's performances on the line looked like a callback to 2019 and the duo of John Daka and Ron'Dell Carter.
"This version of JMU, in particular the defensive front, looks very much the same as what they've had in years past: very aggressive, very talented, very much disruptive," Rocco said. "We're really going to have to have a balanced attack."
Getting reigning CAA Offensive Player of the Year Dejoun Lee going to keep James Madison honest and away from the quarterback is critical—and also much easier said than done.
Another Weapon In The JMU Receiving Game
Kris Thornton and Antwane Wells Jr. have been arguably the best one-two receiving punch in the nation throughout the 2021 season. With Solomon Vanhorse returning to the rotation after a brief suspension, the Delaware defense must prepare for a third potential difference-making pass-catcher.
"Great space player with really good hands," Cignetti said. "He's a weapon."
Vanhorse's return to the lineup reached a crescendo against Richmond when the Spiders showed a look Cignetti said they hadn't seen on film yet this season. JMU countered with its own wrinkle, sending Vanhorse out as a pass-catcher with a lineman forced to cover him.
"The end had to peel on Solly, and no way that was going to happen," Cignetti said.
Vanhorse's playmaking out of the backfield has the potential to open things up even more for Thornton and Wells.