2021 James Madison vs Richmond
Rivals Richmond & JMU Ready To Rebound
Rivals Richmond & JMU Ready To Rebound
Saturday's matchup features some of the premier pass-rushing talent in the CAA, which plans to test the patience of two mobile quarterbacks.
Oct 15, 2021
by Kyle Kensing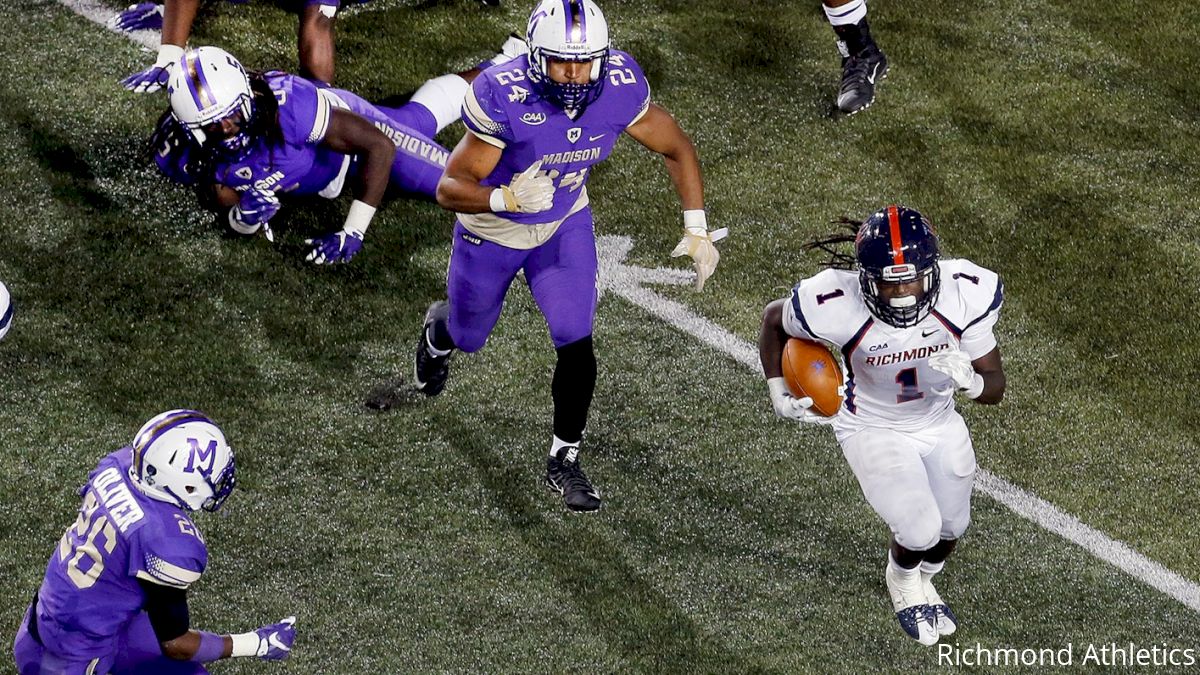 A chaotic week around college football gives heightened stakes to Saturday's rivalry matchup between James Madison and Richmond.
The host Spiders return from their bye week looking to right the ship and get into the playoff chase after a three-game losing streak. Richmond dropped a heartbreaker to Villanova, took the fight to Virginia Tech before falling short, then sputtered through missed chances at home against Elon.
UR has had some bad luck during its skid, most notably the loss of quarterback Joe Mancuso to a broken index finger on the first drive at Virginia Tech. Regardless of the reasons, precedent suggests the Spiders cannot lose more than one more game and still earn a playoff berth—if they can drop another at all.
For James Madison, Saturday's trip to Robins Stadium is about getting back on track for the Colonial Athletic Association championship chase.
JMU doesn't lose many conference games—last week's loss marked the Dukes' first CAA defeat since 2018—so returning to action after a 28-27 result against Villanova presents a unique challenge.
"We're going to learn what we can from this game and move on, get ready for Richmond and not let one loss equal two. We're not going to dwell on the feeling of losing," JMU coach Curt Cignetti said following the Week 6 loss. "We've got a veteran, mature team."
Starting with the 2016 season, every CAA regular-season champion except Maine in 2018 ran the table: That's the bad news for James Madison. The good news? Every CAA champion in that time was a JMU team except for last season's Delaware squad, which was voted to receive the league's automatic playoff berth.
Red-Zone Production
Richmond coach Russ Huesman cited offensive red-zone performance as a specific point of emphasis during the Spiders' bye week. UR went 0-for-3 inside the 20 in its 20-7 loss to Elon, and has just eight touchdowns on 17 trips on the season.
"Last week, we really took advantage [of the additional preparation time] and really went to work down there in the red zone. We can't let stuff like [going 0-for-3] happen," Richmond running back Aaron Dykes said. "We had two or three trips within the 10 and didn't get any points out of in the sense of scoring touchdowns, which is what we need to do to be successful in this conference."
James Madison has scored 15 touchdowns on 25 red-zone opportunities, but the Dukes' inability to cash in on trips deep into Villanova territory cost them last week.
"The way they play defense, they drop eight a lot and play almost a Tampa 2 in the red zone where there's not many holes and not many areas to throw it down there when it's so condensed," JMU quarterback Cole Johnson said.
Johnson attributed Villanova's success with that red-zone look to getting into long down-and-distances once in the red zone.
Start Strong, Finish Strong
Both James Madison and Richmond struggled scoring in the second halves of recent games. The Dukes built two-score leads against both Villanova and New Hampshire in the first half, but sputtered offensively in the second.
Richmond's offensive woes in the second half cost it against Elon, but the Spiders also endured a drought in the fourth quarter after rallying from two scores down to take a two-score lead on Villanova Sept. 18.
Richmond will look to accomplish what only Villanova has with any success thus far in 2021 by establishing the run. The Dukes still rank second in the FCS, allowing just over 50 yards per game on the ground.
"Their defensive front is extremely good. It's something that everybody knows. They do well at eating up blocks and letting their linebackers play freely. We have the athletes, guys like Savon [Smith], Issac [Brown] and Jasiah [Williams]. I think we can make plays in space this week."
Pass Rush Proficiency
Saturday's matchup features some of the premier pass-rushing talent in the CAA, which plans to test the patience of mobile quarterbacks Cole Johnson and Beau English.
James Madison's Isaac Ukwu has been a breakout performer up front, racking up four sacks through the Dukes' first five games. Darius Reynolds continues to build on his strong spring for Richmond with 2.5 sacks in four appearances.
The intimidating defensive lines on both sides square off with outstanding offensive lines. Richmond's front has allowed only seven sacks; James Madison's line has given up just nine despite losing All-American Liam Fornadel in Week 1.
Neither defense is likely to deliver a big knockout shot based on how they perform up front. For Richmond's defense in particular, the temptation to try to swing the game has to be mitigated against James Madison's offensive approach.
"Execution. They don't do anything crazy. They're not trying to hide anything," Reynolds said of the Dukes' offense. "Nothing fancy, they're just waiting for you to make a mistake."