2021 Dartmouth vs New Hampshire
Dartmouth And New Hampshire's Long History Continues This Week
Dartmouth And New Hampshire's Long History Continues This Week
The in-state rivals have a long shared history, going back to 1901. This will be the first time the teams have met since 2016.
Oct 14, 2021
by Roger Brown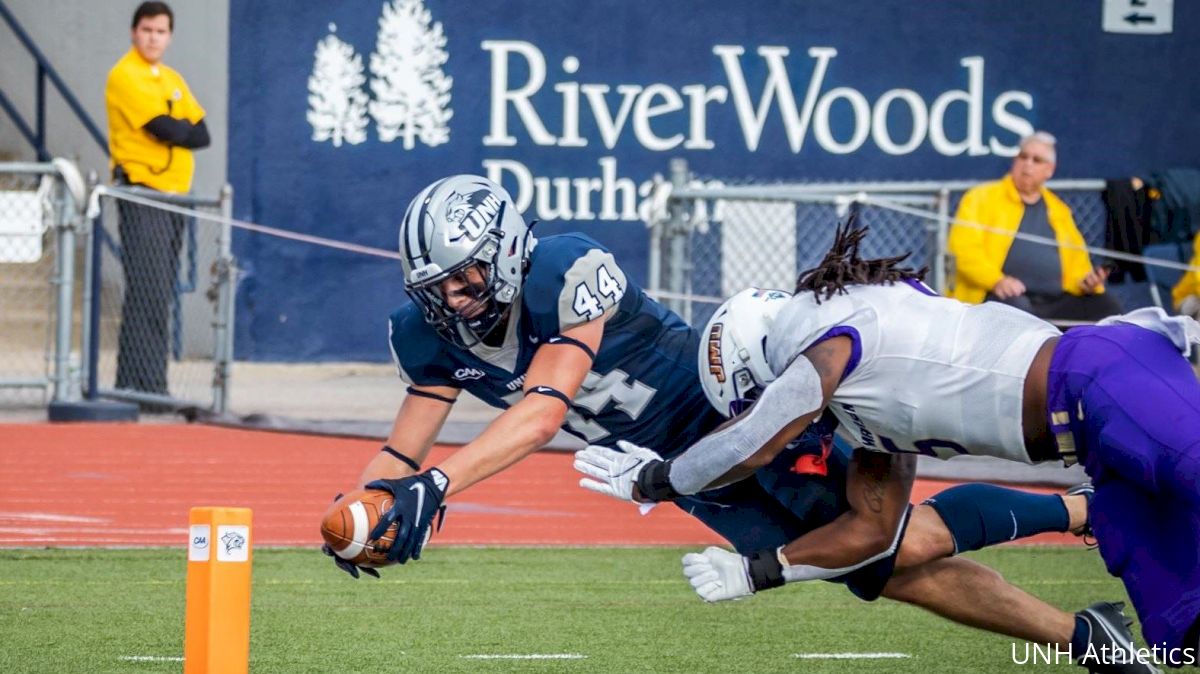 Because Dartmouth and New Hampshire are the only Div-I football programs in the state of New Hampshire, and are separated by less than a two-hour drive, you might assume the Big Green and Wildcats play each other every year. That would be an incorrect assumption.
Although the first meeting took place in 1901, there are only 39 games in the all-time series. The programs haven't played each other since 2016—a 22-21 Dartmouth victory—but will be back at it Saturday in Durham.
"Scheduling these days is so random," Dartmouth coach Buddy Teevens said. "With league affiliation and people having money games, it's hard to pin down like the old days when you could say, 'Every year we're going to play X, Y and Z.' That's just not the way things work anymore. … I understand the reality of scheduling. If it works out great. If it doesn't work out on their end or our end it's OK."
Dartmouth will enter Saturday's matchup with a 4-0 overall record, and a 2-0 record in the Ivy League. New Hampshire is 3-2 overall and 2-0 in the Colonial Athletic Association. The Wildcats have a 19-18-2 edge in the series.
"I'm a guy from upstate New York who knew nothing about it (the in-state rivalry), but had to play in it my sophomore and junior years in college (at New Hampshire)," New Hampshire coach Sean McDonnell said. "Didn't realize what I was getting into until we lost the (1976) game and walked by (Dartmouth's) fraternity row and got heckled pretty good. Never forgot that."
Dartmouth won the first 16 meetings in the series, but has lost all but two games since then (1976 and 2016). New Hampshire had a 20-game unbeaten streak from 1979 to 2009 (18-0-2), and a 13-game winning streak from 1992 to 2009.
"They play hard, and that's always been a hallmark of New Hampshire teams," Teevens said. "They're physical, aggressive. They play downhill defensively. They get after you from an offensive standpoint. Very attack-minded offensive/defensive style of play. They have good athletes. Tough kids."
In addition to this year's game, the programs will meet five times in the next seven seasons. The 2022, 2025 and 2028 games will be played in Hanover, and the 2023, 2027 games will be held in Durham.
"It doesn't seem like it's been this rivalry like a Maine or a UMass, but it's there," McDonnell said. "Our kids are engaged in what we talked to them about it. I know a lot of our alumni and former players, the old-school guys from around here, want a piece of Dartmouth.
"To me, the most important thing about this game is it's an FCS game. Being an FCS game if we want to get to where we want to go, and that's have an opportunity to go to the dance at the end of the year, we have to win these FCS games, and beating a team that's 30-4 (in its last 34 games) and 4-0 right now would put a lot of credibility in what we're doing."
Quarterback Options
Dartmouth uses a two-quarterback system and has shown that it's willing to change QBs at any time. "Starter" Derek Kyler is the better passer. Nick Howard gives the Big Green something extra in the run game.
Kyler, a fifth-year senior, has completed 59 of 83 passes for 633 yards and seven touchdowns. He has not been intercepted. Kyler ranks fourth among FCS quarterbacks in completion percentage (71.1 percent) and fifth in passing efficiency (158.2).
Howard, a 6-foot-2, 230-pound junior who many schools recruited as a linebacker, has rushed for a team-high 353 yards and six touchdowns. He's averaging 7.2 yards per carry and 88.2 yards per game.
"When I was at Florida, Steve Spurrier always had a two-quarterback system," Teevens said. "His attitude was if one guy's not playing (well), just like a left guard, get the next guy in.
"I think it does present a unique challenge to a defense when one or the other is in. They have to have two game plans. I'd like to think it's helpful to us as we prepare and it causes concerns on the other side of the ball."
Lack Of Pop
McDonnell said senior safety Pop Bush could return to the lineup Saturday. Bush has missed the last three games with an ankle injury, He recorded 17 tackles (one sack) and intercepted two passes in New Hampshire's first two games.