2022 Gulf South Conference Football
Gulf South Notebook: Conference Leaders Clash
Gulf South Notebook: Conference Leaders Clash
In two important GSC games, Valdosta State takes on West Alabama, while West Florida tries to stay perfect against West Georgia.
Oct 13, 2021
by Kyle Kensing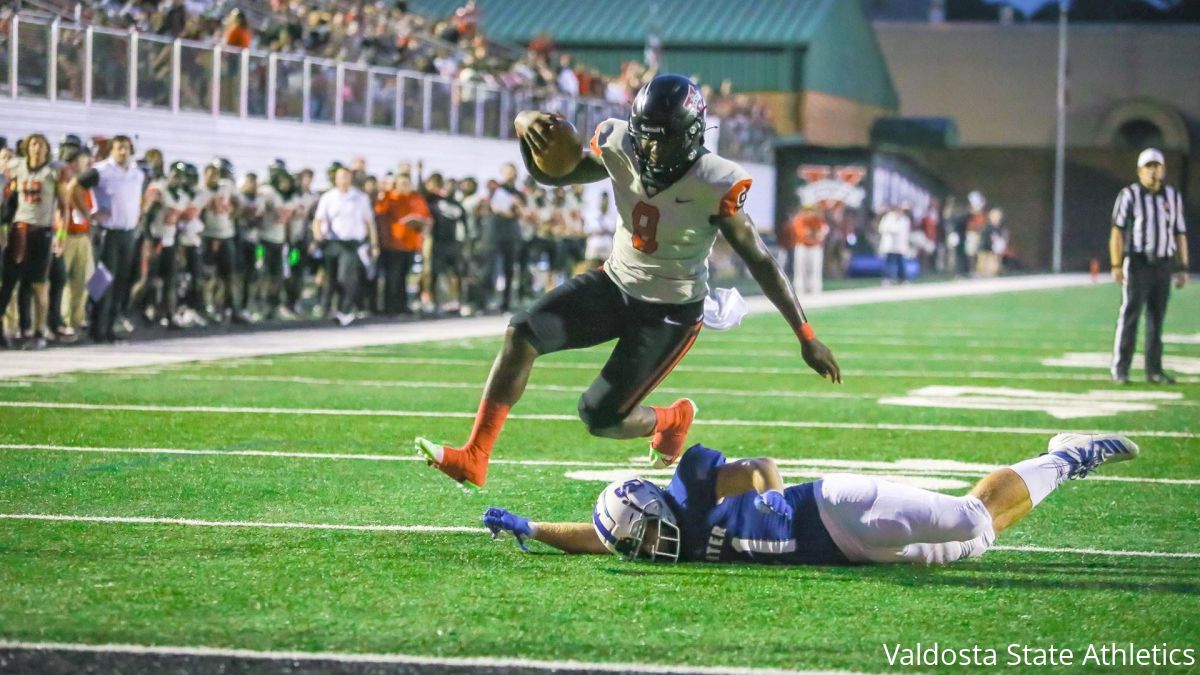 The top half of the Gulf South Conference used Week 6 to create separation from the bottom half, and the emphatic results make for a Week 7 with high stakes.
Each of the GSC's three remaining undefeated teams—Valdosta State, West Alabama and West Florida—cruised to stay perfect. West Georgia remained in the hunt, as well, producing four league games decided by double-digit-point margins.
Their wins, decided by an average margin of 38.3 per, set up a loaded Saturday guaranteed to shape the home stretch of the conference title race.
Valdosta State can score; at 45.6 points per game, it ranks No. 6 nationally. The Blazers can defend equally well, tied for best in NCAA Div-II at just six points per game allowed. Nick Moss is coming off an incredible 17-tackle game, good for GSC Defensive Player of the Week and part of a clean sweep of the conference's individual honors.
#GSCFB Defensive Player of the Week: Nick Moss, LB – Valdosta State

🔗 https://t.co/tJxD8TLsrN pic.twitter.com/9rXTC4Swy1

— The GSC (@GulfSouth) October 11, 2021
And Week 6 demonstrated opponents have to fear Valdosta State special teams, too. Lio'undre Gallimore taking the opening kickoff 90 yards off a nifty double-reverse set the tone for the Blazers' most dominant showing of 2021.
The 55-0 rout of a Delta State team that came in having gone toe-to-toe with West Georgia, West Florida and a Jackson State bunch just outside the FCS Top 25, suggests that Valdosta State remains the team to beat in the GSC.
Next to challenge the Blazers: No. 10-ranked West Alabama.
Saturday's showdown of unbeaten top 10 teams in Livingston is all about balance. Like Valdosta State, West Alabama is playing lockdown defense at 11.5 points allowed per game.
The Tigers' stingy defense complements an offense that's put up almost 46 points per game with an equally proficient combo of run and pass. In its Week 6 blowout of Shorter, West Alabama got 262 passing yards from quarterback Jack McDaniels and 209 rushing yards from five different ball-carriers.
Demetrius Battle went for 100 yards and two touchdowns, pushing his season total to nine. Valdosta State's been just as balanced on offense, featuring three ball-carriers with four or more rushing touchdowns; among them is quarterback Ivory Durham, who has also thrown for 11 scores.
"We're never satisfied," Tigers defensive end Undraez Lilly said following the win at Shorter, via UWAathletics.com. "Us having two years to really get with each other, and we really trust each other, so we're just going to go in with the same mindset we had the other six weeks, and just ball."
Two Passing Behemoths
Keep an eye toward the sky in Saturday's second top 12 matchup in the GSC: West Florida and West Georgia boast two of the nation's most prolific passing offenses.
West Georgia's Harrison Frost ranks fourth in Div-II with 1,956 yards. West Florida's Austin Reed is ranked 10th with 18 passing touchdowns—and all nine quarterbacks ahead of him have appeared in six games, to Reed's five.
His top target, David Durden, comes in with seven scoring receptions.
Reed to Durden from 4 yards extends the UWF lead to 28-10 midway through the 2nd qtr. #GoArgos | #Arete pic.twitter.com/ePrHTsRsGA

— UWF Football (@UWFFootball) October 10, 2021
The UWG tandem of Frost and Mechane Slade have been just about as productive with four touchdown connections.
4️⃣ connections between Harrison Frost and Mechane Slade for a TD this season. ICYMI, here they are!

Let's get prepped for a HUGE one on Saturday in Pensacola, Wolves! #WeRunTogether pic.twitter.com/6vBUgwXX86

— West Georgia Football (@UWGFootball) October 13, 2021
Passing promises to shape this marquee meeting, which West Georgia needs to win to remain in the conference championship hunt.
West Florida returns home for its first home game since Sept. 11 boasting three impressive wins on the road.
The latter two, the reigning national champion Argos' first of the conference slate, followed much different arcs. West Florida followed its Herculean comeback at Delta State on Oct. 2 by bombarding North Greenville last week.
West Georgia rebounded from its loss to West Alabama, building a big lead against Mississippi College, then holding off a second-half Choctaws charge with two late scores. Quan Harrison caught a Frost touchdown pass, then a fourth-down stop in MC territory led to a Jace Jordan scoring run.
The touchdown capped a big day for Harrison, who caught eight passes for 118 yards—including this outstretched, one-handed haul that was one of the most spectacular plays of the season.
Whatchya think fans? Should this Quan Harrison 𝗼𝗻𝗲-𝗵𝗮𝗻𝗱𝗲𝗱 catch be an @espn @SportsCenter Top-10 nominee? We think yes! #SCTop10 #WeRunTogether #ShowMe pic.twitter.com/jHr6QN5YPJ

— West Georgia Football (@UWGFootball) October 9, 2021