CAA
CAA Notebook: Front Five Is Villanova's Main Line
CAA Notebook: Front Five Is Villanova's Main Line
It's early, but the initial few weeks of CAA competition have set the table for an unpredictable and wide-open second half of the season.
Oct 12, 2021
by Kyle Kensing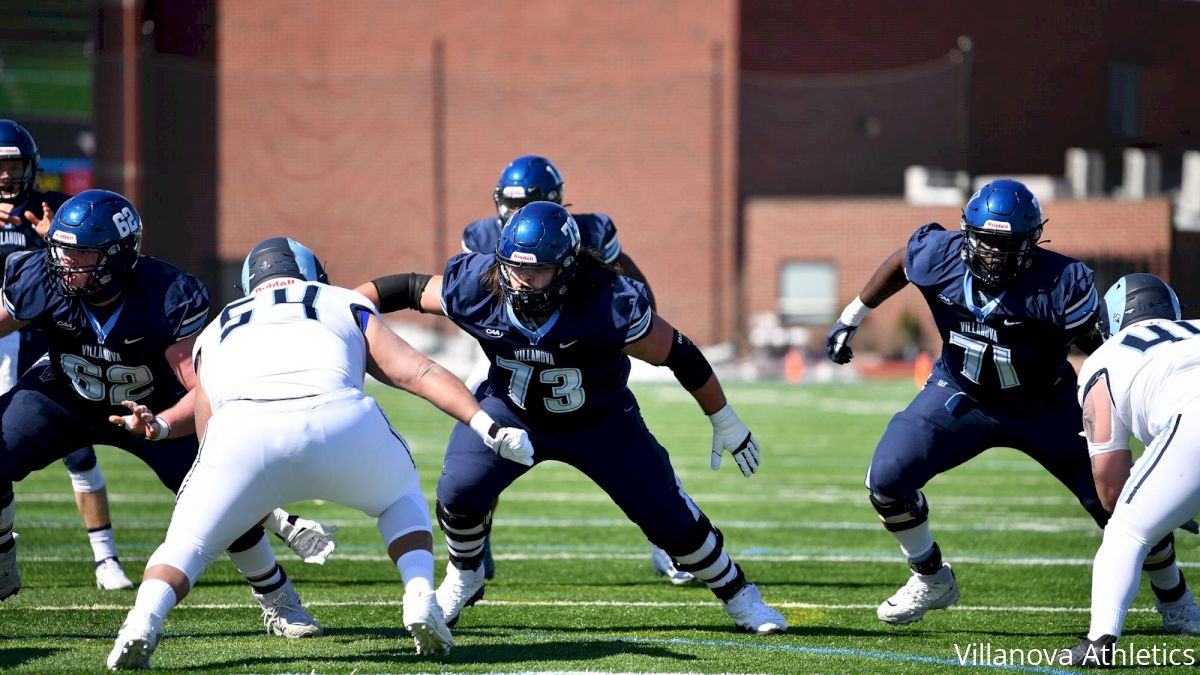 Mark Ferrante knew the stakes of the call when he decided to go for it on fourth-and-one from his team's own 29-yard line. But the Villanova coach's players gave him no choice.
"I know if we didn't convert that, they're pretty much in field-goal range already and it would have cost us the game," Ferrante said, adding that had the distance been longer, he likely would have opted to punt.
With one yard to go, and the way running back Justin Covington had carried the ball for much of an 86-yard day, Ferrante didn't need much convincing.
"They were all calling for it when they were walking to the sideline on JMU's last timeout," he said. "I was thinking about [sending the offense back out on fourth down], but when I saw their want-to—the linemen, Cov' himself, and the look in their eyes—I just had to put the ball in their hands and let them go win it or not.
"And they won it."
📸 𝐅𝐑𝐀𝐌𝐄 𝐈𝐓

4th and 1 from the VU29 with 1:56 remaining and the score @NovaFootball 28 - JMU 27: @coachferranteVU keeps the offense on the field and Justin Covington picks up two yards to seal the victory! 💪#GoNova #TapTheRock #NovaNation pic.twitter.com/yDF2k1eYHt

— Villanova Athletics (@NovaAthletics) October 10, 2021
Villanova's 28-27 defeat of James Madison headlined what was a chaotic day across the Football Championship Subdivision. Two of the top three-ranked teams nationally lost one-point games at home, with South Dakota State joining JMU after its overtime decision against Southern Illinois.
Add UC Davis trailing previously winless Idaho State wire-to-wire, and three unbeaten, top 10 teams all went down on a Week 6 that proved destined to shake up the landscape.
Fate also appeared to side with Villanova when it took that final possession, still leading after the typically-automatic JMU kicker Ethan Ratke missed his second field-goal attempt of the fourth quarter.
But as James Madison coach Curt Cignetti noted, Saturday's outcome did not lie on the all-time FCS career leader in field-goals, missing a couple attempts. No game is the result of a single play.
To that end, the efforts of Villanova's offensive line leading up to fourth-and-one impacted the decision to attempt the conversion. The Wildcats finished the day with 130 net rushing yards, nearly matching the Dukes' yield in each of their previous four games combined.
"Both teams ran the ball better than anyone else has run against either team up to this point and time in the season. So, some of the plays that we had early on probably did influence us a little bit," Ferrante said. "Now, we knew they were going to load the box so I didn't anticipate popping a long one through there.
"But...the demeanor they had coming to the sideline on that timeout, the look in their eyes, and then, we did run the ball somewhat effectively at times throughout the course of the game," he added, and chuckled before continuing: "If they'd held us to their average of 31 yards a game rushing and it was a fourth-and-one and that was all we had the whole game, probably wouldn't have made that call."
Covington gained more than James Madison's current per-game yield on one touchdown carry in the first half, going 56 yards to pay dirt. He nearly went 60 yards for a score on the next possession, but a holding call negated the play.
Justin Covington spots the hole, makes a terrific cut-back move, turns on the jets pic.twitter.com/gnI3nXwAAt

— Kyle Kensing (@kensing45) October 9, 2021
"That just shows how good our offensive line is at creating lanes for the running backs," quarterback Dan Smith said. "There were times in the game where their d-line did step up and made it hard for us to run the ball, but overall we did get the best of them in the run game."
Covington praised the front, noting that lines in general "don't get the big credit."
Big credit is in order for Colin Gamroth, Kofi Appiah, MJ Dumas, Michael Corbi and Nick Torres.
"They're a great group of guys, and they play their hearts out every week," Covington said. "It's not easy to play offensive line, especially when you're playing against big, fast dudes every play. But they do a good job of just continuing to fight, continuing to make holes."
A "Storybook" Win
Rhode Island's continued perfect start added an important new chapter in Week 6, with the Rams beating reigning CAA champion Delaware.
The remarkable play that gave Rhode Island the lead encapsulated qualities that have made the Rams successful through the first half of the campaign—namely veteran presence.
🚨 BLOCKED PUNT AND TOUCHDOWN 🚨

We see you L.B. Mack III@Rhodyfootball back on top, 22-15 pic.twitter.com/UX9IlGzGG3

— CAA Football (@CAAFootball) October 9, 2021
"What you learned with that one snap is A.J. Bibeault decided to play the play as hard as he possibly can, like he does every play," URI coach Jim Fleming said. "And as a result, it was a soft snap back there, the punter was a little bit too close to the shield, [Bibeault] got his hand through, blocked the punt, and the rest is history."
Bibeault is a sixth-year senior from Cumberland, Rhode Island. The team captain and local product making such a key play in a milestone win is "storybook stuff," according to Fleming.
Meanwhile, L.B. Mack III, who scooped up the carom and ran it back for the touchdown, is also a sixth-year senior.
Defensive back Jordan Jones has not been in the program as long, transferring in from the junior college ranks before the 2019 season, but his veteran savvy was evident in the Week 6 win.
Jones intercepted two passes, both starting…
The @rhodyfootball defense is ready to go!

Jordan Jones gets this one started with an interception#CAAFB pic.twitter.com/HgMGqR5hSh

— CAA Football (@CAAFootball) October 9, 2021
...and ending the contest.
WHAT. A. GAME.

Jordan Jones with the CLUTCH interception in the end zone for @rhodyfootball pic.twitter.com/Y6UvpjPqNx

— CAA Football (@CAAFootball) October 9, 2021
He now has three straight games with a pick, and an interception in every outing but one to lead the nation.
CAA Turned Upside Down
With Rhode Island's wild win over Delaware and William & Mary rallying from down 18 points to beat UAlbany, the Rams and Tribe own the two longest active winning streaks in the CAA. They were picked sixth and 11th in the preseason poll, respectively.
Add Elon to that mix, which got four total touchdowns from CAA Offensive Player of the Week Davis Cheek in a win over Maine, and the league's third-longest streak belongs to the team picked to finish last place.
On Saturday @elonfootball's Davis Cheek completed 78.4% of his throws, and guided the Phoenix on three scoring drives of better than 11 plays as they controlled the ball for nearly 38 minutes

We've got the highlights ⬇️ pic.twitter.com/LVXwRlHVGN

— CAA Football (@CAAFootball) October 11, 2021
It's early, but the initial few weeks of CAA competition have set the table for an unpredictable and wide-open second half of the season.