2021 Stony Brook vs Towson
Towson Returns Home To Host Stony Brook
Towson Returns Home To Host Stony Brook
Saturday's matchup is an opportunity for both teams to set a winning course for the back-half of the season.
Oct 8, 2021
by Kyle Kensing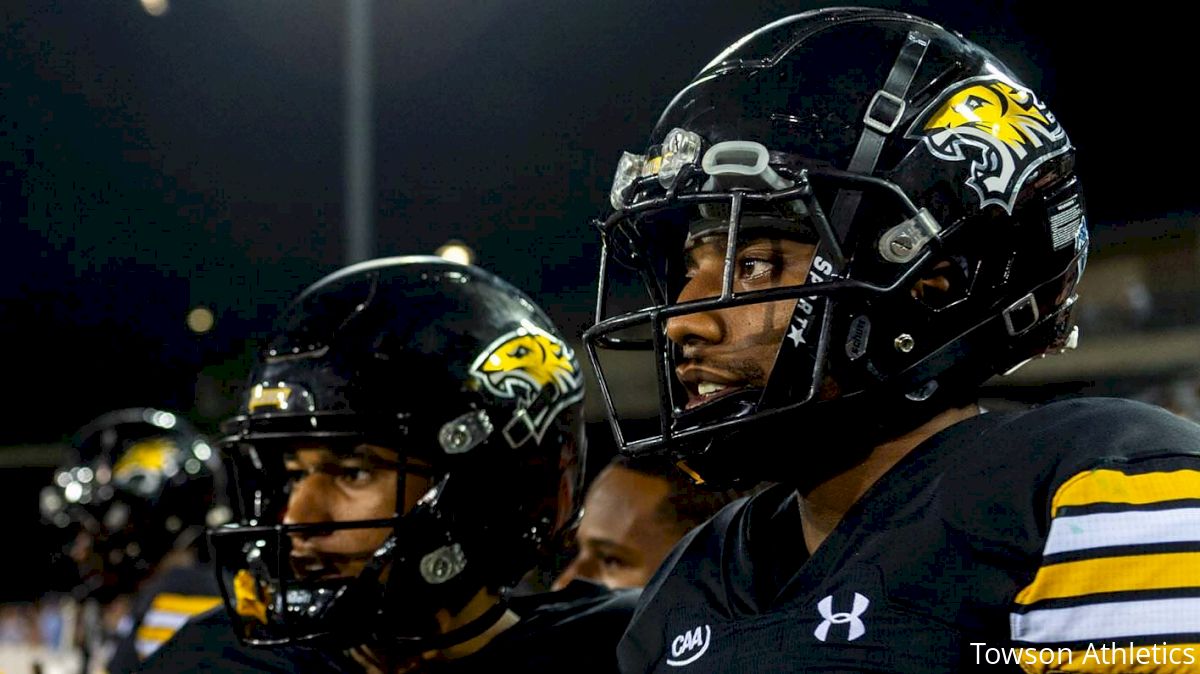 Towson traveled across the country its last time out, completing a first month that Tigers coach Rob Ambrose called "a meat grinder" against nationally ranked FBS opponent San Diego State.
After the 5,000-mile round trip and a bye week, Towson returns to Johnny Unitas Stadium seeking its first Colonial Athletic Association win of 2021 against Stony Brook, also in pursuit of its first victory in the CAA.
Stony Brook took Rhode Island to overtime in a thrilling Week 5 showdown before falling short, 27-20. The Seawolves are now 0-2 in the Colonial, with each loss coming by just one possession.
Saturday's matchup is an opportunity for both teams to set a winning course for the back-half of the season. It's the first in 3-of-4 games for Towson to play at home after it spent much of the challenging opening month on the road.
Getting Into Rhythm
Towson and Stony Brook have been victims of lulls for stretches in their defeats, a theme both teams will look to break Saturday.
"We truly need some rhythm," Tigers coach Rob Ambrose said. "You get 10 guys going but one's a little off, [it's] just like a band: One guy's a little bit off, the rhythm just don't sound right. But man, once they start playing together, oh! You get the crowd moving and everybody's in that."
Towson showed some of that rhythm in the first half at San Diego State, scoring on the stout Aztecs defense with drives of 69 and 80 yards before intermission.
Likewise, Stony Brook has had periods of sustained success—like when it rallied from down 27 points and came a possession away from winning the conference opener against New Hampshire.
The Seawolves also mounted some impressive drives and limited Rhode Island almost as effectively as any opponent has the undefeated Rams thus far on the season. That one, decisive possession is what eluded them.
"We had three really good drives; we need to have four," Stony Brook coach Chuck Priore said. "You need to score 28 points in the CAA to win, in my opinion, on most Saturdays."
Of no coincidence, Stony Brook allowed right around that neighborhood in its three losses to FCS competition—27, 27 and 31 points to New Hampshire, Rhode Island and Fordham—and won the one game in which it scored on four possessions (24-3 vs. Colgate).
Prolonging those successful stretches is the task ahead now, but it has the potential to carry into the rest of the season.
"That's a confident experience," Ambrose said of a team clicking. "It's contagious. We just need a little taste of that."
Establishing The Run
Stony Brook offenses are often built on a multi-dimensional look from the run game, and the 2021 Seawolves are no exception. Three Stony Brook ball-carriers have gained at least 139 yards, including the current CAA rushing leader, Ty Son Lawton.
Through 5⃣ weeks @Lawtyy7 is leading the @CAAFootball in rushing 💨

🌊🐺 x #HOWL pic.twitter.com/pymplFBVXw

— Stony Brook Football (@StonyBrookFB) October 5, 2021
Peppering in dashes of Seba Nekhet and quarterback Tyquell Fields will test a Towson run defense that has allowed 202.8 yards per game on the ground, albeit against two of the best rushing attacks in the FCS and FBS.
On the other side, the Tigers have struggled getting the rush going at fewer than three yards per carry. Stony Brook's typically physical defense has held opponents to below four yards per carry, buoyed in part by the efforts of Makye Smith and Tyler King. The defensive end Smith and linebacker King combined for 12.5 tackles for loss.
Georgia Tech transfer Jerry Howard, who Ambrose said is "unselfish as hell," has shown some explosive-play capabilities as both a ball-carrier and receiver that the Tigers will look to deploy.
A Big Spot For The Quarterbacks
Veteran quarterbacks Tyquell Fields and Chris Ferguson have played in marquee games and delivered in high-pressure spots during their respective CAA careers.
Each has endured some struggles in 2021, but has still shown more than enough flashes of brilliance to build toward a strong finish to the season.
"[Fields] has played a lot of those games, and he competes until the end of the game," Priore said.
Fields has carried for four touchdowns, including the score that forced overtime at Rhode Island. Ferguson has thrown for five touchdowns. Both, however, have been somewhat turnover-prone.
Stony Brook has gone three games without generating a takeaway, which Priore noted has impacted the offense due to field position.