2023 Gulf South Conference Football
Gulf South Notebook: West Florida's Comeback; UWA Remains Undefeated
Gulf South Notebook: West Florida's Comeback; UWA Remains Undefeated
A wild Week 5 is in the books. West Florida, West Alabama and Valdosta State remain undefeated, while Mississippi College racks up rushing yards.
Oct 7, 2021
by Kyle Kensing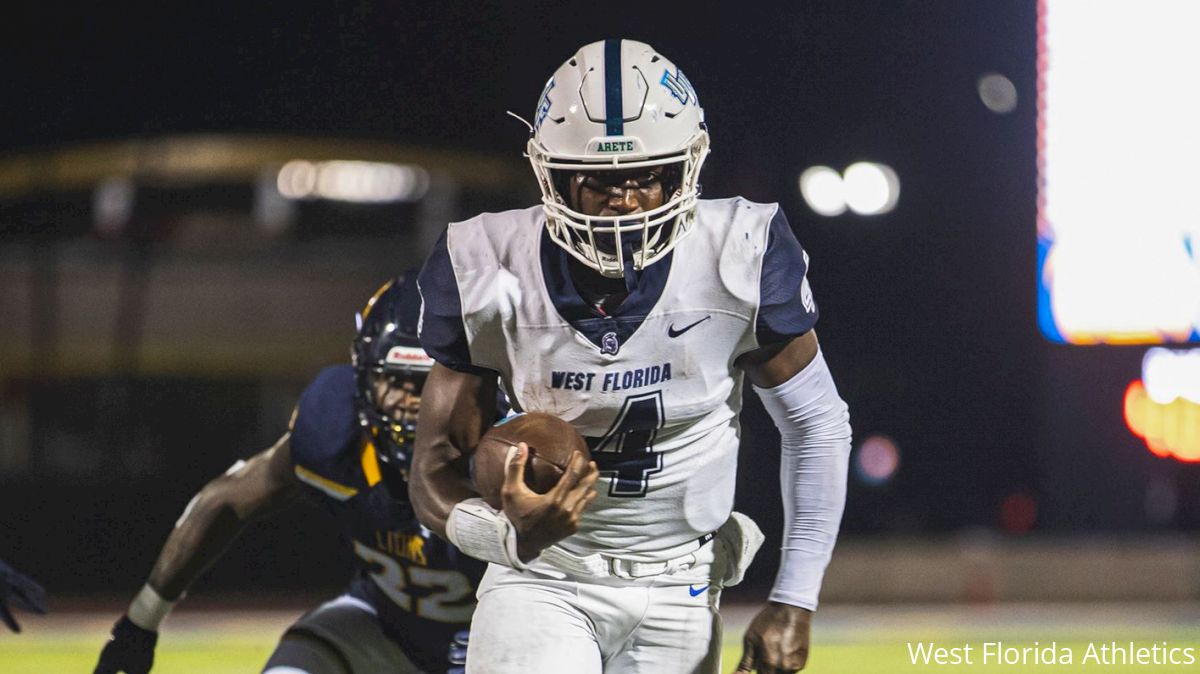 When a team rallies from a halftime deficit in college football, among the first questions a reporter asks of a head coach is invariably, What did you say to the guys in the locker room?
West Florida showed, rather than told, exactly what Pete Shinnick said when the Argos trailed Delta State at intermission in a Week 5 Gulf South Conference showdown:
A halftime speech for the ages, from Saturday night in Cleveland. #GoArgos | #Arete pic.twitter.com/dqdAf9F3yl

— UWF Football (@UWFFootball) October 5, 2021
No fire nor any brimstone was required, a simple statement to close his speech: "Find a way."
The defending Div-II NCAA champions did exactly that, out-scoring Delta State in the second half, 29-3, including a run of 22 straight points from the late third into the fourth quarter.
Speeches mean nothing without execution, of course, and West Florida executed several key plays to rally. Two sequences were particularly pivotal:
After falling behind 33-17 and with just 5:13 left in the third quarter, Austin Reed lobbed a deep ball that Lamarques Thomas picked off at the Statesmen 10-yard line. Trent Archie limited a pair of Delta State rushes to short yardage, setting up a passing down.

De'Marco Artis made a spectacular play on third down, leap-frogging the running back's cut-block attempt, then catching DSU quarterback Patrick Shegog by the ankle for the sack.

Prior to the snap, linebacker Stephon Williams directs traffic and Artis lines up on the opposite side. The ensuing punt deep in Statesmen territory set up the UWF offense near midfield and the Argos scored in a little more than a minute on the next possession.

Delta State drove into the red zone ahead 33-24 in the early fourth quarter. Facing fourth down at the two-yard line, the Statesmen were faced with two options: kick a field goal and extend a two-score lead into a slightly bigger two-score lead, or get into the end zone and perhaps end the game with a successful two-point conversion after the touchdown.

To that end, Delta State going for it on fourth down was the right call. Archie just made a spectacular play, standing pat after tight end Chancie Tidwell shifted to Archie's side on an audible. Archie attacked Shegog's blind-side, timing the blitz and showing no hesitation—were he a second late, Shegog may have had the window to pass to Tidwell open at the goal line.
Both stops helped change the complexion of the game.
Tiger Beat
From unranked to start the season to 5-0 and ranked No. 10 in the AFCA Top 25, West Alabama has defied plenty of expectations already in 2021. The Tigers' 38-20 defeat of West Georgia in Week 5 provided an opportunity to once again make a statement.
"We have the best linemen in the GSC, and I knew that," running back Demetrius Battle said in his postgame interview with UWAAthletics.com. "We just had to come out and prove that to everyone else. Everyone doubted us...but we knew we were the better team."
West Alabama's offensive line helped pave the way for Battle to reach the end zone twice, and allowed just one sack of quarterback Jack McDaniels. McDaniels averaged better than nine yards per pass attempt and racked up 323 in total.
The Tigers defense was outstanding in the second half, holding West Georgia to only a field goal after intermission.
Coach Brett Gilliland reached a significant milestone with the victory with the 50th of his tenure—appropriate with West Alabama celebrating the 50-year anniversary of its NAIA national championship.
Tonight's win marks Coach G's 50th career win as a Head Coach! Congrats G🔥 pic.twitter.com/yAkBbpBt5A

— West Alabama FB (@uwa_football) October 3, 2021
UWA now finishes a three-game road swing to kick off GSC play, traveling to Shorter in Week 6. The Hawks welcome West Alabama to town, capping their own noteworthy three-game stretch, as UWA marks their third consecutive opponent ranked in the top 15.
Shorter opened the grueling stretch with West Georgia and last week, fell to undefeated and No. 4-ranked Valdosta State.
Big Second Halves
Each of the Gulf South's three teams now ranked in the top 10 owe their Week 5 success to monster second-half performances. West Florida, West Alabama and Valdosta State outscored their opponents by a combined 85-6 margin after halftime.
Valdosta State went into intermission with Shorter ahead 14-13 after the Hawks went on touchdown drives of 64 and 87 yards, both capped with Aeneas Dennis touchdowns (a run and a pass to Kyle Morlock).
It marked the first time all season the Blazers defense allowed an opponent to score in double-digits.
Shorter's drives in the second half ended with a punt after gaining 14 yards; a punt after gaining two yards; 14 yards again, and a punt; 10 yards and a punt; a first-down interception; and four yards with a punt. That's 44 yards in the half.
On The Run
Mississippi College became the second GSC team and just the seventh in Div-II to eclipse 400 yards rushing in a game this season, joining North Greenville—and as circumstances would have it, the Choctaws reached the milestone against the Crusaders.
MC carried a remarkable 73 times for 408 yards in its 42-21 road win, with three ball-carriers either eclipsing or approaching the century mark. DeAnte' Smith-Moore gained 120 yards and scored four touchdowns on the ground; Cole Fagan went for 106 yards; and Marcus Williams finished with 93.
As impressive as Mississippi College's rushing output was at North Greenville, Smith-Moore's passing numbers deserve a shoutout. He averaged almost 33 yards per completion and scored a touchdown on just five attempts.