2021 Gonzaga vs DeMatha Catholic
Young QB Has DeMatha On Winning Path
Young QB Has DeMatha On Winning Path
DeMatha High School takes on Gonzaga College High School in a Washington Catholic Athletic Conference matchup Friday night.
Oct 6, 2021
by Roger Brown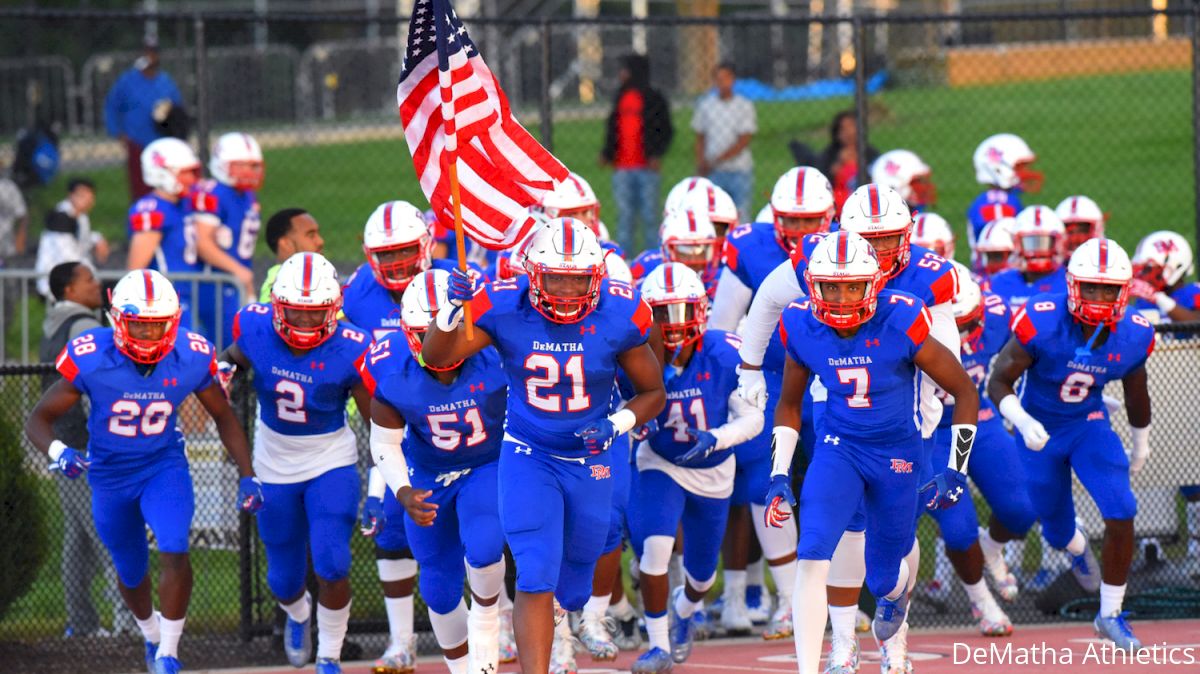 The 2021 football season didn't start the way DeMatha High School (Hyattsville, Md.) hoped it would.
Although DeMatha opened with a 28-7 victory over Holy Spirit (Absecon, N.J.), it lost senior quarterback Blake Kendall to a season-ending ankle injury in the process. DeMatha turned to freshman QB Denzel Gardner, but dropped a 14-10 decision to Philadelphia's Imhotep Charter in Week 2.
Since then, however, Gardner has helped the Stags (4-2) post three straight victories. They'll try to stretch that winning streak to four games when they face Gonzaga College High School (4-2) of Washington, D.C., in a Washington Catholic Athletic Conference matchup Friday night.
"(Kendall's injury) was a big loss and a tough loss," DeMatha coach Bill McGregor said. "It's the next-man-up philosophy we've always had here at DeMatha."
Gardner's most productive game came against Friendship Collegiate Academy (Washington, D.C.). He completed 10 of 12 passes for 118 yards and two touchdowns, and rushed for 36 yards and a TD on three carries in a 38-0 victory.
DeMatha, ranked No. 80 in High School Football America's Top 100, enters Friday's game having posted back-to-back shutouts. The Stags beat Life Christian Academy (Chester, Va.), 14-0, last weekend.
Gonzaga began its season with victories over Friendship Collegiate Academy, McDonogh (Owings Mills, Md.) and St. Mary's Ryken (Leonardtown, Md.) and outscored those three opponents 79-7. After dropping games against St. Joseph's Prep of Philadelphia (35-3) and Archbishop Spalding of Severn, Md. (20-13 in overtime), Gonzaga rebounded with a 49-34 victory over Avalon of Wheaton, Md., last weekend.
In addition to Gardner, some players to watch Friday night:
Nate Kurisky (Gonzaga): Kurisky, a 6-foot-3, 235-pound tight end, has committed to Georgia Tech. Boston College, Maryland, Michigan State, Virginia Tech and Miami were among his other offers.
K.J Winston (DeMatha): Winston, a wide receiver/safety, has committed to Penn State. He had 19 Division I offers.
Jason Moore (DeMatha): Moore, a 6-foot-6, 255-pound defensive lineman, is considered by some to be Maryland's top recruit in the Class of 2023.
Cameron Ball (Gonzaga): Ball, a 6-foot-6, 235-pound tight end, has committed to Buffalo.
Michael Crounse (DeMatha): Crounse, a 6-foot-4, 300-pound offensive lineman in the Class of 2023, has offers from Liberty, Cincinnati, Iowa State, Louisville, Maryland, Michigan State and PIttsburgh.
Return Engagement
McGregor was hired as DeMatha's head coach for the second time in 2019. He stepped down as the program's head coach in 2011 after serving as the program's head coach for 29 seasons. He had a 280-39 record and guided the Stags to 18 Washington Catholic Athletic Conference championships before resigning in 2011.
Randy Trivers is in his seventh season as Gonzaga's head coach. He was named USA Today National Coach of the Year in 2018.
What A Finish
Fans are in for a treat if Friday's matchup is anything like the 2018 WCAC Capital Division championship game between Gonzaga and DeMatha. That contest featured three lead changes in the final 60 seconds.
DeMatha built a 20-point, first-half lead and looked like it would cruise to its fifth WCAC title in six seasons until Gonzaga QB Caleb Williams scored three of his six TDs in the final 3:03, the first of which helped trim DeMatha's lead to 36-33. Williams then tossed a TD pass that gave the Eagles the lead, but DeMatha returned the ensuing kickoff for a touchdown to go ahead 43-30 with 15 seconds to play.
Williams, who now plays for Oklahoma, completed a 41-yard TD pass on the game's final play to give Gonzaga a 46-43 victory.