2022 CAA Football
CAA Notebook: Close Calls Shape Early Conference Season
CAA Notebook: Close Calls Shape Early Conference Season
Close games have characterized the young season. Fourteen total points separated the winners and losers in three of the CAA's four games this weekend.
Oct 5, 2021
by Kyle Kensing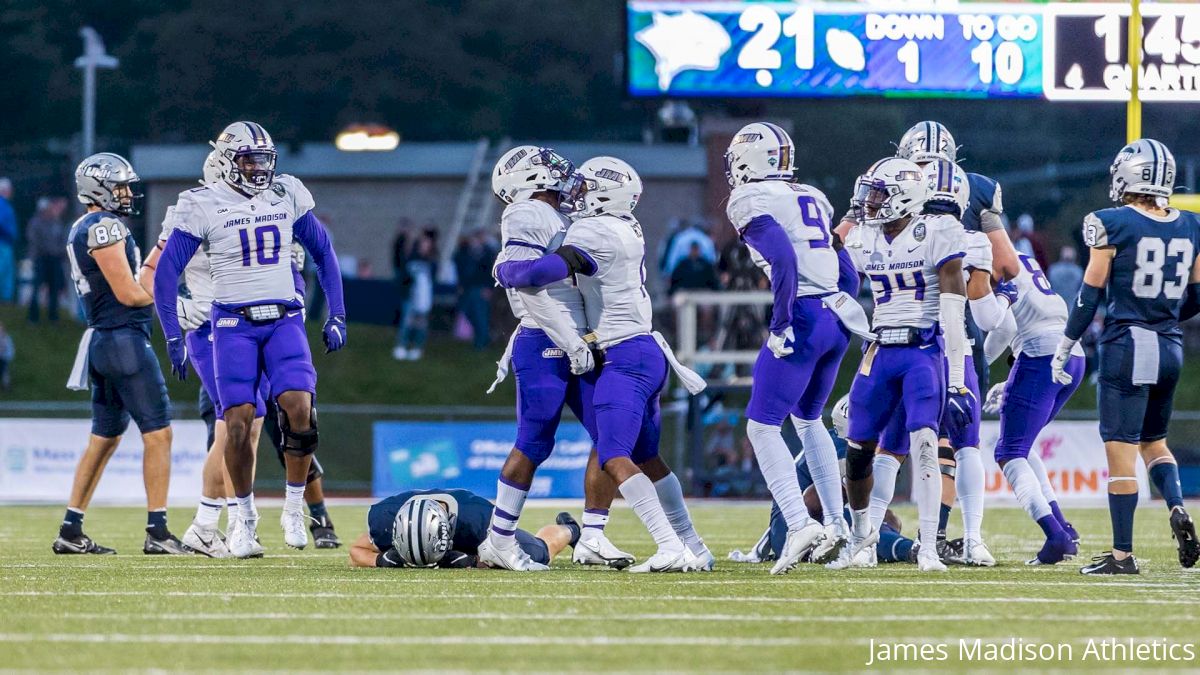 In case a reminder was necessary, Week 5 reemphasized the hyper-competitive nature of the Colonial Athletic Association.
Fourteen total points and overtime separated the winners and losers in three of the Colonial's four games:
Rhode Island beat Stony Brook in overtime, 27-20, to improve to 4-0 for the first time since 2001.
Anthony Paoletti rushed for a touchdown with less than four minutes remaining, and after a 75-yard Jeff Undercuffler scoring strike to Tyler Oedekoven seconds later, Dejoun Lee and Quincy Watson rushed for a couple first downs to ice a 20-15 Delaware win over UAlbany.
Diamonte Tucker-Dorsey intercepted a pass to keep New Hampshire out of field-goal range and preserve a 23-21 win on the road for JMU.
Tucker-Dorsey with a CLUTCH interception for @jmufootball#CAAFB pic.twitter.com/haWsOAmleX

— CAA Football (@CAAFootball) October 2, 2021
Styles make fights, to invoke an old boxing cliche, and dynamics between specific programs contribute to the week-in, week-out competitive nature of the CAA.
"You get to a point where you've been in the league for so long that certain trends are just real, and all of our games with [UAlbany] have been close," Delaware coach Danny Rocco said.
Indeed, the last three meetings between the Blue Hens and Great Danes have been decided by five, four and five points. Similarly, James Madison has had its hands full every time it's visited New Hampshire over the past decade.
Saturday's win was just the Dukes' second in Durham since 2011, against three losses. The two JMU victories were by a combined five points.
The early phases in the CAA in 2021 transcend specific matchups with historically close games, however. Saturday's trio of nail-biters built on a current theme, with 7-of-11 contests thus far being decided by a single possession.
UAlbany is an unfortunate example of the razor-thin line that separates leading the pack from playing catch-up. The Great Danes opened their CAA slate with a two-point loss to Rhode Island.
"The hardest part right now is our guys expect to be on the other side of these scores," UAlbany coach Greg Gattuso said. "It doesn't get any easier."
That's because next up for the Great Danes is William & Mary, a team that could start to make Top 25 noise with another win. The Tribe improved to 3-1 on Sept. 25 coming out on the right end of one of those CAA photo finishes, holding off Elon, 34-31.
And the Phoenix, meanwhile, are just two possessions shy of being 4-1, undefeated in the Colonial and presumably ranked in the Top 25. Theirs was the only Week 5 contest not decided by one possession, but that was by virtue of a Herculean goal-line defensive stand to close out a 20-7 win at Richmond.
"We did a really nice job defensively with our back against the wall there in the fourth quarter; some prideful stops," Elon coach Tony Trisciani said of the win-sealing sequence. The Phoenix denied the Spiders the end zone on seven consecutive snaps from the eight-yard line or closer, including five stops from the one or two.
Elon snuffed out an earlier Richmond drive at the Phoenix five-yard line when Tre'Von Jones intercepted a fourth-down pass in the end zone.
Tre'Von Jones gets his second interception of the season to give the ball back to the Phoenix!#AED | #CAAFB pic.twitter.com/ZN6CJo3BOI

— Elon Football (@ElonFootball) October 2, 2021
"We've been in some close football games this young season, and when we evaluated those losses, we felt like we really need to improve in a few areas," Trisciani said.
One of those areas he cited was red-zone efficiency. Elon went 3-for-3 scoring once inside the 20, and Richmond finished 0-for-3.
Getting Green In The Red
Red-zone play was a critical theme for winners in Week 5. All four teams that came out victorious cashed in more times after entering the 20 than their opponents:
James Madison went 3-of-4; New Hampshire, 1-of-1
Rhode Island was 3-of-3 to Stony Brooks' 2-of-3
Delaware finished 3-of-4 in the red zone to UAlbany's 1-of-1
Three CAA teams rank in the nation's top 40 for red-zone efficiency, and it's no coincidence that all are ranked in the national polls: Rhode Island (No. 19 at 93.8 percent); Villanova (No. 30 at 90 percent); and Delaware (No. 40 at 86.7). James Madison isn't far behind with an 84.2 percent success rate.
On the flipside—and in spite of Saturday's loss—New Hampshire has been excellent defending in the red zone with just 13 touchdowns yielded on 21 opponent trips inside the 20. Elon has allowed just 10 touchdowns on 16 defensive red-zone possessions, and James Madison has given up only four red-zone touchdowns on the season.
Go For It
A fake-field goal call and the subsequent execution proved critical to James Madison's win at New Hampshire, setting up the first Dukes touchdowns of the day.
IT'S A FAKE!!!!

Alex Miller runs around the left side and the Dukes are in the red zone!#GoDukes pic.twitter.com/pjAU4UBcB9

— JMU Football (@JMUFootball) October 2, 2021
"We felt the fake was there because of the way New Hampshire had a tendency to line up—seven-by-four—particularly on the left hash," JMU coach Curt Cignetti said. "It was a fourth-and-two where you might think about going for it, but I knew we had the fake-field goal in our back pocket.
"Now, if we don't get the look, we're going to kick a field goal. But if we get the look, we're going to run the fake," Cignetti continued. "It was a big play, because we ended up scoring a touchdown."
Whether on a fake or a straight-up conversion attempt, offenses are showing some aggression on fourth down. CAA teams account for 69 of the 974 fourth-down conversion attempts for which FCS squads have attempted this season.
Stony Brook has attempted the most with 14, followed by Towson's 11. The Seawolves and Tigers meet in Week 6.
Catch The Fever
Brian Espanet's touchdown reception to give New Hampshire the lead in Saturday's thrilling showdown with James Madison was the Wildcat receiver's fifth of the season.
UNH TOUCHDOWN!!! Brian Espanet scores the touchdown for the Wildcats on an 8-yard throw from Bret Edwards!! Wildcats lead JMU 21-17 with 6:52 left in the 3rd quarter! #GraniteStrong

Game Day Central: https://t.co/wkDwQOdUWe pic.twitter.com/AP1PoUI3C5

— UNH Football (@UNH_Football) October 2, 2021
Espanet is one of just 17 players in all of FCS with at least five scoring catches in 2021, a group that also includes CAA standouts Rayjoun Pringle of Villanova and Antwane Wells Jr. of JMU.
James Madison's Kris Thornton isn't far behind, hauling in touchdowns No. 3 and 4 in a stellar performance at New Hampshire. The second was the Dukes' game-winner on a clutch drive in which Cignetti said quarterback Cole Johnson stepped up like Michael Jordan at the end of a basketball game.
Back out in front!

Kris thornton finds the end zone for the 2nd time today!#GoDukes pic.twitter.com/yvvuIJP4Wr

— JMU Football (@JMUFootball) October 2, 2021
If James Madison's CJ was MJ, then Thornton was the Dukes' Scottie Pippen.