2021 James Madison vs New Hampshire
JMU Preparing For Business Trip To New Hampshire
JMU Preparing For Business Trip To New Hampshire
James Madison heads to New Hampshire to take on the Wildcats in a pivotal, early-season matchup for each program.
Sep 30, 2021
by Roger Brown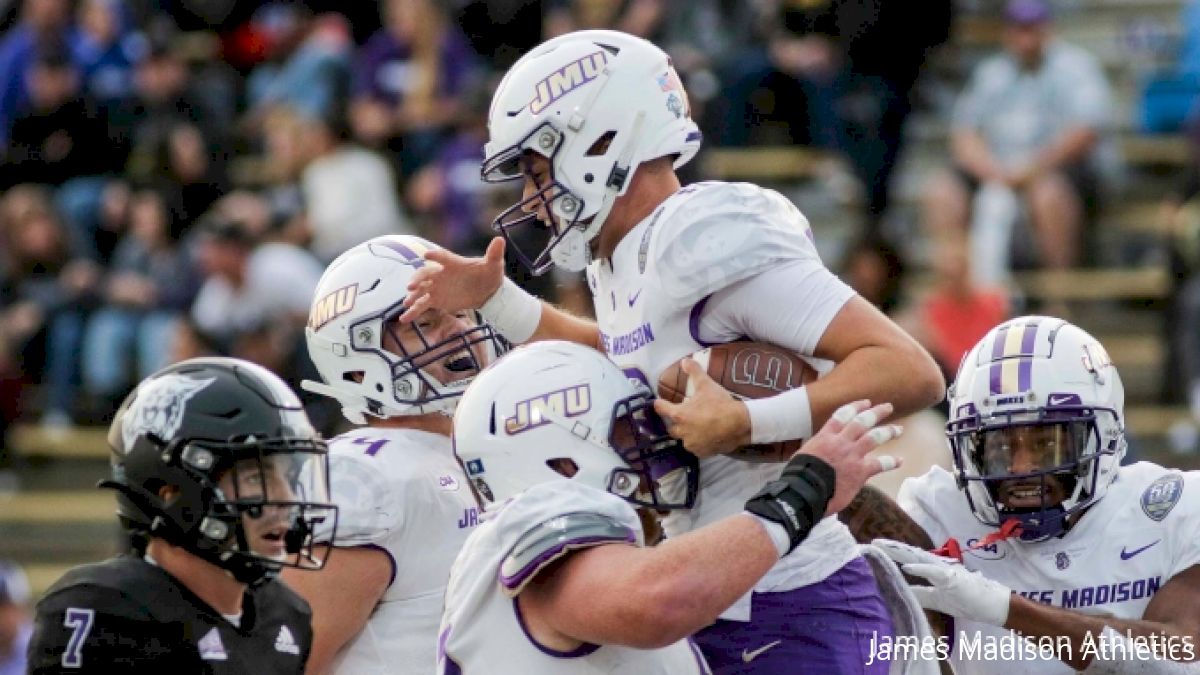 New Hampshire was roughed up by Pittsburgh 77-7 last weekend, and the task won't be much easier for the Wildcats when they face third-ranked James Madison during Homecoming Weekend on Saturday.
The Dukes (3-0, 1-0 CAA) have won their last 19 regular season games, and have prevailed in their last 14 matchups against CAA opponents. JMU is averaging 53.3 points per game, which ranks No. 1 at the FCS level. The Dukes are third nationally in completion percentage (71.6 percent) and turnover margin (plus-2.33), and fifth in total offense (519.3 yards per game).
Four JMU players have at least one rushing touchdown, and six players have caught at least one touchdown pass.
In short, JMU is anything but a typical Homecoming opponent.
"Another really good football team that we're playing this weekend," UNH coach Sean McDonnell said. "Probably one of the top three or four teams in FCS football. Seven years in a row in the playoffs. They do it on both sides of the ball. They do it extremely well.
"This is another good game (at) our stadium against a team that is ready for us," McDonnell continued. "They've had a week off to prepare. Listening to them talk, they have a pretty good idea that we do OK when we play at home. I think they made that point to their players. Made that point to their coaches. They're gonna have their antennas up when they come up here. We're going to have to bounce back and play. Looking forward to it."
No. 25 UNH (3-1, 2-0 CAA) will be facing one of the CAA's top quarterbacks in Cole Johnson, who has completed 74 percent of his passes this season. He's thrown for 11 touchdowns and has not had a pass intercepted.
Johnson is in the top 15 nationally for completion percentage, passing efficiency, yards per pass attempt, touchdown passes and passing yards per game. Redshirt freshman wide receiver Antwane Wells Jr. has caught five of Johnson's 11 TD passes.
"Very good decision-maker," McDonnell said when he was asked about Johnson. "Very good in the pocket. Has great presence. He does a great job of getting the ball out quickly to the perimeter."
UNH beat Stony Brook (27-21), Towson (26-14) and Lafayette (19-13), before losing its FBS game against Pittsburgh. JMU owns victories against Morehead State (68-10), Maine (55-7) and Weber State (37-24). The Dukes were off last weekend.
Third-year JMU coach Curt Cignetti said his team can't afford to let its guard down Saturday.
"I just know there have been times in the past when we come off a big win or one that was perceived as a big win and have an open week, and, you know, we just sort of enjoy that win too much for too long with too many warm and fuzzies in the office with people feeling good and comfortable," Cignetti said. "We can't have any of that."
House Of Pain
UNH's Wildcat Stadium has been the site of some bad memories for Cignetti.
JMU was ranked third nationally when it dropped a 35-24 decision at UNH in 2018. The Wildcats entered that game with a 2-5 record.
Cignetti was Elon's head coach in 2017 when the Phoenix were ranked as high as No. 7 nationally before traveling to New Hampshire. UNH came away with a 16-6 victory that year.
"They ran into a buzzsaw with a very talented (Pitt) team they played that was in an angry mood because of what happened the week prior (Western Michigan upset Pitt)," Cignetti said. "Pitt played their A game and kind of jumped on them early and New Hampshire just never had a chance to regroup… but it's a darn good (UNH) football team. Extremely well coached and always is. And it's a team also, when we play them up at their place, they play really, really well."
Return Man
Senior running back Percy Agyei-Obese could make his season debut for JMU on Saturday. Agyei-Obese was named the CAA preseason offensive player of the year, but has yet to play in a game because of a hamstring injury. He has run for 2,374 yards and 29 touchdowns during his college career.