2021 West Alabama vs West Georgia
Gulf South Notebook: "Fun" UWA-UWG Matchup; VSU Dominating On D
Gulf South Notebook: "Fun" UWA-UWG Matchup; VSU Dominating On D
No. 15-ranked West Alabama visits Carrollton and No. 9 West Georgia on Saturday for a marquee Gulf South Conference showdown.
Sep 30, 2021
by Kyle Kensing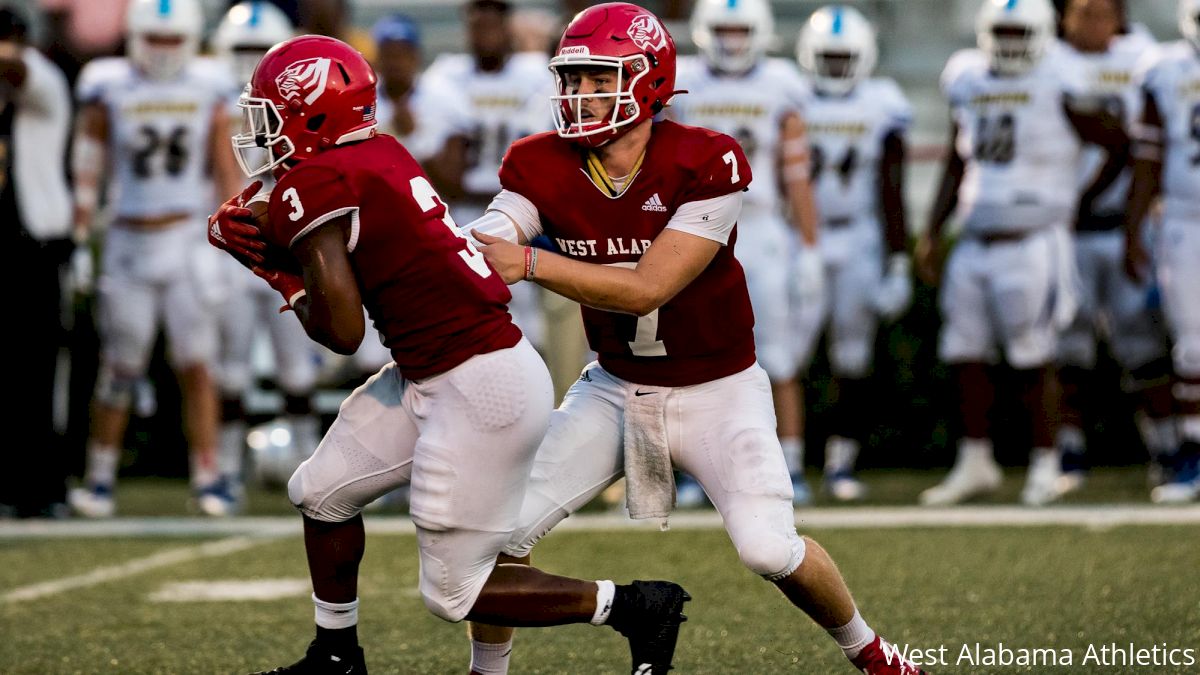 From unranked to start the season to the top 15 of the poll, both West Alabama and West Georgia have made emphatic statements to start the 2021 season.
In Week 5, one will make another statement, at the other's expense.
No. 15-ranked West Alabama visits Carrollton and No. 9 West Georgia on Saturday for a marquee Gulf South Conference showdown. Expect a tightly contested heavyweight fight between teams with playoff aspirations and mirroring styles.
Both are averaging well over 40 points per game while surrendering little more than a touchdown's worth of points per game. Each owes their offensive proficiency to balance:
West Alabama has scored 13 rushing touchdowns spread among five players; West Georgia has 11 rushing scores produced by five ball-carriers.

Tigers quarterback Jack McDaniels has thrown eight touchdown passes to five pass-catchers with no interceptions; Wolves quarterback Harrison Frost has thrown nine touchdowns and seven different West Georgia players have hauled in scores.

UWG has attempted 155 passes and rushed 143 times. UWA has thrown 121 times and rushed 147.
The similarities are both statistical and schematic—and extend to both sides of the ball.
"They do a lot of similar things to our defense, just like we do a lot of similar things to their offense," McDaniels said.
Some telling numbers show up in their pass defense. West Georgia is holding opponents to a microscopic 3.9 yards per attempt, but West Alabama isn't far at 4.2. Both have given up just one passing touchdown on the season.
Both defenses owe their outstanding yields against the pass to the pressure being applied in the backfield. West Alabama defensive end Chris Terrell has feasted so far in 2021, racking up three sacks with a pair of quarterback hurries.
Terrell played a critical role in West Alabama's dramatic Gulf South-opening win a week ago. With the Tigers holding a three-point lead in the fourth quarter and Mississippi College looking to score, Terrell made tackles on third and fourth down to give the UWA offense possession.
That sequence led to a Tigers drive that effectively sealed the win.
"The defense set us up with a pretty critical stop near midfield. We just knew if we put the ball in the end zone, it was likely over," McDaniels said.
Being kind of a grinder like that," he said, "it's probably good for the team going forward, because we've been in a tight game, we've been in a high-pressure environment, high-pressure situation, and we handled it pretty well."
The similarities between UWA and UWG extended as far as the manner in which they opened their GSC slates. Much as the Tigers won a thrilling, back-and-forth affair with Mississippi College in Week 4, the Wolves kicked off conference play in Week 3, outlasting Delta State in a wild back-and-forth.
West Georgia's second conference game was a different story. The Wolves rolled past Shorter last week, 56-0. Frost passed for an absurd 272 yards in the first half alone, with wide receiver Mechane Slade accounting for 172 of them.
Frost's prolific passing numbers against Shorter, and all season, have been a byproduct of some outstanding blocking. The Wolves were able to limit costly turnovers against Delta State's excellent turnover-generating defense by giving Frost a clean pocket, and against Shorter, the result was video-game passing numbers.
The West Georgia front against West Alabama's outstanding defense, starting on the line with Terrell, could be the matchup that shapes Saturday's high-profile contest.
A top 15 showdown so early into the GSC season sets up the winner nicely for the back-half of the schedule, but the challenging starts both West Alabama and West Georgia faced are reminders that Saturday is one step on a longer road.
"Win, lose or draw, the season doesn't end this weekend," McDaniels said. "But we do understand it's a big matchup. It'll be a lot of fun for us as competitors."
No Easy Wins
After its come-from-behind, 31-28 defeat of Mississippi College, McDaniels reiterated a theme for the year in the Gulf South.
"There's no easy wins here in the GSC," he said.
Week 5 marks the unofficial start to the conference grind, featuring four conference games. In addition to West Alabama's trip to West Georgia, Mississippi College travels to North Greenville; Valdosta State hosts Shorter; and West Florida returns from an unanticipated bye week to take on Delta State.
The unanimous No. 1-ranked Argos were set for a matchup with NCCAA member Fort Lauderdale last week, but UFL was forced to cancel two days prior to kickoff.
West Florida returns to action faced with a stiff challenge and what could arguably be a Top 25 matchup against Delta State. The Statesmen fell out of the rankings after dropping their second straight loss, but the two defeats came by a single score at West Georgia and at Div-I Jackson State.
Mississippi College's visit to North Greenville is an intriguing pairing. The Choctaws sit at 1-2, but their triple-option offense and feisty defense gave West Alabama fits in Week 4.
Ball control figures to be the name of the game, with both sides boasting some of the best rushing numbers in the nation. Mississippi College is fourth at 269 per game, while North Greenville is producing more than 201 per.
The Crusaders rolled up 427 rushing yards in their 38-7 rout of Erskine, 169 of which came from Dre Williams. Williams has surpassed 150 yards in two of North Greenville's first four games.
Valdosta State's return from the bye against Shorter begins their push to the postseason. The Blazers are perennial fixtures in the NCAA Playoffs thanks to a mentality that treats conference play like the playoff itself.
"We see it as if it's a playoff game. You lose one, you feel like you're out," safety Mondrell Jefferson said.
Blazing Defense
Valdosta State's explosive offense garners plenty of deserved attention, but there can be no denying the Blazers defense is one of the best in college football.
"They might get a little bit more shine than us," Jefferson said of the focus on offense. "But also, we go out there and we do what we're supposed to do. We produce shutouts or only seven points a game, too."
In each of its first three games, Valdosta State has held its opponent to a single score. The Blazers D has been so dominant, in fact, that Jefferson himself has scored as many touchdowns as Valdosta State's competition combined with two.
Jefferson's back-to-back fumble-recovery touchdowns in the season opener against Savannah State reflected the standout defensive back's eagerness to get back into action after a nearly two-year layoff due to COVID-19.
"When COVID had first hit, to be honest, that was my first depressive moment ever," Jefferson said. "Because it was just like, man you don't know when football's going to be back. Nobody had no answers yet."
Whereas the FBS proceeded with a fall season, and FCS played a shortened spring campaign, the Div. II season was completely scrapped. That left Jefferson and his Valdosta State teammates anxious to get back into action.
The Blazers, Jefferson said, leaned on one another and pushed themselves to use the downtime to not just stay sharp physically, but strengthen their team unity.
Several players stayed in Valdosta and worked out together, and welcomed transfers into the mix. The additional time before jumping into games, Jefferson said, allowed the returners to initiate the program's newcomer to their familial bond.
And all those efforts have come popping off through the first month of the season for VSU, no more so for any one player than Jefferson with his incredible start.
"I was like, 'Man, this is the way to start the season off,'" he said with a laugh.
As a veteran of the defense, Jefferson added he hopes to encourage the entire Blazers secondary to hunt for the ball.
"I try to give them the mentality when the ball's on the ground, 'Hey, that's mine,' I want them to pick up that same mentality, too," he said. "Sometimes we joke on the field, 'I'm going to catch a pick before you, I'm going to get this fumble return before you."
So even when the ballyhooed offense isn't on the field, VSU is still capable of putting up points.