2021 UAlbany vs Delaware
Delaware May Use Backup Plan Against UAlbany
Delaware May Use Backup Plan Against UAlbany
If Delaware quarterback Nolan Henderson is unable to play this Saturday against UAlbany, the Blue Hens will likely turn to QB transfer Zach Gwynn.
Sep 29, 2021
by Roger Brown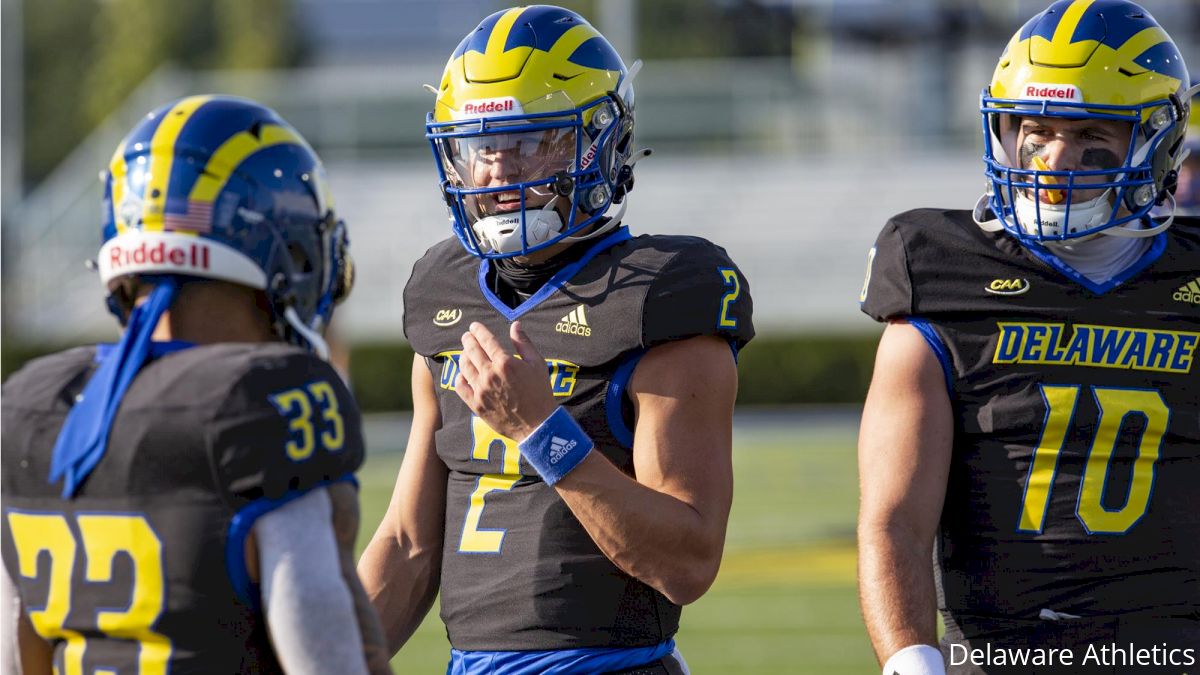 Perhaps the most interesting question entering Saturday's Colonial Athletic Association matchup between Albany and Delaware is this: Who will start at quarterback for the eighth-ranked Blue Hens?
Senior Nolan Henderson, who led the CAA in completion percentage last season (71.0 percent), has been nursing a hip injury that kept him out of practice late last week and early this week.
Henderson injured his hip against Stony Brook in 2019 and had surgery following that season. He didn't play in the fourth quarter of Delaware's most recent game, a 45-13 loss to Rutgers on Sept. 18.
"It's going to be very much day-to-day," Delaware coach Danny Rocco said. "He's kinda dealing with a hip/groin/abdomen injury that has been somewhat ongoing, something that was repaired here last year, that's kind of resurfaced here this year."
If Henderson is unable to play, East Carolina transfer Zach Gwynn could get the start. Gwynn played in the fourth quarter of the loss to Rutgers and was 0 for 3 passing. He's made seven appearances off the bench for the Blue Hens since transferring in 2020 and has completed 6 of 10 passes for 59 yards in those games.
"It's different starting a game rather than just being tossed in there," Gwynn said. "You've gotta get yourself loose, get ready to go right away and I think I've done a good job physically of getting myself ready to go when my number's called."
Henderson has completed 43 of 73 passes for 613 yards and four touchdowns this season. He has not had a pass intercepted, but was sacked five times against Rutgers.
"He'll certainly play again this year," Rocco said. "Just don't know how quickly or how often. But we're optimistic that we're going to have Nolan back in our lineup here before too long.''
Rested And Prepared
Both the Blue Hens (2-1, 1-0 CAA) and Great Danes (0-3, 0-1) are coming off their bye week, and lost to an FBS opponent the week before. Albany dropped a 62-24 decision to Syracuse the same day Delaware lost to Rutgers.
Albany's other losses came against North Dakota State (28-6) and Rhode Island (16-14).
"I think I'm a little concerned with the fact we're 0-3 and even though we've played tough teams it's not acceptable and I've told our team that," Albany coach Greg Gattuso said. "It doesn't matter. We have to go out and win games."
Albany ranks last among CAA teams in scoring offense (14.7 ppg). The Great Danes allowed eight sacks in their loss to Rutgers.
One matchup to watch Saturday is Albany's run defense against Delaware's running game. Delaware running back Dejoun Lee has rushed for 244 yards and a touchdown on 45 carries this season, and leads the CAA in rushing yards per game (81.3). The Great Danes are allowing 228.6 yards rushing per game and 5.91 yards per carry.
Red Alert
An area where the Blue Hens will be looking for improvement is red zone defense. Delaware is last among CAA teams in that category. Delaware opponents have come away with points in each of their six trips inside the 20-yard line this season (three touchdowns and three field goals).
The Delaware defense is also last in the CAA on third-down-conversion percentage (48.72).