2021 William & Mary vs Elon
Elon, William & Mary Jump Into CAA Play
Elon, William & Mary Jump Into CAA Play
William & Mary takes on Elon this weekend as both teams begin their CAA conference play.
Sep 23, 2021
by Kyle Kensing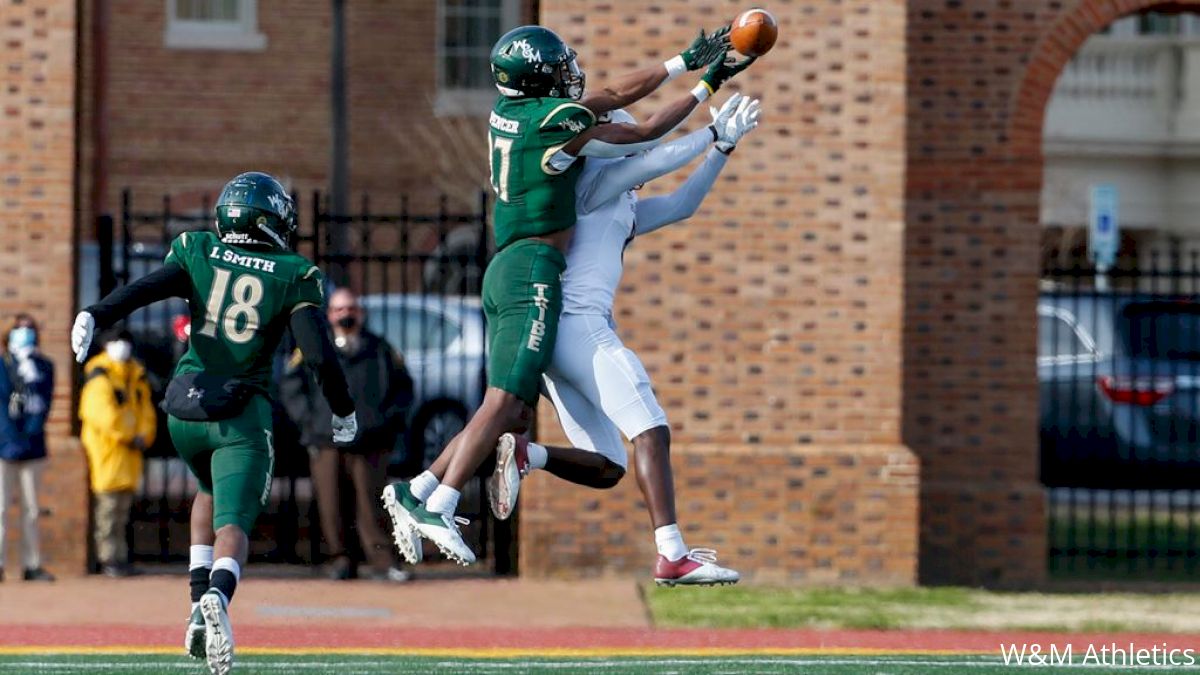 The last two Colonial Athletic Association teams to begin their conference schedules meet in Week 4, with each bringing a contrasting style.
William & Mary rebounded from an opening-week loss to Virginia with dominant showings against Patriot League counterparts Lafayette and Colgate. The Tribe held the Leopards and Raiders to 10 combined points and fewer than four yards per play.
"The ability to get to the quarterback, to apply pressure; tackles for loss, hurries, things like that allows you to play well, play fast," William & Mary coach Mike London said of the defense's shut-down performance against Lafayette.
In Week 3 in particular, William & Mary complemented its stifling defense with a multifaceted rushing offense. The combination allowed the Tribe to dictate pace—and it doesn't hurt when Donavyn Lester goes 74 yards for a touchdown right out of the gate.
"You go on the road to win a game, it's a big deal. And now we've just got to keep capitalizing."
The Tribe are on the road again for the CAA opener at Elon, which returns to Rhodes Stadium for the first time since the season opener. The Phoenix kicked off 2021 with a 24-22 heartbreaking loss to Wofford, but rebounded the next week with a 24-23 defeat of Campbell.
Elon went to Appalachian State in Week 3 and gave the Sun Belt Conference contenders a handful in the first half.
"Our guys played real hard at App State," said Phoenix coach Tony Trisciani. "I'm proud of the effort and physicality in the first half. In the FBS games, you want to hang around in the second half and put some pressure on them. I felt like we did that, going into the half down by 10."
The theme throughout all three games for the Phoenix has been the return to form of quarterback Davis Cheek, who passed for more than 800 combined yards in the non-conference contests.
𝗦𝗹𝗶𝗻𝗴𝗶𝗻' 𝗜𝘁 𝗔𝗿𝗼𝘂𝗻𝗱
Davis Cheek is one of seven quarterbacks in FCS football to throw for 225+ yards three times this year. #AED #PhoenixRising pic.twitter.com/XSfInVro2J

— Elon Football (@ElonFootball) September 22, 2021
Elon's potent passing game and the physically-imposing-style William & Mary brings, shapes what should be a fittingly competitive start to CAA play for both. If it's anything like the last fall-season meeting between the two, when they went to a historic finish, expect Saturday to come down to the final play.
Line Play
William & Mary comes into Elon averaging 7.3 tackles-for-loss through three games, good enough to rank in the top 25 nationally. Will Kiely is producing at a Buck Buchanan Award-contending clip with four sacks and six tackles for loss already on the year.
Will Kiely with the SACK!#GoTribe pic.twitter.com/SrRbCBQwua

— William & Mary Tribe Football (@WMTribeFootball) September 18, 2021
Kiely is one of three Tribe defenders with at least three tackles-for-loss, including fellow lineman Nate Lynn. Lynn has 3.5 sacks and a team-best four quarterback hurries.
Lynn and Kiely both got into the backfield for TFLs when William & Mary routed Elon in the spring, 31-10. However, the Phoenix have shown considerable progress up front in the months since that meeting.
"We're playing better up front than we did in the spring, and that's to be expected," Trisciani said. "That learning curve is pretty steep, and I do expect to get better every week...We're doing a better job of protecting the quarterback than we did in the spring."
Elon has allowed 18 tackles for loss through three games, but eight of those were against Appalachian State. And, despite the fringe-Top 25 Mountaineers getting into the backfield, Trisciani said he was pleased with the line's ability to open up rushing lanes for a handful of explosive gains.
Jaylan Thomas broke off a 28-yarder at Appalachian State; William & Mary's rush defense has not given up a gain of more than 23 yards to FCS competition so far this season.
Limiting Self-Imposed Errors
In each of its losses, Elon has played well but has been vexed by a handful of costly errors. Last week at Appalachian State, the Phoenix drove into the red zone with a chance to pull to a 10-point margin.
A Mountaineers interception in the end zone returned to the Elon five-yard line was a back-breaking, "14-point swing" as Trisciani noted.
Key for the Phoenix this week is cleaning up those moments of what the coach called "sloppy" play.
"Sloppy with the football on offense, and some alignments, adjustments and tackling on defense," Trisciani said.
Likewise, William & Mary looks to limit the damage it inflicts on itself in the form of penalties. Only two teams in the entire FCS have racked up more than the Tribe's 265 yards worth of laundry.
"Those things we can correct," London said of the penalties.
Multifaceted Offenses
While William & Mary and Elon have thrived with two different offensive styles, the teams have similarities in their depth at skill positions.
The Tribe feature a multidimensional rushing attack that starts with running back Lester. He's averaging a team-best 67.3 yards per game. Dual-threat quarterback Darius Wilson is posting 44 yards per game, and fellow quarterback Hollis Mathis has been a valuable contributor in certain packages through the two William & Mary wins.
Bronson Yoder, one of the nation's most impactful freshmen in 2019, showed no rust after missing the first two games: His first carry of the season last week at Colgate netted 18 yards.
Elon, meanwhile, has established a dangerous three-man look at wide receiver with Chandler Brayboy, Kortez Weeks and Jackson Parham all catching at least 14 Davis Cheek passes through three games.
Running back Thomas has also been a reliable weapon in the passing game, combining his receiving and rushing in the Week 2 win at Campbell to go for about 100 yards.
𝙎𝙖𝙩𝙪𝙧𝙙𝙖𝙮𝙨 𝘼𝙧𝙚 𝙁𝙤𝙧 𝙅𝙖𝙮𝙡𝙖𝙣

19 carries, 55 yards
4 catches, 38 yards
Our work🐎#AED pic.twitter.com/rP8SIwImpu

— Elon Football (@ElonFootball) September 13, 2021