2021 West Georgia vs Shorter
Gulf South Notebook: Gulf South Commands Respect
Gulf South Notebook: Gulf South Commands Respect
Just two Gulf South teams opened 2021 ranked in the Top 25, but it hasn't taken long for the conference to command national respect.
Sep 23, 2021
by Kyle Kensing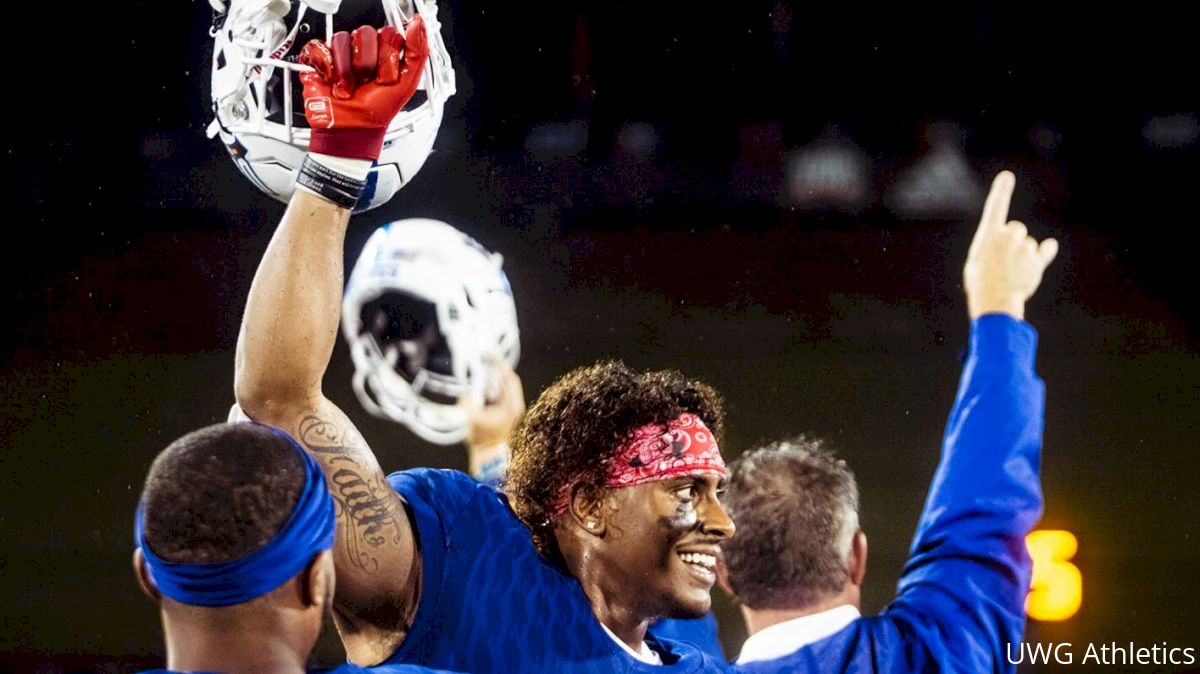 If the first game of Gulf South Conference play is any indication, buckle in for an incredible season.
West Georgia beat Delta State in a rain-soaked Week 3 contest, 27-26, setting the tone for the entire league campaign to come. The Top 25 matchup lived up to expectations, with Delta State rallying from down two scores to take the lead, the advantage swapped three times late, and the host Wolves prevailing on a 90-yard drive in the fourth quarter.
"We faced some adversity," said West Georgia wide receiver Quan Harrison. "So it feels good to get that one."
Both sides showed what they do best: Delta State's defense came through with a pair of interceptions, including an Emanuel Barber pick-six that gave the Statesmen a 26-20 lead in the fourth quarter, while West Georgia's balanced offense mounted three touchdown drives that all went 83 or more yards—the longest of which went 99 yards.
That duel between the Wolves passing attack and Statesmen defense shaped a mid-September game that had November playoff vibes. That both teams figure to be in the postseason conversation when they meet in a non-conference game at regular-season's end made Week 3 feel a bit like foreshadowing.
And if West Georgia is indeed in the hunt for the playoffs, the depth and diversity it has on offense will be critical. It certainly showed up against Delta State, with Harrison Frost having completed pass attempts to nine different pass-catchers.
"There's trust in everybody in the receiver room," Quan Harrison said. "Terrill Cole's dynamic, Mechane [Slade]'s dynamic, Phil Patterson's dynamic."
Add tight end Trevon Lambert to that list, too. His game-winning touchdown reception earned GSC Play of the Week recognition.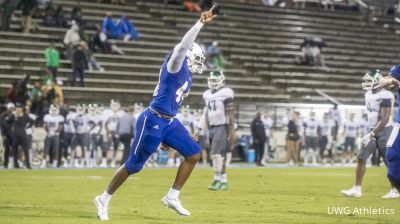 The scheduling peculiarity that has Delta State and West Georgia meeting twice this season gives the Statesmen a rare chance at a mulligan, however. After two unsuccessful PATs, Delta State has reason to like its chances in a second meeting.
Top 25 Respect
Just two Gulf South teams opened 2021 ranked in the Top 25, but it hasn't taken long for the conference to command national respect.
West Georgia elevated to No. 14 after its win over Delta State, but the Statesmen were not aggressively penalized for the loss, remaining in the poll at No. 25.
Defending national champion West Florida held its place as a unanimous No. 1 after rallying from a halftime deficit to rout Texas A&M-Commerce, 35-17. The Argos showed off their depth in the win with five different players getting into the end zone: Shomari Mason, Jervon Newton and Anthony Johnson on rushes, with David Durden and Larry Rembert hauling in passes from Austin Reed.
West Florida should face less resistance in its final non-conference game, hosting fledgling Fort Lauderdale. The NCCAA program, coached by longtime Miami Dolphin and San Diego Charger Chris Chambers, is 0-2 in its first year of competition with losses of 68-3 to Presbyterian and 63-0 last week to Gulf South member Mississippi College.
Perennial powerhouse Valdosta State is at No. 4 after surviving a defensive slugfest against a good Albany State team. The Rams beat Gulf South opponents Mississippi College and Shorter in the first two weeks of the season.
The Blazers got into the backfield for four sacks in the 21-3 win, while quarterback Ivory Durham complemented the defensive effort scoring all three of the game's touchdowns.
"Every game rep, he's becoming a little more comfortable, a little more at ease and trusting the system there," VSU coach Gary Goff told WTXL in Tallahassee. "He's so electric. You don't want to coach that away from him."
Meanwhile, the GSC added a fifth team to the polls ahead of Week 4 in West Alabama. The Tigers destroyed North American in Week 3, 80-0, moving to 3-0 and jumping into the Top 25 at No. 21.
"I'm just happy to be a part of it," Tigers quarterback Jack McDaniels said of leading the most lopsided blowout in West Alabama history during his postgame press conference.
Conference Play Continues
Gulf South competition really gets rolling in October, but Week 4 features the second and third league games of the season with West Georgia traveling to Shorter and Mississippi College hosting West Alabama.
Shorter seeks a program-defining win with the No. 14 Wolves in town. The Hawks improved to 2-1 in Week 3, knocking off Clark Atlanta, 38-17, behind a stellar performance from quarterback Aeneas Dennis. Dennis went 16-of-21 passing for 238 yards with three touchdowns to three different pass-catchers.
Shorter's defense comes in tied for 48th in the nation at 19.7 points allowed per game.
Mississippi College and West Alabama have been even better on that side of the ball. They are No. 4 and 5 in NCAA Div. II with per-game yields of six and seven points thus far into the campaign.
Maintaining those impressive numbers after Week 4 comes down to slowing two wildly different offenses: West Alabama's defense faces the challenge of a triple-option Choctaw attack, while Mississippi College is tasked with containing the potent aerial attack the Tigers have unleashed with McDaniels at quarterback.
Prime Time For Delta State
Delta State's outstanding defense features some of the premier playmaking defensive backs in college football like Junior Faulk and Sherrod Paige. In Week 4, they lead the Statesmen into a matchup with one of the most recognizable defensive backs in football history: NFL Hall of Famer and Jackson State head coach Deion Sanders.
Sanders' hire ahead of the spring 2021 season generated nationwide attention for Jackson State, and "Prime Time" is already generating buzz as a potential candidate for FBS positions like the vacancy at USC.
The Tigers opened the season 2-0, but dropped their Week 3 game at Louisiana-Monroe in what Sanders deemed an "abysmal" offensive performance.
"I don't know who's going to show up, who's going to show up?" Sanders said to the Clarion-Ledger of Jackson State's offense. "No one showed up last week. We didn't even show up, the team didn't even show up. So who's going to show up?"
If the Jackson State offense doesn't show up to its fullest in Week 4, Delta State's built to pounce and take some of the luster off of the Tigers' home opener.