2021 Hawaii vs New Mexico State
New Mexico State QB Situation Remains Fluid
New Mexico State QB Situation Remains Fluid
New Mexico State now has three options at quarterback for their upcoming game against Hawaii.
Sep 22, 2021
by Roger Brown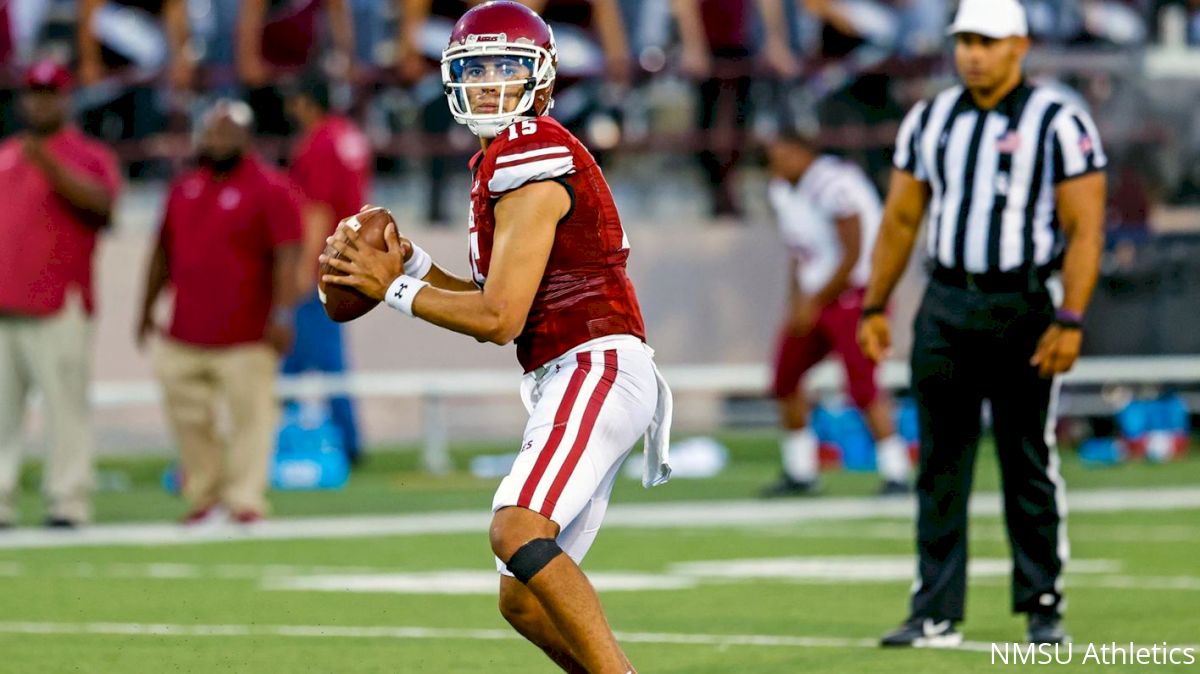 Sophomore Dino Maldonado passed for 321 yards and three touchdowns in New Mexico State's 43-35 victory over South Carolina State last weekend, but he might not be the Aggies' starting quarterback for Saturday's game against Hawaii. Although he's healthy, Maldonado may not even play.
If he has recovered from a wrist injury suffered in the first half of a 34-25 loss to New Mexico on Sept. 11, quarterback Jonah Johnson could return to the starting lineup. Since backup QB Weston Eget was out with a knee injury, the Aggies (1-3) turned to Maldonado when Johnson was injured against New Mexico.
Both Johnson and Eget are listed as questionable for the matchup with Hawaii.
"We're close to getting both Jonah and Weston back," New Mexico State coach Doug Martin said. "Both of them could have probably played (against South Carolina State) if we needed them to, but we wanted to try and get out of (that) game without getting them further injured so we could have them the rest of the way. We'll see where they are this week.
"If Jonah is 100 percent healthy, I can just tell you that he gives us the best chance because of what we are getting ready to face and what he can do and his experience and the athletic ability that he has. Those are things that we as a staff have to evaluate and understand who we are playing this week and that the quarterback is going to have to do some things at the line of scrimmage that we didn't have to do last week."
Maldonado completed 13 of 34 passes for 192 yards against New Mexico. He also carried the ball six times for 46 yards in that game. His runs included a 37-yard gain that set up New Mexico State's first touchdowns.
Maldonado completed 12 of his first 13 passes during the victory over South Carolina State. He connected on 24 of 32 passes in that game and became the first New Mexico State quarterback to throw for at least 300 yards in his first career start since JJ McDermott in 2007.
"Preparing all week as the starter made me more comfortable," Maldonado said. "Our O-line did a great job of protecting and our wide receivers did a great job of getting open. It was my job to get them the ball."
New Mexico State will likely have to put up plenty of points Saturday since Hawaii QB Chevan Cordeiro has thrown for 1,133 yards this season—third most in the country. Cordeiro, who was Tua Tagovalioa's backup in high school, has passed for at least 300 yards in three of Hawaii's four games, but Hawaii has been limited to a total of 50 points in its three losses. Cordeiro has a 49.6 completion percentage in those three games.
"It's not a Chevan problem, it's a team problem," Hawaii coach Todd Graham said. "I've been in this game a long time. Enough to know when I've got a good product."
The Rainbow Warriors (1-3) have lost two in a row since they beat Portland State 49-35.
No-Win Situation
New Mexico State will be seeking its first victory over Hawaii. The Aggies are 0-8 against the Rainbow Warriors in a series that began in 1978.
Saturday's game will be the first time the programs have met since 2011, when both were members of the Western Athletic Conference. It will also be the first half of a home-and-home series between the teams this season. New Mexico State will play at Hawaii on Oct. 23.
Being Picky
New Mexico State has forced eight turnovers (six interceptions) in four games. The Aggies intercepted three passes against South Carolina State. It was the first time they had three interceptions in a game since 2016 (Texas State).