2021 Richmond vs Villanova
Momentum And The Anatomy Of A Comeback
Momentum And The Anatomy Of A Comeback
Measurable or not, Villanova used momentum in their improbable comeback against Richmond last weekend.
Sep 22, 2021
by Kyle Kensing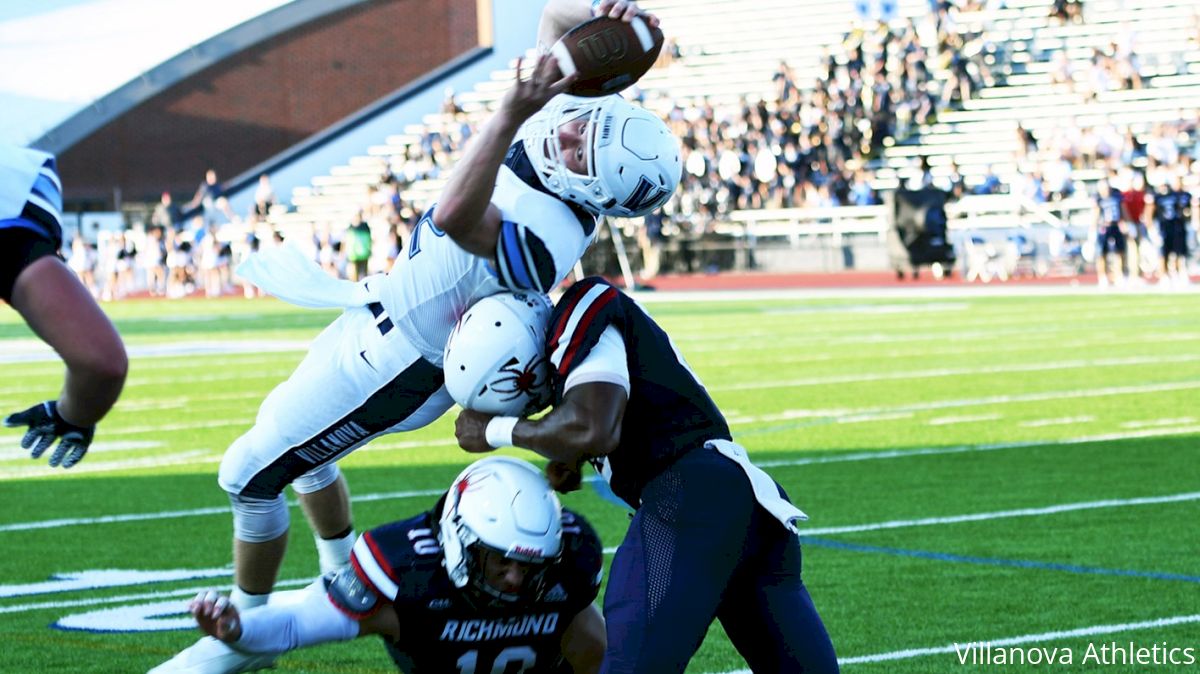 Say the word "momentum" to a stat-head, and you'll probably be greeted with sighs and eye-rolls. There's no quantifiable way to measure its existence in football, but plenty of those who have experienced it recognize it.
And in its 34-27, comeback win over Richmond, Villanova felt momentum.
"It's one of those things that you feel," said Villanova quarterback Dan Smith. "It's really hard to pinpoint what exactly it is, but it's sort of like the energy level from each sideline."
Smith, who scored all three of the Wildcats' touchdowns in a rollicking final 5:01, described momentum as each positive play fueling the belief and thus the performance of the players.
To hear it put into words conjures memories of a theme-park ride, when apprehension on the upward climb drops into your stomach and becomes a feeling of exhilaration. For Villanova, the thrill ride began when tight end Todd Summers caught back-to-back passes from Smith, the second of which went 37 yards and moved the Wildcats into Richmond territory.
"I hit Todd up the middle on the seam. He caught the ball and got tackled...then he gets up and he's just yelling. He brought a lot of energy with that play," Smith said "After that, on the sidelines it was just a different energy from offense and defense.
"You could see it for the rest of the game," he added.
Villanova coach Mark Ferrante made a comment after the Wildcats' Week 1 blowout of Lehigh that foreshadowed Summers' role in the comeback, saying: "I'd like to get the tight ends more involved in the pass game."
Consider that box checked.
Summers' catch had the effect of a posterizing dunk in basketball or a towering home run with runners on base in baseball, generating an electricity that resonates with players and fans alike.
For a road team, the impact is a palpable demoralization of the audience. A dejected crowd isn't making the same kind of noise on snaps and disrupting calls. In the case of the Wildcats, playing in front of a sold-out Villanova Stadium on Parents Weekend added to the momentum shift down the stretch.
Style points don't go up on the scoreboard, but they help get a home crowd into the game and fire up a team. And the possession that kick-started the Wildcats comeback had plenty of style.
That drive, which began with Richmond ahead 27-13, ended when Smith ran two yards and went into the end zone on a dive toward the pylon. The contact meeting him on his leap sent Smith helicoptering over the goal line in a visual reminiscent of John Elway's Super Bowl XXXII.
Relive tonight's 34-27 WIN over Richmond. @novafbfoxph replay happening NOW on @iHeartRadio!

Listen 🎧: https://t.co/qTaz7zbsjV pic.twitter.com/dcbuvd4X1V

— Villanova Football (@NovaFootball) September 19, 2021
"I kind of braced myself for impact. I popped up, I was excited. That was also a big play in getting the energy turned around, putting my body on the line and showing everybody, 'Hey we're still in this,'" Smith said. "I know they believed, but seeing somebody put their body on the line really brought the energy back in the game for us."
Smith's subsequent touchdown passes of 44 yards to Jaaron Hayek…
Dan Smith with an absolute dime, Villanova a PAT away from trying after trailing 27-13 just minutes ago pic.twitter.com/rYGQ63b0fu

— Kyle Kensing (@kensing45) September 18, 2021
...and 47 yards to Rayjoun Pringle...
🎥: 47-yard pass from Smith to Pringle for a thriller Cats 𝗪𝗜𝗡‼️ pic.twitter.com/uOketI7Uj1

— Villanova Football (@NovaFootball) September 18, 2021
...completed the rally in appropriately spectacular fashion.
But the workmanlike effort of the Wildcats defense on the Richmond possessions in between were just as vital to keeping the momentum going. In physics terms, force is necessary to stop momentum. Defense provided the force in the comeback equation.
Villanova forced consecutive three-and-outs from a Richmond offense that had been cooking, first in limiting the Spiders rushing attack to gains of four, four and one yard in a UR effort to use clock; then denying three straight pass attempts once the game was tied.
The Wildcats defense feeding off the energy sparked on offense was similar to how Richmond took the lead. Special teams and defense ignited what had been a struggling Spiders offense, first with an Aaron Dykes' kickoff return touchdown; then a forced fumble and recovery deep in Villanova territory.
Those plays ignited a 24-0 Richmond run, bookended by Wildcats bursts of 13-0 and 21-0.
"I don't really know why it was so one-sided in certain parts of the game as opposed to go back and forth and exchanging scores," Ferrante said.
No matter why those runs occurred in such large and long chunks, that the game did play out in such a fragmented fashion underscores the significance of momentum-building moments.
"When it started to snowball against them in that third quarter, they hung in there," Spiders coach Russ Huesman said. "It was a tough one. If we could had a play here or there—there were probably seven-to-10 times where if we get a first down or get a hand on a ball, we could have won."
Huesman also cited another moment that potentially did as much to shift momentum in Villanova's favor as the Summers catch or Smith touchdown: The Wildcats forced Richmond into a field-goal attempt deep in Spiders territory on a possession that, had it resulted in a touchdown, would have made the score 31-13.
Three straight Villanova touchdowns would have generated the same result, but the first two scores would not have erased Richmond's lead—and thus changed how the penultimate Spiders possession was called.
Likewise, Villanova had two first-half possessions that stalled in the red zone and resulted in field goals, turning a potential 21-0 advantage into a much more manageable 13-0 deficit for Richmond.
The up-and-down nature of the Week 3 contest crystallized how a college football comeback defies logic and can perhaps come down to factors, like momentum, that cannot be at all quantified nor fully explained.
Whatever the cause, tangible or not, it's better to be on the winning side.
"We've been on the other side of some of those games before," Smith said. "It feels good to be the one doing the coming-back."