2021 Villanova vs James Madison
CAA Notebook: Four Teams Remain Perfect At Quarter Mark
CAA Notebook: Four Teams Remain Perfect At Quarter Mark
Four teams in the Colonial Athletic Association reached this milestone with unblemished records: James Madison, New Hampshire, Rhode Island and Villanova.
Sep 21, 2021
by Kyle Kensing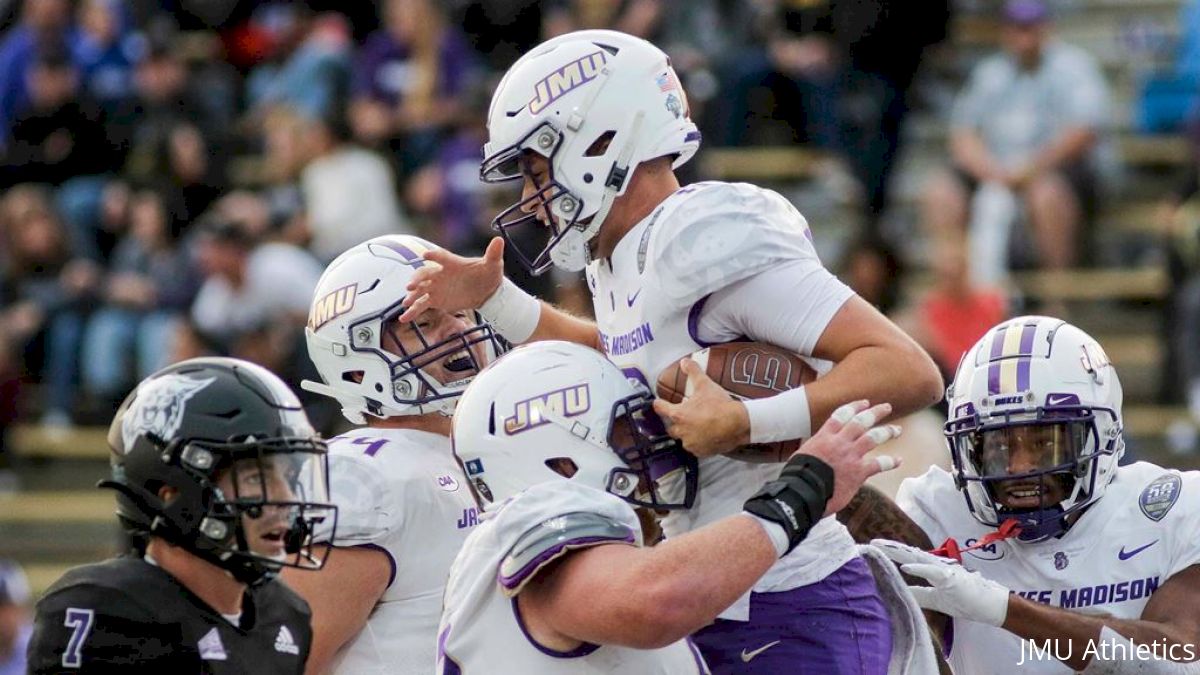 In case you needed a reminder of how fast the football campaign passes, about a quarter of the 2021 regular season is already complete. Four teams in the Colonial Athletic Association reached this milestone with unblemished records: James Madison, New Hampshire, Rhode Island and Villanova.
The path to 3-0 for each has been unique.
Villanova remained unbeaten in Week 3 with one of the more raucous comebacks any conference is likely to see in 2021, scoring 21 unanswered points in the final seven minutes of a Top 25 showdown with Richmond.
Calling the CAA opener for both teams wild would undersell it; in front of a capacity crowd at Villanova Stadium, the Wildcats jumped ahead 13-0 at halftime; gave up an Aaron Dykes kickoff-return-for-touchdown; then in short order, were down two touchdowns.
Aaron Dykes is simply electric @Spiders_FB pic.twitter.com/DNsgKzGHOg

— Kyle Kensing (@kensing45) September 18, 2021
"Huge momentum swings," said Villanova coach Mark Ferrante. "I don't really know why it was one-sided in certain parts of the game...but, real proud of our guys and coaches."
A stingy fourth quarter out of the Villanova defense and three impressive drives led by Dan Smith became the difference in the Wildcats going to 3-0 and not the Spiders.
It may not be entirely accurate to label it a theme thus far in CAA play, but there has been enough unpredictable back-and-forth in the handful of league contests to think it could be the trend of 2021.
That three of the remaining unbeatens were involved in such games is fitting, as Villanova's rally joins Rhode Island's 16-14 win at UAlbany in Week 2 and New Hampshire's tone-setting Week 1 defeat of Stony Brook.
New Hampshire holds the inside track on what promises to be a competitive CAA race by virtue of its unusual schedule with both Stony Brook and Towson to open things up.
The Wildcats will return to conference competition in Week 5 after traveling to Pitt, hosting CAA standard-bearer James Madison on Oct. 2. The preseason favorite JMU Dukes scored what might be the most meaningful win for any FCS program thus far in 2021, traveling more than 2,000 miles to Weber State and winning a 37-24 rout that was more lopsided than the final score suggests.
James Madison led by four touchdowns in the fourth quarter, seizing momentum when Josh Sarratt's 88-yard scoop-and-score turned a potential game-tying sequence for Weber State into a two-touchdown advantage for the Dukes.
SEE YA LATER, CHEESE!!!

Josh Sarratt ➡️ TD

Catch the action on @espnplus.#GoDukes pic.twitter.com/G1eFpaKTtS

— JMU Football (@JMUFootball) September 19, 2021
"We had a blitz called there, he was coming off the weak edge. The quarterback kind of tripped coming out under center...and tried to make the hand-off," JMU coach Curt Cignetti said. "The ball bounced right to [Sarratt]. Right place, right time...It was definitely the pivotal play of the game."
Appropriately, Sarratt led the Dukes in the singing of the alma mater in the locker room.
Cheese Sarratt!

The boys are heading home happy with a big road dub!#GoDukes pic.twitter.com/5GZNxtOKao

— JMU Football (@JMUFootball) September 19, 2021
The significance of James Madison's romp could be seen come November, when the playoff committee determines seeding.
Weber State has been a consistent contender under coach Jay Hill, and twice in the last four years has drawn playoff matchups against James Madison. The Wildcats were preseason favorites to win the Big Sky Conference coming into 2021, and feature an All-Conference running back in Josh Davis.
JMU held Davis to 59 yards on 16 carries.
While 3-0 may not be surprising for James Madison, even with as dominant as the Dukes have been in three games won by two touchdowns or more, the start to 2021 at Rhode Island is the program's best in 16 years.
The Rams overwhelmed Brown to claim the Governor's Cup, 45-24, with quarterback Kasim Hill erupting for 320 passing yards on just 13-of-19 attempts, throwing three touchdowns and rushing for a fourth.
The effort was good enough to win Hill CAA Offensive Player of the Week.
A Special Saturday
One blocked kick is impressive. Two blocked kicks in the same game is a true rarity. Thus, it's no wonder Maine's Rich Carr earned National Special Teams Player of the Week after blocking a pair of PATs in the Black Bears' win over Merrimack. Both turned into Maine points.
Okay @blackbearsfb Special Teams we see you!

The Merrimack PAT is blocked and returned for the score

Maine leads, 12-6#CAAFB pic.twitter.com/1MxC2qKXr3

— CAA Football (@CAAFootball) September 18, 2021
The Black Bears block ANOTHER PAT and return it to the house! This time it's Rich Carr on the block AND the return!

Maine 31
Merrimack 26
3Q | 00:29#BlackBearNation | #ChampionshipMentality | #CAAFB pic.twitter.com/yfALNJVSDx

— Maine Football (@BlackBearsFB) September 18, 2021
"We felt like the operation and the look that we were getting put us in position to get a block," Maine coach Nick Charlton said. "All we did as coaches, honestly, was just put Rich there. We talked about it all week, we repped it. I thought it was really great by the staff in terms of the scheme and what we were doing but players need to make the plays…[and] those were two unbelievable efforts by Rich."
Carr getting the block then scoring on his own handiwork was a play that Charlton said "changed the entire dynamic" of the game.
"A lot of teams take that play off; we can't do that," Charlton said. "We have to be excellent at special teams up here in order to win."
A Runaway Win
William & Mary's defense was outstanding in a 27-7 defeat of Colgate in Week 3, but the most eye-opening statistic from the Tribe's victory has to be the 331 yards they accrued on the ground.
Donavyn Lester accounted for 74 of them on one carry.
7️⃣4️⃣-yd TD run for Donavyn Lester!

W&M 7, CU 0 | 1Q, 11:01 #GoTribe pic.twitter.com/YoemIOSclA

— William & Mary Tribe Football (@WMTribeFootball) September 18, 2021
William & Mary averaged 8.5 yards an attempt, and six players gained at least 20 yards each. Tribe coach Mike London called it the "recipe for giving opportunities for guys to have some success."
The last two teams to open CAA play are William & Mary and Elon, who face in Week 4. The Tribe's multifaceted rushing attack and the deep and diverse wide-receiving corps of Elon will make for an interesting contrast.
Road Weary
James Madison's bye week comes at an opportune time after the win at Weber State. Cignetti said the Dukes did not return home until 10 a.m. on Sunday, the result of an especially long trek back from an already lengthy road trip to Ogden, Utah.
"It's a long trip, then you take into account the two-hour time difference [between Mountain and Eastern Time]." Cignetti said.
The airplane on which the Dukes flew hopped from Ogden to Provo, where the bathroom was serviced. That wasn't a particularly long layover—maybe 10 minutes, Cignetti guessed—but JMU saw other detours that weren't so quickly remedied.
"As we got close, because there was fog, we were unable to land at Shenandoah Valley so we had to divert to Pittsburgh," Cignetti said. "We spent maybe 45 minutes to an hour in Pittsburgh, got us a new pilot because his time was up, then landed here."
"Long trip," he reiterated. "I'm sure everybody got good sleep [on Sunday]."
The Heartbeat Of Game Days
New Hampshire's 19-13 win at Lafayette in Week 3 came in an environment Wildcats coach Sean McDonnell said was especially fan-friendly. To that end, UNH wide receiver Charles Briscoe took the time to meet and interact with some new fans.
Does anyone know if #5 from @UNH_Football is on Twitter? He was really cool, spent a few minutes with us and we were hoping to follow him and to say thanks. Thank you for your kindness #shaneandwyatt #Downsyndrome #HopeYouSeeThis #Acceptance #Inclusion #Respect 🏈🏈👍👍 pic.twitter.com/yXacZM0FB9

— Shane and Wyatt (@ShaneandWyatt1) September 19, 2021
Thank y'all for coming to the game @ShaneandWyatt1 ‼️ Hope y'all enjoyed watching a great football game and enjoy the arm sleeve. Probably looks better on Wyatt than me. Anything y'all need, let me know! 🏈 #GoCats @UNH_Football

— Charles Briscoe III (@cbriscoe_18) September 19, 2021
"Charles is a tremendous kid. Effervescent personality," McDonnell said.
Briscoe's postgame interaction with youngsters helps capture what makes college football special, especially so this season with the return of fans to the stadiums.
"When kids come to the game," McDonnell said. "They're giving us an opportunity to show how much we appreciate people...caring about us and being part of the college game-day experience."