Gulf South
West Florida Can Make A Statement at A&M-Commerce
West Florida Can Make A Statement at A&M-Commerce
West Florida takes on Texas A&M-Commerce in a rematch of the 2017 National Championship game.
Sep 17, 2021
by Kyle Kensing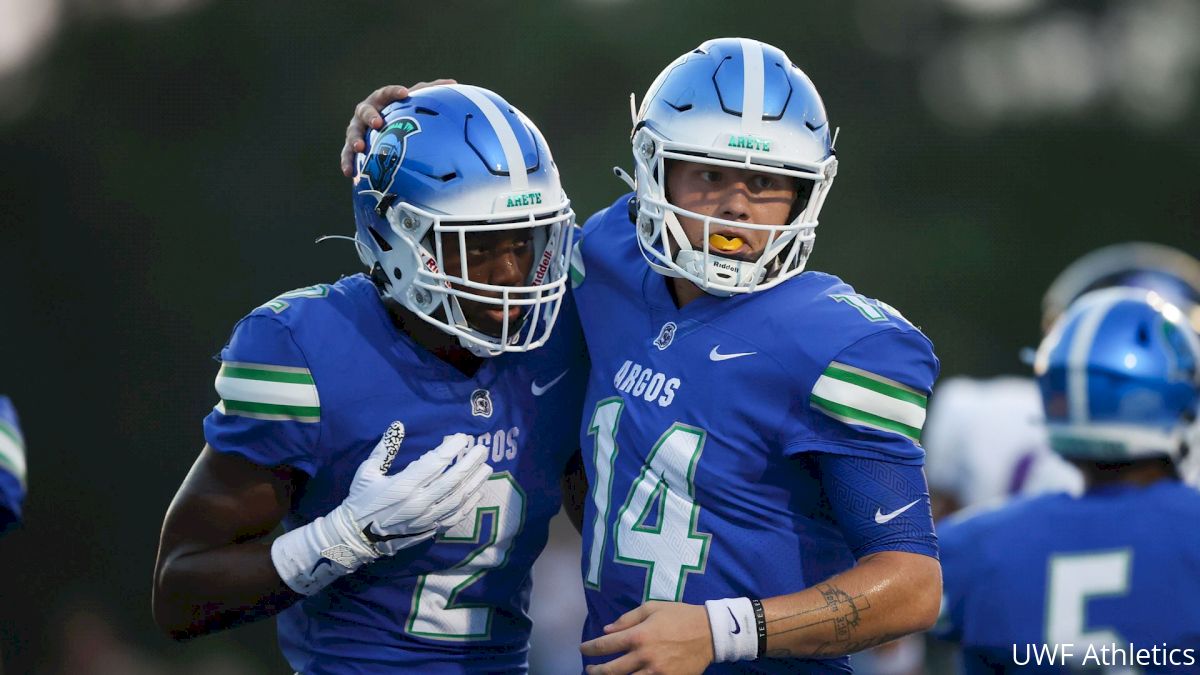 Following its historic first game on campus, reigning national champion West Florida heads to Texas for a rematch of the 2017 National Championship Game.
Texas A&M-Commerce delayed the Argos' date with history by two years, winning a 37-27 contest in the title game four years ago.
This time around, West Florida visits northeast Texas sporting the nation's No. 1 ranking after wins over Div. I McNeese to open the season, and a 63-14 thrashing of Southwest Baptist.
Saturday's contest could have been a top 10 showdown before Texas A&M-Commerce lost a 31-30 heartbreaker to Midwestern State. MSU scored two touchdowns in the fourth quarter and 21 unanswered. The final touchdown came with just 25 seconds remaining.
The narrow loss dropped A&M-Commerce to No. 21 from No. 7 in the AFCA Div. II poll—one spot ahead of West Florida's Gulf South Conference counterpart Delta State—but a win this week would vault the Lions back up in the rankings.
So while not nearly the same stakes as when these teams last met, there's plenty on the line in Texas.
West Florida at Texas A&M-Commerce
Saturday, Sept. 18, 6 p.m. ET
A Contrast Of Styles
Through the first 98 minutes of its season, the Texas A&M-Commerce defense did not allow a single offensive touchdown (the first trip to the end zone at the Lions' expense came on a pick-six in the loss to Midwestern State).
A&M-Commerce completely stifled then-No. 12-ranked Colorado State-Pueblo in the season opener, allowing just two field goals and limiting quarterback Devin Williams to 77 yards on 11-of-23 passing. Back-up Steven Croell fared somewhat better going 6-of-9 for 58 yards, but hardly gashed the Lions defense.
While Midwestern State's Arizona State-transfer Dillon Cole-Sterling passed for three touchdowns on the Lions in Week 2, he finished with just 163 yards on 16-of-26 with an interception and was sacked three times.
With a tenacious pass-rush, including lineman Elijah Earls and his 3.5 sacks through just two games, the Lions force quarterbacks into rushed decisions. A secondary including preseason LSC Defensive Player of the Year Dominique Ramsey is fast and physical against opposing receivers.
A&M-Commerce's stingy passing defense matched against the prolific West Florida aerial attack may be the primary factor shaping Saturday's matchup. UWF's Austin Reed has piled up eight touchdown passes and 637 yards.
UWF Wide receiver Rodney Coates is coming off All-GSC Player of the Week recognition after his nine-catch, 126-yard and two-touchdown showing in Week 2. Coates and David Durden have been as dangerous of a one-two punch as any receiving corps in the country.
No Smalls For The Lions
Preseason LSC Offensive Player of the Year Miklo Smalls sustained a knee injury in the offseason that sidelines him for the foreseeable future. His absence loomed large as the Lions endured a critical, second-half scoring drought against Midwestern State, and mustered only 12 points against CSU-Pueblo.
Smalls' replacement, Jaiave Magalei, has been inconsistent through two games with a completion percentage below 45. He threw three touchdown passes against Midwestern State, but was also picked twice.
Running back Antonio Leali'ie'e is averaging more than nine yards per carry, though his workload is limited.
The Argos defense has not yet intercepted a pass, but consistent and heavy pressure on quarterbacks should turn into opportunities soon. Eight different UWF defensive players have a sack through two games.
Linebacker Ricky Richardson has been a solid addition, seeing his first snaps as an Argo. He has a sack and three tackles for a loss, best on the team.
Statement Opportunity
The recurring theme among GSC coaches about difficulty finding marquee non-conference games renders opportunities like Saturday's for West Florida against A&M-Commerce limited.
The Argos have the Week 1 defeat of McNeese, and West Georgia boasts an opening night blowout of Carson-Newman. West Florida's trip to Commerce might be the biggest such chance for a Gulf South team, given the Lions' recent history.