2021 Delta State vs West Georgia
Gulf South Notebook: UWG-DSU Ignites Conference Play
Gulf South Notebook: UWG-DSU Ignites Conference Play
Conference play begins as Delta State takes on West Georgia in a battle of unbeaten teams.
Sep 16, 2021
by Kyle Kensing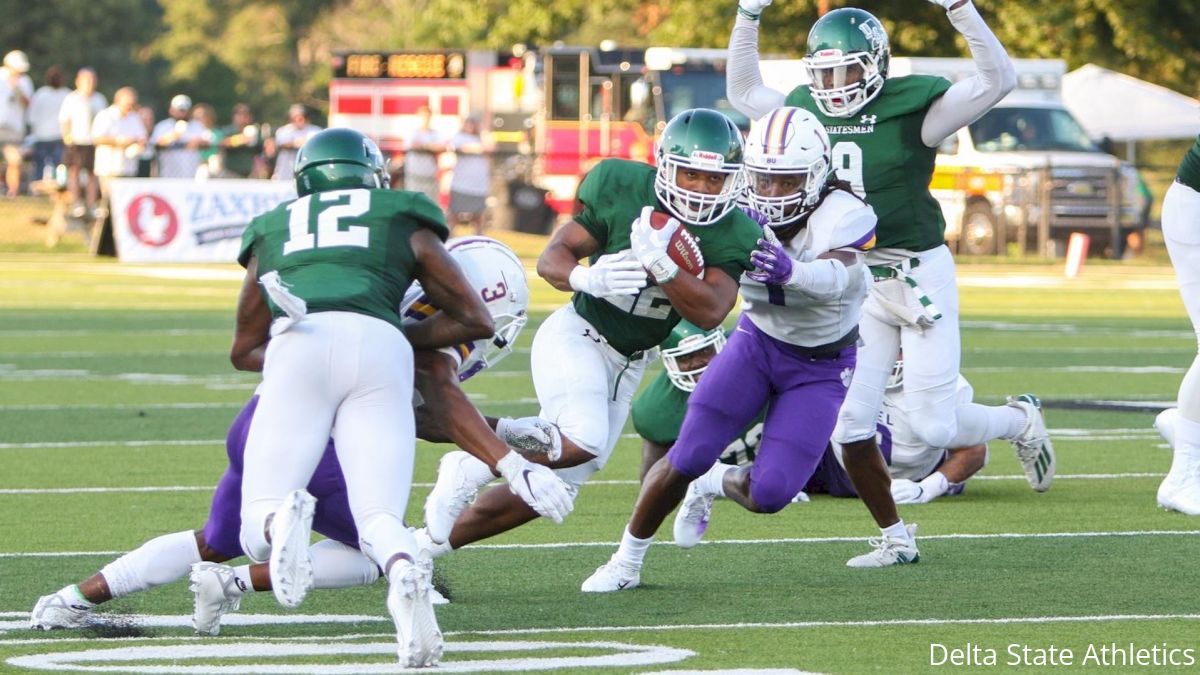 Gulf South Conference competition starts especially strong in 2021 with a Week 3 matchup between what look like playoff-caliber teams: Delta State and West Georgia.
The Statesmen and Wolves meet Saturday in Carrollton for a clash indicative of Gulf South strength—and not just because both come in 2-0 after winning their non-conference games by 62 and 85 combined points.
In an unusual twist, the Week 3 meeting is the first of two between Delta State and West Georgia this season, with a second in November that does not count against GSC standings. It could, however, factor into playoff consideration in that it falls one week before the opening round.
So does drawing the same opponent twice require some level of gamesmanship, particularly in the first meeting?
"I've been asked that question several times, and really don't know how to face it," said West Georgia coach David Dean. "I've faced a [repeat] opponent, but I've always done it in the Playoffs when there's a little bit more riding on the season. I know we'll get to it more at the end season, but I know I don't like it."
Difficulty finding regular-season, non-conference games was a common theme mentioned at GSC media day in August.
Given the league's performance to kick off 2021—including Delta State's blowouts and West Georgia routing the then-No. 25-ranked team Carson-Newman—perhaps the hesitance to get the GSC onto dockets is understandable.
"It doesn't help when West Florida...goes out and beats a McNeese," Dean said with a chuckle. "It's very, very difficult for Gulf South teams to find people to play."
But that's where the Statesmen and Wolves find themselves, and the first meeting can set the pace for the postseason.
Dean described Delta State as a team that plays physical and leaves an opponent feeling it coming out of gameday, and indeed, the Statesmen build around an outstanding defense proficient in creating turnovers.
Junior Faulk led Div. II in interceptions in 2019, and early into 2021, Sherrod Page is only one of 16 players in the division with multiple picks through the first two weeks.
The Northern Arizona transfer opened the season with a flourish. With conference play here, he said the Statesmen are fired up to put all their work from training camp—and a long layoff after the 2020 COVID-19 cancellation—into action against an excellent opponent.
Welcome to the squad, 3️⃣❗️

Sherrod Paige grabs 2 INTs in his Statesmen debut to help anchor a Statesmen win!#WhereChampionsPlay🏈 pic.twitter.com/QhskqEacK5

— #DSUFamily (@DeltaStateFB) September 3, 2021
"West Georgia, man, they've been playing some good football," Paige said. "It's definitely a good way to get the ball rolling in conference."
The Wolves owe 45-7 and 47-0 routs to some outstanding defense: They've racked up 14 tackles for loss, five sacks and five takeaways. And they've been multidimensional on offense.
"They have some really slithery guys [at wide receiver], good speed, and a good running attack to balance it out," Paige said.
The West Georgia receivers—including the tandem of Quan Harrison and Mechane Slade—up against the Delta State secondary makes for an outstanding game-within-the-game.
"You can't go over the top of them. Both [Paige and Faulk] have incredible vertical leaps," Dean said. "From a quarterback standpoint, you've got to throw the ball on time. You can't be late on throws or they'll make you pay."
Dean added the Statesmen excel at forcing errant passes with a physically imposing pass-rush.
"They get back [to the quarterback] and they force balls to go high because they can get hands in your face."
Paige echoed the sentiment, praising the Delta State front six. The group has combined for 7.5 sacks and contributed to the Statesmen's 20 tackles for loss, including three each from lineman Tim Williams Jr.
Paige also credited the defensive staff for Delta State's strong start, which DSU aims to keep rolling in the marquee matchup for Week 3.
"Coach [defensive coordinator Kelvin] Green and [secondary] coach [Geoff] Terry do a good job of preparing us," he said. "By the end of the week, we feel like we'll have all the answers to the test."
Passing Fancy
Three Gulf South quarterbacks rank among the nation's top 11 for passing touchdowns through the first two weeks: West Florida's Austin Reed is second with eight, while North Greenville's Kaelen Riley and Delta State's Patrick Shegog, with six each, are tied for 11th.
Reed and West Alabama's Jack McDaniels are also both ranked in the top 10 of all Div. II quarterbacks in passing yards with 637 and 638, and Reed is sixth in yards per attempt at 10.3.
McDaniels has also thrown for five touchdowns, matching West Georgia's Harrison Frost among the top 34 most-prolific passers in the country thus far.
Slowing The Rams
Valdosta State will be the third Gulf South member to face Albany State so far in 2021, and the Rams have been the one team to have the GSC's number in non-conference play. Albany State scored wins over Mississippi College to open the campaign, and followed up with a Week 2 defeat of Shorter.
The always-explosive Blazers offense continues to chug along at 53 and 51 points in their first two outings, but the Black Swarm Defense has made its mark, allowing just two combined scores to Savannah State and Virginia Union.
Mondrell Jefferson followed up his Week 1 GSC Defensive Player of the Week performance with an interception in Week 2, now giving him three takeaways on the season.