2021 St. Frances Academy vs Good Counsel
Good Counsel Takes On St. Frances As Maryland High School Powers Clash
Good Counsel Takes On St. Frances As Maryland High School Powers Clash
The clash should be an early-season test for both programs.
Sep 16, 2021
by Roger Brown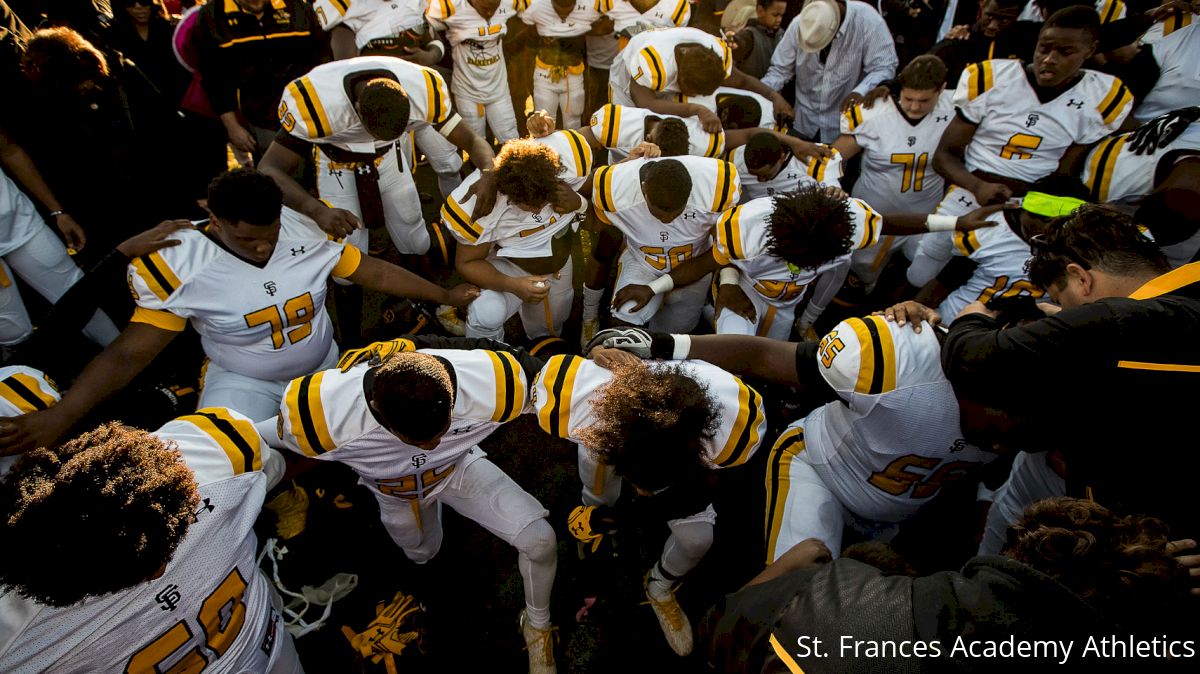 The two highest-ranked high school football teams in Maryland will be looking at each other from opposite sidelines Friday night, when St. Frances Academy (Baltimore) travels to Good Counsel (Olney).
Saint Frances (1-1) is the No. 1 team in High School Football America's Maryland Top 10, and is ranked No. 31 nationally. Good Counsel (2-1) is No. 2 in HSFA's Top 10, and is No. 60 nationally.
Good Counsel shouldn't be lacking confidence entering Friday's matchup since it knocked off St. Frances 27-14 during the spring season.
The Saint Frances program was in the headlines during the summer after Biff Poggi resigned as head coach to rejoin Jim Harbaugh's staff at the University of Michigan. Poggi, a polarizing coach during his time at Saint Frances, also worked under Harbaugh in 2016.
Messay Hailemariam, who served as Saint Frances' head coach from 2011 to 2015, replaced Poggi. Hailemariam was on Poggi's staff for the last four seasons, when the Panthers went 44-3 and emerged as a national power.
"It's a younger man's game," Poggi told the Baltimore Sun. "This was a chance to go one last time on a really big stage, to a legendary program.
"I'm going to Michigan with the idea that I'm going to be there until I finish coaching. I'll be there, I hope, as long as Jim is there and wants me to stay there. If he goes someplace else or doesn't want me to stay then I'd look at other opportunities."
Poggi's teams were so dominant—the Panthers were 23-0 and outscored opponents 1,011-93 in 2017 and 2018 —local teams refused to play them. When that happened, Saint Frances dropped out of the Maryland Interscholastic Athletic Association and assembled a national schedule.
The program's quick rise and subsequent fallout with the MIAA led to the HBO documentary: "The Cost of Winning."
The Panthers have one of the most difficult schedules in the country. Later this year they will play road games against De La Salle (Concord, Calif) and IMG Academy (Bradenton, Fla.).
Andy Stefanelli is in his fifth season as Good Counsel's head coach. He replaced Bob Milloy, who retired following the 2016 season with more coaching victories than any other Maryland high school football coach. Milloy had a 405-124-1 record as the head coach at four Maryland high schools.
Scouting Good Counsel
The Falcons are coming off a 45-0 victory over Friendship Collegiate Academy. They opened the season by beating St. Joseph Regional (Montvale, N.J.) 28-21, and then dropped a 38-10 decision to Catholic High School of Baton Rouge, La.
Neeo Avery, a 6-foot-6 junior quarterback, scored three touchdowns in the win against Friendship Collegiate. Avery can line up at multiple positions, including receiver, tight end and defensive end. He's being recruited as an athlete by most schools and has double-digit Division I offers. He visited Georgia, Georgia Tech, Maryland, Penn State and Pittsburgh during the summer.
The Falcons have used both Avery and sophomore Frankie Weaver at quarterback this season. Avery is the better runner, while Weaver has shown the ability to move the offense through the air.
Weaver guided Good Counsel's game-winning drive against St. Joseph. He completed each of his three pass attempts for 49 yards during the drive, which ended with a 29-yard TD pass to senior Shane Carroll.
Defensive end/outside linebacker Dylan Gooden is another Good Counsel player to watch. He's the son of former major league pitcher Dwight 'Doc' Gooden, and has 15 Division I offers.
Scouting Saint Frances
Saint Frances opened its season with a 38-28 loss to St. Thomas Aquinas (Ft. Lauderdale, Fla.), but rebounded with a 47-6 victory over Franklin. Senior quarterback John Griffth, who's committed to Bowling Green, threw for two touchdowns and ran for two more in that win.
The Panthers are particularly strong on defense with defensive lineman Derrick Moore (Oklahoma), four-star defensive tackle Nasir Pearce, four-star linebacker Jaishawn Barham and cornerback Cam Johnson (Virginia Tech).