2021 North Dakota State vs Towson
Towson Dealing With QB Options In Preparation for NDSU
Towson Dealing With QB Options In Preparation for NDSU
Jeff Miller replaced starting quarterback Chris Ferguson in Towson's last game. Now, with two options at QB, the team prepares for their next matchup.
Sep 16, 2021
by Roger Brown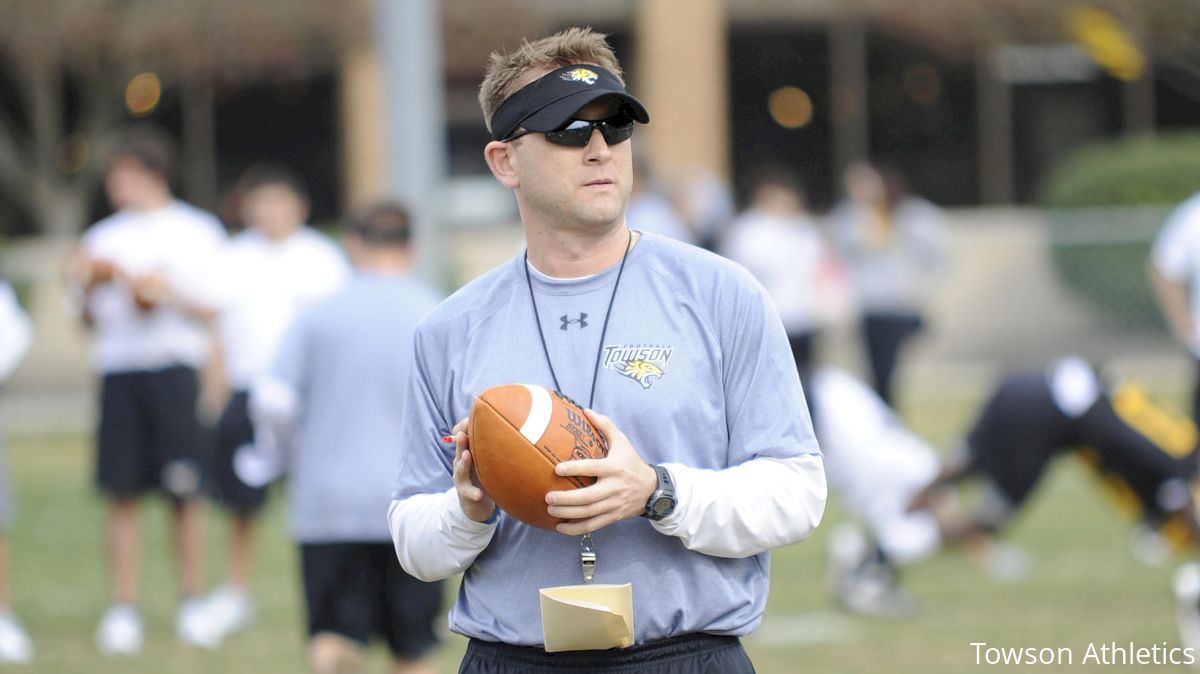 Jeff Miller replaced starting quarterback Chris Ferguson late in the second quarter of Towson's 26-14 Colonial Athletic Association setback at New Hampshire on Saturday night.
Ferguson, who spent three seasons as Maine's starting quarterback and one year at Liberty before transferring to Towson, completed 6 of 16 passes for 51 yards and was intercepted twice in the loss. Miller, a redshirt junior, connected on 12 of his 27 pass attempts for 147 yards and a touchdown after entering the contest. He was also intercepted twice.
"You can't turn the ball over four times on the road in our league and expect to win," Towson coach Rob Ambrose said. "I thought Jeff did a great job stepping in and leading. It bodes well for the future."
Towson will be at home for a non-league game against fourth-ranked North Dakota State on Saturday, and North Dakota State coach Matt Entz didn't seem all that concerned when he was asked about the possibility of facing two QBs this weekend.
"I think we'll be prepared if we do see two," Entz said. "From watching the [New Hampshire] game I didn't see a lot of difference in skill set. The one young man [Ferguson] is probably more of a veteran. Seasoned. Been around.
"From my understanding the change was from lack of performance, not from lack of skill set. That always creates a unique situation when you have two quarterbacks playing, but I think we'll do a good job of coming up with a game plan and if there are slight differences in their skill set I think you'll see differences in how we defend them."
WHAT A CATCH, TOUCHDOWN TOWSON! Caleb Smith with a great catch for the score. Extra point is good, now 20-14 UNH, 12:21 in the 4th....#UnitedWeRoar | #NCAAFCS pic.twitter.com/PMd64qcYH2

— Towson Football (@Towson_FB) September 12, 2021
North Dakota State (2-0) has already beaten one CAA team this season. The Bison opened with a 28-6 victory over Albany, and dominated Valparaiso 64-0 last weekend.
Towson (1-1) beat Morgan State 31-0 before the New Hampshire loss.
North Dakota State has won eight FCS national championships, and beat an Ambrose-coached Towson team 35-7 in the 2013 FCS championship game. The Bison will enter Saturday's game with the No. 1 rushing attack at the FCS level (358.5 ypg).
"The numbers change, who wears the numbers, but the style of ball … they may tweak it a little bit," Ambrose said. "They're one of the most aggressive, consistent, fast, physical teams that you'll ever see. They'll make mistakes, but they'll correct them quickly. And they'll never make mistakes that are going to kill them. The ability to limit your mistakes and stay aggressive is one of the keys to success, and they do it every year no matter who the personnel is.
"It's a testament to who they recruit, who coaches them and where they go to school. They probably have the best fan base in FCS football, and I would say they have one of the top 50 in all of football, at any level. All of that's a force. It really is."
Championship Thoughts
When Ambrose was asked to recall what he remembered about the 2013 national championship game the first thing he mentioned was the field in Frisco, Texas.
"Pregame with their head coach [Craig Bohl] and watching the field be the most disgusting championship field that I've ever seen anybody play a sport on in the history of the NCAA, and thinking how embarrassing that was," he said. "But it didn't matter. They were playing on the same field we were playing on."
Towson's only touchdown in that game came on a 3-yard run by Terrance West. That helped tie the game, 7-7, but North Dakota State scored the next 28 points.
The only other meeting between the programs came in the 1983 Division II quarterfinals. North Dakota State won that game 24-17 in Fargo, N.D.
Tiger Tale
Towson opted out of the spring season, so Saturday's matchup will be the Tigers' first home game since the 2019 season. It will also be North Dakota State's first road game this year.
"Home opener for them, so anticipate a big crowd," Entz said. "It'll be fun. It's what college football is supposed to be like."