2021 Maine vs James Madison
CAA Notebook: Patience Pays Off
CAA Notebook: Patience Pays Off
Cole Johnson's patience and persistent are paying dividends for the James Madison quarterback.
Sep 14, 2021
by Kyle Kensing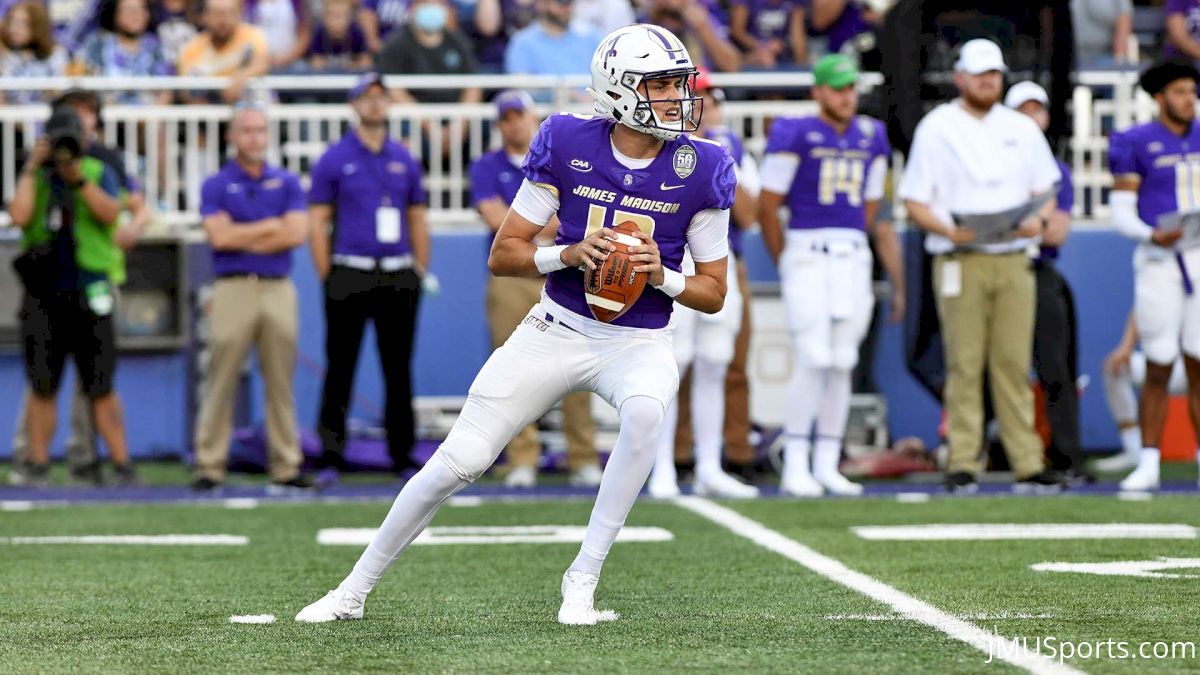 By the time Cole Johnson went into the locker room during James Madison's Week 2 win over Colonial Athletic Association counterpart Maine, the Dukes quarterback passed for 305 yards and three touchdowns.
And it was only halftime.
Johnson is off to a fantastic start: 44 completions on 58 pass attempts, nine touchdowns without an interception and 677 yards. His yardage total is No. 4 officially, but in fact ranks third among all FCS passers who have played NCAA competition this season and just 47 fewer than reigning Walter Payton Award winner Cole Kelley of SELA.
Johnson's start can accurately be described as the result of veteran savvy and experience, this being his sixth season at James Madison. Describing it as poetic could also apply, given Johnson's dedication and commitment in pursuit of this moment.
"He's a top-notch guy; He's an A-student, comes from a great family, he's got high character," said James Madison coach Curt Cignetti. "I'm really happy for him that he's enjoyed the success up to this point that he's having, especially after a rough start to the spring."
Upon winning the job during the past spring season after backing up Ben DiNucci, Johnson was in a much different position after two games. A three-interception game against Robert Morris prompted a change that last until the second-half comeback of the third game against Elon.
"I'm sure there were a lot of doubters out there. Social media can be brutal," Cignetti said. "I'm sure he was getting torched pretty well. But I had confidence in him."
So far this fall, it's been Johnson and the James Madison receivers doing the torching. An outstanding wide-receiving corps with Kris Thornton and the Week 2 CAA Offensive Player of the Week Antwane Wells Jr. are helping make Johnson's otherworldly start possible.
TOUCHDOWN! Johnson-to-Wells again for 51 yards - it's the third 100+ yard outing in the last 5 games for Wells and a 24-0 JMU lead!#GoDukes pic.twitter.com/op4eNeSHkH

— JMU Football (@JMUFootball) September 11, 2021
Another factor, according to Johnson, has been his work with Tino Sunseri.
The former Pitt quarterback who, like Cignetti, spent time on Nick Saban's staff at Alabama joined the Dukes staff this past offseason as quarterbacks coach. He's made an immediate impact on the Dukes signal caller.
"I feel so great and so prepared each week. I can't say enough great things about coach Sunseri," Johnson said. "[He] has me so locked in and focused and ready to play every week, I go out there and it feels almost like practice."
After cruising to a 55-7 win over Maine in the CAA opener, JMU travels for a marquee non-conference date in Week 3 against Weber State. The Dukes beat the Wildcats en route to the 2019 season's National Championship Game.
A BIG ONE IN BOONE
Appalachian State gained national notoriety for its ability to knockoff historically prominent programs. The Mountaineers did it most famously in 2007 with what remains the benchmark for FCS upsets of FBS opponents with a defeat of Michigan, and they nearly pulled it off again last week as an FBS program visiting Miami.
"I was in the FCS for seven years and I under these big games," said Appalachian State coach Shawn Clark, an All-American offensive lineman on the 1998 Mountaineers team that beat ACC member Wake Forest.
In a bit of role reversal, Appalachian State hosts Elon in the Mountaineers' 2021 home opener on Saturday. Phoenix coach Tony Trisciani touted the opportunities presented by Elon sharing a state with six FBS programs, including the three-time Div. I-AA/FCS national champion Appalachian State since 2013.
"Because many of our players are from North Carolina and this region, they're familiar with a team like App State and probably been to Boone for visits and prospect camps in the recruiting process," Trisciani said.
Indeed, the proximity — the campuses are separated by just about 130 miles — makes for some connections. Clark, who said he has "a lot of respect for Tony and his program and the way they've done things," detailed a prominent one.
"They have great players," Clark continued. "Look at Davis Cheek; we recruited him here. He's 6-foot-3, 217 pounds and can change the game for you."
The visit to Kidd-Brewer Stadium is the last non-conference tune-up for the Cheek and Phoenix before CAA player. Tre'Von Jones forced a pair of turnovers to earn conference Player of the Year in Elon's second nail-biter of the young season, a 24-23 win at Campbell.
CHANGE FOR THE BETTER
Rhode Island dropped an incredible five losses in the 2019 season by a touchdown or fewer points. In the abbreviated spring and the fall 2021 CAA opener at UAlbany, however, the Rams boast three wins of seven points or less.
So what kind of bearing did the 2019 heartache have on preparing 2021 Rhode Island for such games?
"None," said Rams coach Jim Fleming flatly.
Fleming noted that roughly 700 days have elapsed since the 2019 season, and with those changes, a bevy of turnover on the roster. For example, Coby Tippett was playing at Towson two years ago.
In Week 2 2021, he emerged as a hero in Rhode Island's win at UAlbany.
We see you Coby Tippett!!@rhodyfootball takes the lead on a 50-yard punt return for a TOUCHDOWN#CAAFB pic.twitter.com/qzxb96Ggck

— CAA Football (@CAAFootball) September 11, 2021
The Rams have even seen changes from week-to-week over recent games. Their Week 1 defeat of Bryant was an offensive showcase in which the Rams dropped 45 points. Against the Great Danes, Rhode Island leaned on special teams play and defense to carry the day.
Change is the name of the game in 2021, and not just for Rhode Island's success. The Rams face in-state rival Brown for the Governor's Cup in Week 3, and it marks a historic moment as the first Div. I game to feature a woman as one of the team's positions coaches: Brown quarterbacks coach Heather Marini.
LOOKING IN THE MIRROR
Another change to college football in 2021: Name Image and Likeness. For the first time, players' names and faces can legally appear on merchandise. The result includes swag like these shirts celebrating the "Boss Hawgs," Richmond's offensive line.
Well done @HogAcademyLLC #BossHawgs #RollSpides pic.twitter.com/5gZPm4A8Qf

— #RollSpides 🕷🏈 (@RollSpides) September 13, 2021
The recognition is well-earned.
"The Hawgs have been playing tremendous," Spiders running back Aaron Dykes said following "Last week [a 38-14 win over Howard], we had over 230 yards rushing. I don't know exactly what we had as a team today, but I don't doubt we had that. We had 170 in the first quarter if I remember correctly."
Ding ding ding! Two-thirty-eight was the magic number in a 31-3 romp over Lehigh in which Dykes, Savon Smith and Joe Mancuso all went for more than 60 yards.
"If we're doing stuff like that, we're going to be hard to stop because it opens up the passing [game]," Dykes added.
Richmond's multifaceted run game opening the field for the quarterback Mancuso to pass effectively gives the Spiders an offensively look remarkably similar to their next opponent: CAA foe Villanova.
Both Villanova and Richmond come into the Week 3 showdown sporting Top 25 billing (VU at No. 12, UR at No. 21), and are the nation's No. 10 and 17 rushing offenses through two weeks.
"I think it's going to be a really well matched contest," said Villanova coach Mark Ferrante. "They look very similar [to the Wildcats]: A lot of experience on both sides of the ball; their front seven is really strong. We know that from past games and the people they have returning...Mancuso can throw it. He's similar to Dan [Smith]. He's much bigger than Dan but he's running the ball very well, also."
The similarities promise, as Ferrante describes, "one heckuva CAA contest."
COLE WORLD
William & Mary's Cole Blackman delivered on one of the most buzzed-about plays of college football's second week with his touchdown grab against Lafayette.
Cole Blackman's incredible TD reception late in the third quarter highlighted tonight's Drive of the Game, presented by CMA's Williamsburg Ford. #GoTribehttps://t.co/FWlgb1ZcKq pic.twitter.com/JRhlTbZ9B8

— William & Mary Tribe Football (@WMTribeFootball) September 12, 2021
"I agreed with everything everybody said on it, after further review," said Tribe coach Mike London through a telling smile. "It was a throw that went right over the outstretched arms of the defender. I thought Anthony Mague did a great job trying to get his hands underneath. Whether it was deflected or Anthony Mague's hands were able to deflect the ball up, then Cole Blackman just hustling."
"That's what he does in practice. That's what he does all the time. He hustles, he gets after it," London added.
NUMBERS GAME
- 100: With a 26-14 win over Towson in CAA play, New Hampshire coach Sean McDonnell moved to 100 all-time career wins in the league. He joins College Football Hall of Famer Andy Talley (Villanova) and future Hall of Famer Jimmye Laycock (William & Mary) — "two wonderful, old men" McDonnell laughed.
"Longevity is the key in all this stuff," he said. "Having the support of the administration and all that...but more important, the guys who played for you."
- Six: CAA teams receiving votes in the most recent Top 25 poll, with five making the poll: No. 3 James Madison; No. 7 Delaware; No. 12 Villanova; No. 21 Richmond; and No. 23 New Hampshire. Look for Rhode Island to make a move into the Top 25 should it improve to 3-0.
- Nine: The total amount of net rushing yards Villanova's defense has allowed in its first two games.
- 13.6: Richmond's percentage of allowed conversions on third downs. The Spiders lead the nation with the stingiest third-down defense, allowing just three in 22 attempts.
- 417: James Madison kicker and Week 2 National Special Teams Player of the Week Ethan Ratke's career point total, now the most in FCS history.
- 78: Yards Gage Herdman returned his interception in William & Mary's win over Lafayette, good for the sixth-longest in FCS this season.
Gage Herdman picks it off and takes it all the way!

Chang's PAT is good as the Tribe take a two-score lead.

3Q, 4:53 | W&M 10, LAF 0 #GoTribe pic.twitter.com/d7OWUmAxNP

— William & Mary Tribe Football (@WMTribeFootball) September 12, 2021