2021 Towson vs New Hampshire
New-Look Towson Takes Its Show On The Road To New Hampshire
New-Look Towson Takes Its Show On The Road To New Hampshire
A re-loaded Towson squad will look to build on its season-opening blowout victory over Morgan State when the Tigers head to New Hampshire on Saturday.
Sep 9, 2021
by Roger Brown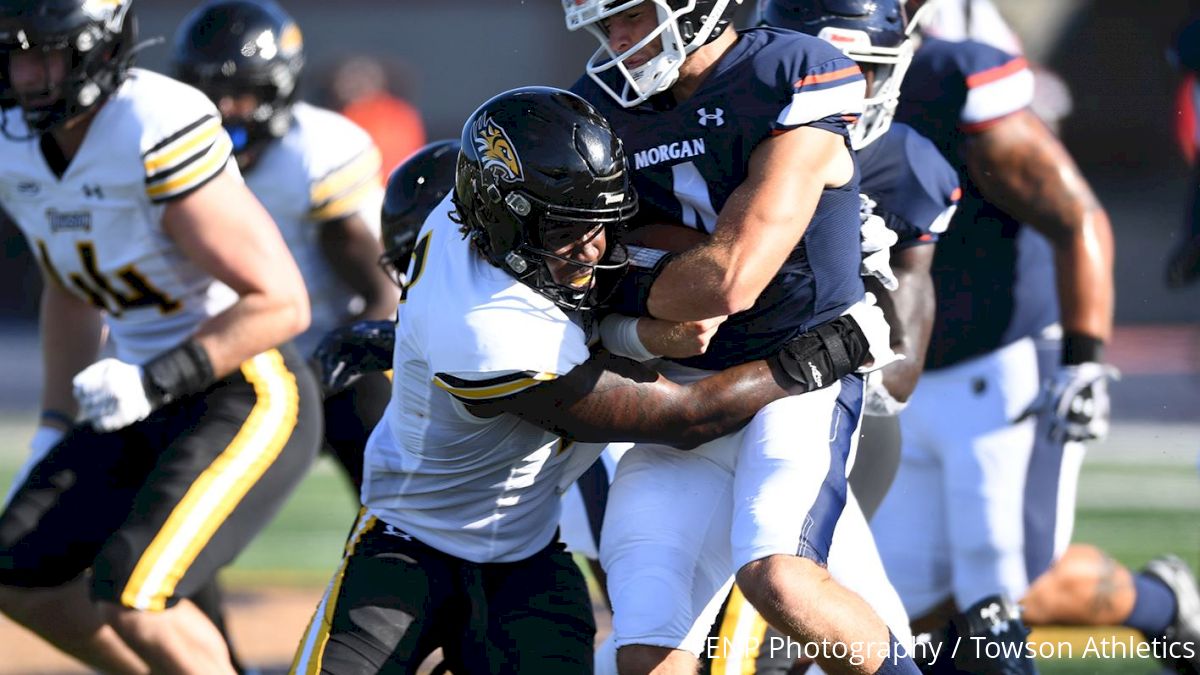 Although quarterback Chris Ferguson is in his first season with the Towson football program, he's no stranger to New Hampshire.
Ferguson played against New Hampshire twice (one victory and one loss) when he was the starting quarterback at Maine from 2017 to 2019. He would have faced the Wildcats a third time as Maine's QB, but a foot injury brought an end to his 2019 season after seven games.
After that he transferred to Liberty University, and, after one season, returned to the Colonial Athletic Association when he transferred to Towson. Ferguson will get a third crack at New Hampshire when Towson makes the trip to Durham, N.H. on Saturday.
"I was telling the team he's a kid we've played against two or three times and he's done pretty well against UNH in the past," New Hampshire coach Sean McDonnell said. "I think they do a really good job on offense of utilizing their skill. They got a couple, three running backs that are pretty good. I think (Jerry Howard, Jr.) the transfer (from Georgia Tech), is a very good running back. They got some very long, athletic receivers. Darian Street being a kid we recruited and that we know about. Then their offensive line: 325, 300, 300, 360, 330. It's Towson, and they're running power football."
Ferguson passed for 6,091 yards and 46 touchdowns while he was with the Black Bears. He appeared in six games for Liberty last season (one start), and passed for 197 yards and four TDs.
Ferguson completed 20 of 33 passes for 247 yards and two touchdowns to help Towson open its season with a 31-0 triumph over Morgan State last Saturday. New Hampshire got its season off to a good start with a 27-21 CAA victory against Stony Brook.
Big Boys -- big boys up front," New Hampshire defensive tackle Niko Kvietkus said when he was asked about the Towson offense. "Chris (Ferguson) can throw the ball. Unlike (Tyquell) Fields of Stony Brook, he's not going to get out of the pocket that much. I'm sure he'll make some moves, but it's not going to be to the extent of what we saw last week. So that kind of bodes well for us. … On the other hand he can sling it. We've seen it in the past when he was playing for that team up north a few years back. Gotta rein him in up front and put some pressure on him to help out the back half."
Sophomore quarterback Bret Edwards will make the third start of his college career for New Hampshire. Edwards completed 17 of his 25 pass attempts for 233 yards and three touchdowns against Stony Brook. He was named the team's starting QB after Max Brosmer suffered a season-ending knee injury during the final week of preseason camp.
"He (Edwards) needed to grow up really fast -- play to his potential really fast," Towson coach Rob Ambrose said. "He's smart with the football and he runs that offense. … He runs the other 10 guys like he's been doing this for a couple years. Whether or not they thought they were missing a beat, they're not."
Tiger Tale
The most impressive part of Towson's 31-0 win against Morgan State last Saturday? You could make a strong case that it was the team's defensive effort.
Towson held Morgan State to 142 yards of offense -- an average of 3.0 yards per play -- and didn't allow the Bears past the Towson 32-yard line. Morgan State had 79 yards passing (six completions). It was the Tigers' first shutout since 2017.

Safety S.J. Brown II had a team-high five tackles and defensive lineman Bryce Lauer recorded two tackles, including a sack, and forced a fumble.
"Nobody had any amazing stats," Ambrose said. "Played great team defense."
Bush League
McDonnell on New Hampshire safety Pop Bush, who was named the CAA Defensive Player of the Week for his performance against Stony Brook:
"I have always loved the way Pop has played the game of football. He's a downhill player. I think his football IQ has improved tremendously. … The production that he had (against Stony Brook) was off the charts. If he continues to do that we're gonna be in pretty good shape."
Bush recorded a team-high 10 tackles, including three tackles for loss (minus 17 yards), against the Seawolves. He also forced two fumbles and intercepted a pass that he returned 65 yards.