2021 Rhode Island vs UAlbany
Antrum, Rhode Island Hunting Upset At UAlbany
Antrum, Rhode Island Hunting Upset At UAlbany
UAlbany will look to bounce back from a season-opening loss to North Dakota State when Rhode Island pays Greg Gattuso's team a visit.
Sep 8, 2021
by Roger Brown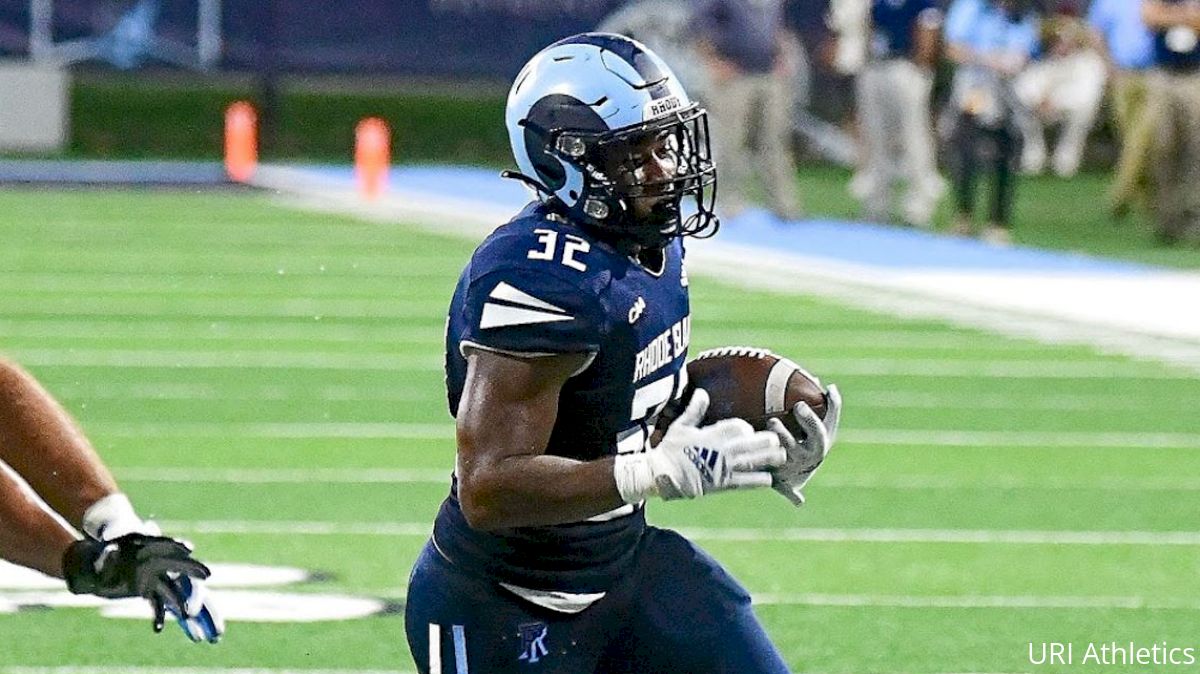 With Kevin Brown Jr. out for the season with a knee injury, Rhode Island turned to an unlikely source to spearhead its running game in Saturday's 45-21 victory over Bryant.
While some figured Purdue transfer Tirek Murphy would replace Brown in the backfield, the Rams went with senior Justice Antrum instead. Antrum entered the season with 37 carries in his collegiate career, but took advantage of his opportunity by rushing for 96 yards and two touchdowns on 18 attempts.
Brown, who suffered his knee injury during a non-contact drill in practice, was selected as the Colonial Athletic Association's Rookie of the Year following the spring season, when he ran for a team-high 256 yards. He averaged 5.2 yards per carry and 85.3 yards per game.
"Justice got tabbed and came out and just did a tremendous job," Rhode Island coach Jim Fleming said. "He executed the way he was coached. He saw the things he had to, and ran very tough and very physical. Had I known he was at (96) I might have given him one more carry to try and go ahead and get the three-digit number, but he had a very good performance and we're gonna have to continue to count on him to get better as we go forward."
Next up for Rhode Island is Saturday's CAA matchup at UAlbany, which opened its season with a 28-6 loss at No. 5 North Dakota State. The Great Danes committed three turnovers that led to 21 North Dakota State points.
"I thought we played with a great deal of passion and effort, but I don't know that we played the smartest game that we needed to play as far as playing that level of a team -- a highly ranked football team -- with the mistakes," UAlbany coach Greg Gattuso said. "We had a turnover in the red zone and it's tough overcoming those mistakes.
"At the end of the day it was a great experience for our kids to play there. I knew when we scheduled it it would make us a better team. The effort level was outstanding. Now we need to play a little smarter."
Third Shift
The UAlbany offense wasn't at its best against North Dakota State. In addition to turning the ball over three times, the Great Danes were 0 for 11 on third down.
UAlbany running back Karl Mofor, who led the CAA with 1,290 yards rushing in 2019, was limited to 21 yards on 11 carries, and UAlbany quarterback Jeff Undercuffler completed 16 of 27 passes for 183 yards and was intercepted twice.
"I see good receiver strength there (at UAlbany)," Fleming said. "I think those guys are dangerous and concerning. They catch the rock when they have the opportunity. I think Undercuffler is one of the better quarterbacks in the league (who) has the opportunity to get better and better."
Ram Tough
Rhode Island quarterback Kasim Hill, a transfer from Maryland, is coming off one of the best performances of his college career. Hill completed 12 of 18 passes for 249 yards and two touchdowns against Bryant. He also carried the ball five times for 33 yards and a TD.
"They do a good job trying to put your (defense) in bad situations," Gattuso said. "We know they're going to be aggressive, and we know they're gonna go fast once in a while. ... He (Hill) makes it go. If he plays well it's a big challenge. Our job is to try to get him out of his game. That's the best thing we can do is disrupt him.
"This Rhode Island team is very good. We know the talent level they have and the type of coaching they get, so we've got to be ready to play."