2021 Boston College vs UMass
Boston College Heads To UMass As Heavy Favorite
Boston College Heads To UMass As Heavy Favorite
After blowing out Colgate 51-0 in the opener, Boston College will look for more of the same at UMass on Saturday.
Sep 8, 2021
by Roger Brown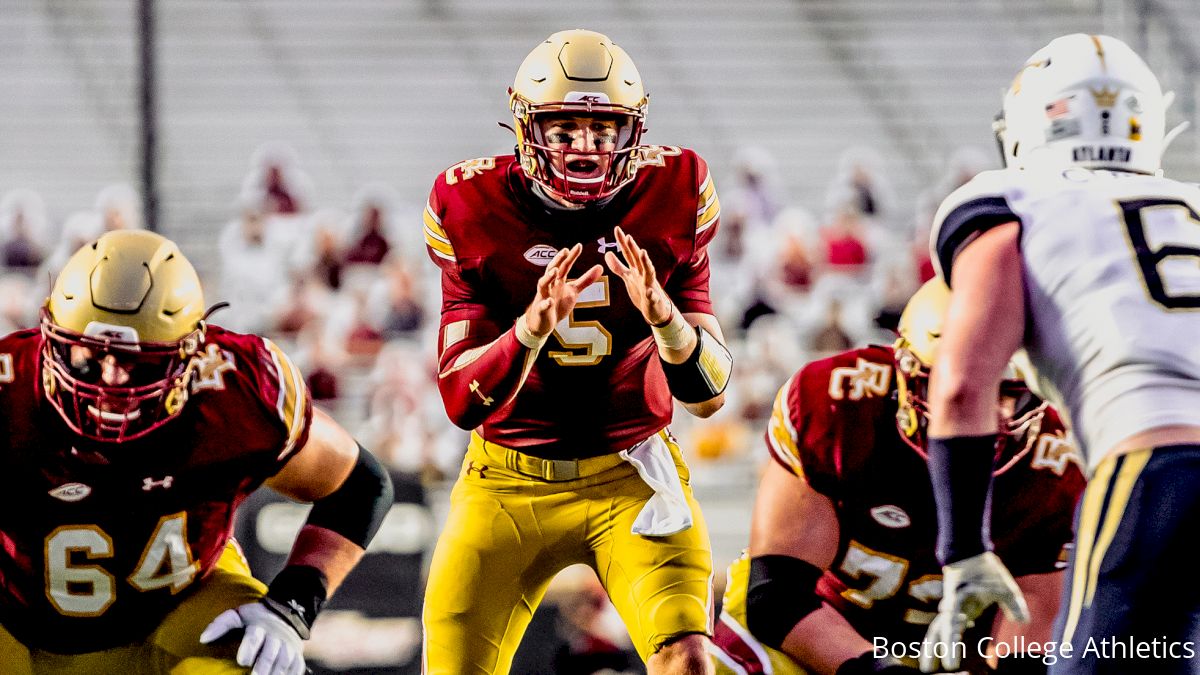 Recent history -- and Week 1 results -- suggest that there's a good-sized gap between the Boston College and UMass football programs.
While BC has finished with a .500 record against ACC opponents in each of the last four seasons, UMass has struggled as an FBS independent. The Minutemen are 11-42 since leaving the Mid-American Conference following the 2015 season. That record includes last week's 51-7 loss to Pittsburgh.
Oddsmakers have installed BC as a 38-point favorite against UMass in Saturday's Battle of the Bay State, which will take place at UMass' McGuirk Stadium. The Eagles opened the season by beating Colgate, 51-0.
If the Minutemen hope to make Saturday's matchup a competitive contest they'll need to make some significant strides on offense. UMass scored 12 points in its four-game spring schedule, and was held to 209 yards of offense in the loss to Pitt. The Minutemen were 3 for 13 on third down and the Panthers sacked quarterback Tyler Lytle, a transfer from Colorado, five times.
"Just a little bit of self-inflicted wounds early in the football game that kept us in third and longs," UMass coach Walt Bell said following the loss. "This is not the defense you want to be in third and longs against."
UMass won't want to be in third and long against BC, either. BC limited Colgate -- and FCS program -- to 189 yards of offense (3.5 per play) and the Raiders were 0 for 10 on third down.
"Every yard and first down they get … for a defensive coach it's personal," BC coach Jeff Hafley said. "So to come in and see 0 for 10 -- it's one of the things we talked about early. We have to be better on third down. We have to get the quarterback down and we did. If you can do that on third down you're going to win a lot of games."
Since moving from the FCS ranks to the FBS in 2012, UMass is 0-21 against teams from the ACC, Big Ten, Big 12, Pac-12 and SEC. The closest the Minutemen came to a victory against those opponents was a 41-38 loss against Colorado in 2014.
"Number one, any time you play great competition, it raises your level, raises your standard in your building," Bell said. "We don't care who we play, when we play them or where they're from or what the logo on the side of their helmet says. We've got to come out and play our best football no matter who we play. Regardless of what conference they're from, we just want to go out and want to be better every time we play a football game."
Blooming Flowers
BC junior wide receiver Zay Flowers was named the ACC Wide Receiver of the Week for his performance against Colgate. Flowers had seven catches for 135 yards and a TD in the victory.
"You can use him in the horizontal pass game, you can use him in the vertical," Hafley said. "You can hand the ball to him. You can throw him sweeps. You can throw him screens. He's a dynamic player and he showed up (against Colgate) and made plays and he needs to do that."
Flowers finished the 2020 season with 56 catches for 892 yards and nine touchdowns in eleven games.
History Lesson
Saturday's game will be the 27th meeting between the BC and UMass programs. The Eagles lead the series 21-5 and have won 10 straight over the Minutemen.
The last UMass victory over BC came in 1978 (27-0).