CAA Articles
CAA Notebook: Fall 2021 Starts With A Bang
CAA Notebook: Fall 2021 Starts With A Bang
Full stadiums, lively parking lots and great action: Fall football is back in the CAA.
Sep 7, 2021
by Kyle Kensing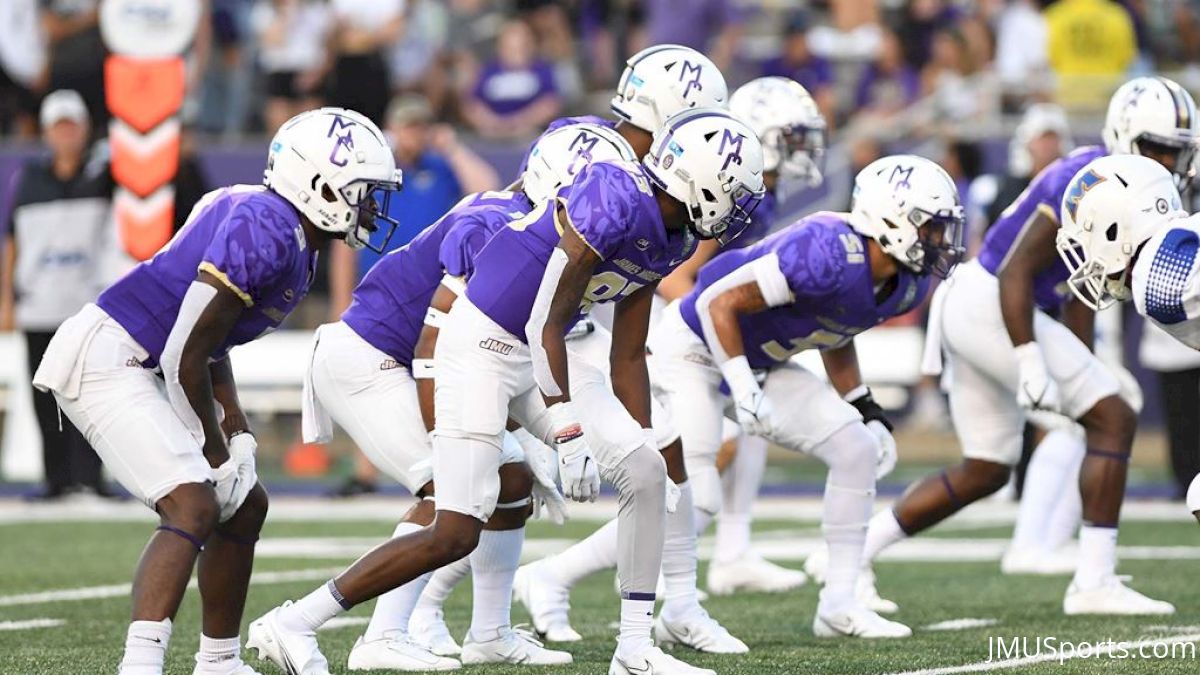 Labor Day weekend serves as an unofficial bridge between seasons. Between the cookouts and other festivities, it is —to paraphrase Jeff Spicoli — the last summer fiesta.
COVID-19 put a damper on many of the Labor Day traditions a year ago, not least of which was a loaded opening weekend of the college football season. So, after a year without it, the sights, sounds and smells of the holiday weekend are all just a little sweeter.
"When I looked out my window and say the people tailgating in the big parking lot out there (adjacent to Robins Stadium) — matter of fact, I looked a few different times just to see how much fun they were having out there before I came to the field — that's cool," said Richmond coach Russ Huesman following the Spiders' 38-14 rout of Howard. "I thought we had a really nice crowd today for Labor Day weekend. I was really pleased with the people out here and how many showed up."
Scenes like that which Huesman, returning to campuses around the country, are unique Americana that punctuate the weeks from Labor Day to Thanksgiving. Such moments bring indescribable joy to all involved — especially the teams who the crowds come out to watch.
At James Madison, a crowd approach Bridgeforth Stadium's capacity of about 25,000 celebrated the occasion with the Dukes.
"It's very, very exciting," said JMU safety Que Reid following a 68-10 blowout of Morehead. "Having, what? Twenty-two, almost 23,000 in the stadium... You feel more excited when you can hype up the crowd after making the big play. Actually getting an interception, I was excited to just be able to see a student section, then get the student section riled up, but also seeing all the family and friends out here as well."
INTERCEPTION!

Que Reid steps in front of the third-down pass and grabs his fourth career interception to put the Dukes back on the MSU 41!#GoDukes pic.twitter.com/nhLYZHszgg

— JMU Football (@JMUFootball) September 4, 2021
Reid's "bring it on" motion to elicit the cheers was meant for his JMU peers, but it works as a symbolic call to the entire Colonial Athletic Association: Football is back. Let's party.
SETTING THE TONE
If the 2021 CAA season will be a top-to-bottom slugfest — and there's plenty of reason to assume so — then the first two games of the conference slate set a fitting tone.
CAA openers New Hampshire-Stony Brook and Delaware-Maine on Week 1 Thursday featured wild comebacks and came down to the fourth quarter. Stony Brook's madcap rally in particular felt like deja vu of 2019, when the Seawolves played six games decided by a touchdown or less.
After trailing 27-0, Stony Brook scored on three possessions from the late-third quarter into the fourth then had possession in New Hampshire territory for a last-gasp effort. The Seawolves had another drive inside the 10-yard line that the visiting Wildcats bowed up to stop.
"We had our opportunities," Stony Brook coach Chuck Priore said. "We had a couple of other scores that were bang-bang, inbounds-out-of-bounds plays that were ruled out-of-bounds. That's what happens in a game that's that close."
While Stony Brook's comeback effort fell short, Delaware saw Maine roar back from a 17-0 deficit to take the lead, only for the Blue Hens to recover and mount a rally of their own in the second half.
"The game was just momentum swings," Blue Hens coach Danny Rocco said. "We went into the locker room very much on our heels."
MONIOS WITH THE BLOCK

MONTIGO MOSS WITH THE SCOOP & SCORE

MAINE TAKES THE LEAD#BlackBearNation | #CAAFB pic.twitter.com/oV9wcZrIlN

— Maine Football (@BlackBearsFB) September 3, 2021
Counterpunching the way Delaware did on the road against a good team in front of what Rocco described as a loud home crowd sets the Blue Hens on a positive course for a season with lofty expectations.
Likewise, New Hampshire going on the road without quarterback Max Brosmer and posting three passing touchdowns bodes well for the Wildcats' pursuit of a return to the postseason. Bret Edwards, who played some in 2019 but not extensively, acquitted himself well in the start.
"[Edwards] handled the ball extremely well," New Hampshire coach Sean McDonnell said. "Did some really good things, directed the offense, but also making decisions when he was out of the pocket to throw the ball away, reload and get us to another down-and-distance situation instead of taking a loss."
It also helps when teammates like Carlos Washington Jr. make tremendous blocks.
Man that's what it's all about. Hot stove!! @CWJr_26 https://t.co/wi0FkKGrvH

— Max Brosmer (@maxtbro) September 3, 2021
POP 'EM IN THE MOUTH
Sean McDonnell said safety Pop Bush "did a helluva job" in New Hampshire's win, and others seem to agree: Bush was named the FCS STATS National Defensive Player of the Week.
McDonnell praised Bush's ability to fill gaps and limit the Stony Brook run game, and that was only a portion of what the safety brought to Long Island. Bush racked up 10 tackles — three that went for losses — made a sack, forced two fumbles, broke up two passes and picked off a pass.
DROPPING BOMBS
CAA quarterbacks delivered some of the most impressive deep balls thrown anywhere around college football in Week 1. Roll the highlights!
James Madison's Cole Johnson — a sixth-year senior but making his first-ever start at Bridgeforth Stadium — opened the occasion with a beauty thrown to Kris Thornton.
.@JMUFootball strikes first! Cole Johnson with the 54-yard dime to Kris Thornton to get the Dukes on the board.#CAAFB on @FloFootball:https://t.co/JHpSKnO4zj pic.twitter.com/CeSEWhIuOL

— CAA Football (@CAAFootball) September 4, 2021
"There's not many people that can really move and cover [Thornton]," Johnson said. "It's been really nice being able to throw to him...My job is just to put it out there."
In Rhode Island's rout of in-state rival Bryant, Kasim Hill dropped a 41-yard throw to Paul Woods that set up the game's first score, a goal-line touchdown rush by Justice Antrum.
Kasim Hill with an absolutely effortless almost-50-yard dime for @RhodyFootball (via @FloFootball) pic.twitter.com/K0Fn13DQpH

— Kyle Kensing (@kensing45) September 4, 2021
While the back-and-forth, 24-22 loss to perennial SoCon contender Wofford was disappointing for Elon, Davis Cheek's long-awaited return wasn't.
Cheek threw for 312 yards and two touchdowns, one of which was among the most impressive plays at any level of the college football season's opening week.
The Phoenix moves in front❗️

Davis Cheek finds Chandler Brayboy to give @ElonFootball a one-point advantage.#CAAFB on @FloFootball:https://t.co/JHpSKnO4zj pic.twitter.com/xpPqWQY9Py

— CAA Football (@CAAFootball) September 4, 2021
"If you ask Davis, he'll tell you he missed some opportunities and he's going to want some of them back, because that's who Davis is," Elon coach Tony Trisciani said. "I thought he played a good game, and I'm looking forward to seeing him back out this week. I think that was a game that helped him get back up to speed and build more confidence."
TOTAL TEAM DEFENSE
Towson finally kicked off after the longest layoff of any CAA team, going more than 21 months since concluding the 2019 season against Elon. A new-look Tigers bunch that included quarterback Chris Ferguson — who Towson last saw on the other side of the field against Maine in 2019 — starting behind center.
Ferguson impressed in his first game as a Tiger, but perhaps the bigger storyline was who didn't star in a 31-0 blowout of Morgan State in the Battle of Greater Baltimore.
"We just played as 1-11th," Towson coach Rob Ambrose said of the program's first shutout since 2017. "I know that sounds kind of trite, but if you look at the stats, nobody had any amazing stats. We just played great defense."
Indeed, no Tiger made any more than S.J. Brown's five tackles. But Ambrose touted Towson's depth in the win, and 20 different Tigers making a tackle bears that out. A 21st Towson defender, Mark Collins, made no tackles but broke up two passes.
The Week 1 performance promises an old-school, hard-hitting affair when Towson opens CAA play against defensive-minded New Hampshire.
HOMETOWN HEROES
Week 2 marks the 20th anniversary of the Sept. 11 terrorist attacks. Memorials for those who died that day, and celebrations of the emergency workers who risked their lives to help others are planned across college football.
Although CAA football had not yet launched in 2001, two of the Colonial's present-day members are based in New York. Stony Brook is on the road at Colgate on this milestone day, while UAlbany — which sits just 150 miles from 1 World Trade Center — commemorates 9/11 with its annual Hometown Heroes celebration.
Psssstttttt!

It's officially Hometown Heroes week 👀

Who else is pumped to have fans back at Casey Stadium this Saturday?!#BeGreat #WinTheDay 🟪 🟨 pic.twitter.com/9dkWstdrmX

— UAlbany Football (@UAlbanyFootball) September 5, 2021
UAlbany coach Greg Gattuso and William & Mary coach Mike London are both former law enforcement officers. Gattuso said it's "a big event to us" every time the Great Danes hold their Hometown Heroes celebration. The anniversary on which it falls this year adds additional gravity.