Ohio High School Athletic Association (OHSAA)
Top 25 Matchup Pits IMG Against La Salle
Top 25 Matchup Pits IMG Against La Salle
Two of the nation's best — No. 5-ranked IMG Academy and No. 21 LaSalle — square off Sept. 3 in Cincinnati.
Aug 31, 2021
by Kyle Kensing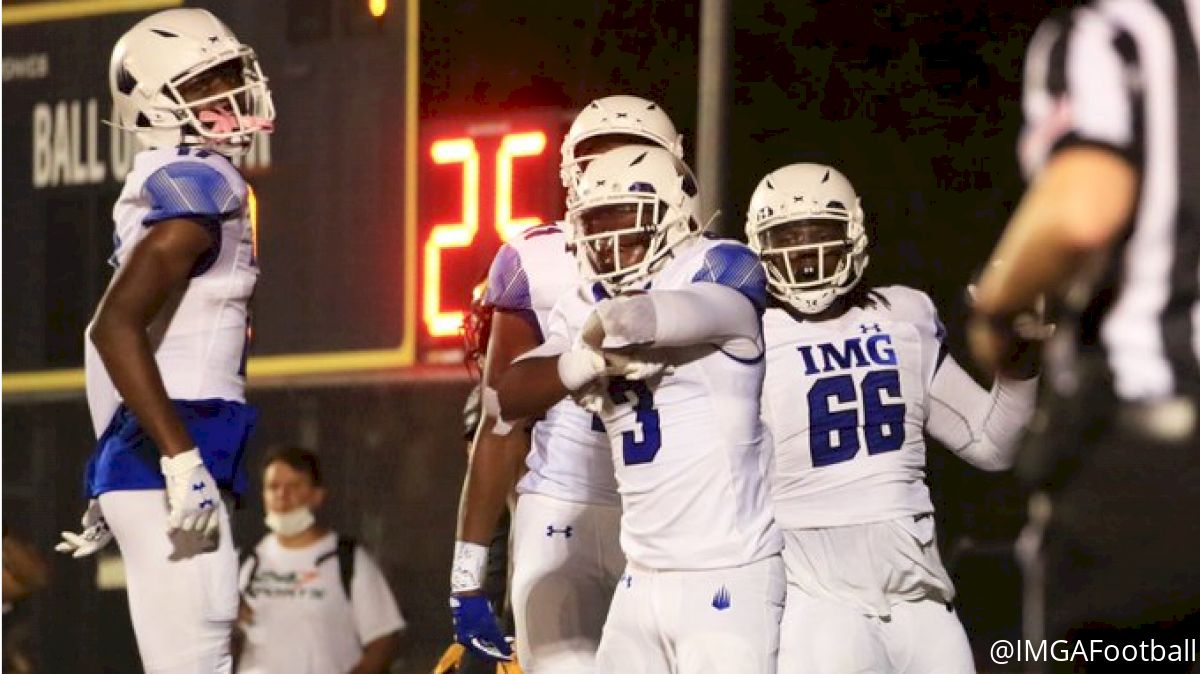 Two of the nation's top-ranked high school football teams meet in Cincinnati on Friday when the High School Football America No. 21-ranked La Salle hosts Bradenton, Florida-based powerhouse, defending national champion and fifth-ranked IMG Academy.
IMG Academy is completing a weeklong swing through Ohio, which began with an unusual game Aug. 29 against Bishop Sycamore. The 58-0 rout — which was more lopsided than the final score indicates — has much in the way of bearing on Friday's showdown at La Salle.
Lancers coach Pat McLaughlin told the Cincinnati Inquirer his coaching staff "didn't get much out of" the game film from IMG's easy win.
Conversely, La Salle opened with a pair of highly competitive games against local opponents Colerain and Winton Woods. The Lancers won 20-14 and 21-7 behind a hard-nosed defense that can expect a serious test against the talented Ascenders.
IMG Academy boasts a roster full of blue-chip college prospects, as usual, including Florida State quarterback commit AJ Duffy and Penn State running-back pledge Kaytron Allen. Duffy's new to the Ascenders offense, but Allen scored nine rushing touchdowns for the 2020 national champs.
WHAT TO WATCH FROM IMG ACADEMY
Welcome to the show‼️ @IMGAFootball 2021 hype video🎥 pic.twitter.com/jnEOhXRNfG

— IMG Academy (@IMGAcademy) August 28, 2021
Each National Signing Day in college football marks a new wave of Ascenders moving onto some of the most prominent college football programs. The class of 2022 is no exception. IMG Academy features four ranked in the 247Sports.com top 35 alone with cornerback Daylen Everette, safety Kamari Wilson and defensive end/linebacker Jihaad Campbell.
Everette and Campbell, along with class of 2022 No. 58-ranked prospect and safety Keon Sabb, are all verbally committed to Clemson.
ALL IN🐅🐅 pic.twitter.com/Qg9j7pthkK

— Jihaad Campbell (@RealJihaadC) June 27, 2021
Before Campbell's wreaking havoc on what has been one of college football's best defensive lines year after year, he's part of a pretty darn good prep line at IMG. High-4-star 2023 recruit Malik Bryant plays another end spot for the Ascenders, and 6-foot-3, 270-pound 2023 defensive tackle James Smith lines up on the interior. Smith is the most highly rated recruit in the state of Florida for his class per 247Sports. Fellow inside lineman Dominick James is the Sunshine State's No. 17-ranked prospect for 2022.
IMG is as good in the secondary as it is up front, featuring Northwestern commit Trevon Howard at safety along with Wilson and Sabb, and another Big Ten Conference-bound player at cornerback, Michigan State pledge Ade Willie.
Nick Saban has established Alabama's success in part on a formula of outstanding offensive line play, and IMG Academy is doing its part next year to continue that tradition. Tackle Tyler Booker is headed to Tuscaloosa next season, and the in the meantime, the 6-foot-5, 325-pound recruit is helping protect Duffy. Six-foot-six, 325-pound Francis Mauigoa is at the other tackle spot, and 6-foot-3, 318-pound East Carolina commit Ethan Lang is on the interior,
That gives the Ascenders size on the front five plenty of college teams can't match.
WHAT TO WATCH FROM LA SALLE
The Lancers are poised to contend for a state championship in 2021. On the road to the state crown, La Salle takes on what MaxPreps.com deems one of the toughest schedules in the entire country.
The National Juggernaut

Week Three.#ALLGas | #Mission60 pic.twitter.com/o7W3c4ABwb

— La Salle Football (@LS_LancerFB) August 31, 2021
La Salle won't see any opponent with as many highly touted recruits as IMG Academy boasts, but McLaughlin's comments to the Inquirer — focusing on star-ratings is "the wrong thing" — is a savvy approach. Besides, the Lancers feature plenty of coveted recruits in their own right. Running back Gi'Bran Payne is 247Sports' No. 6-ranked prospect in the Ohio class of 2022, and committed to the fast-rising Indiana Hoosiers.
He shares carries with Davay Hill, a combination back and defensive tackle. That's an unusual combination for a two-way player, but the 5-foot-8, 225-pound is just built different.
Davay Hill into the endzone! Touchdown Lancers!! PAT is good! Lancers up 48-17 with 6:52 to go in the 3rd. #LRD @LS_LancerFB @LaSallePride pic.twitter.com/5TaD1vmrA8

— La Salle Athletics (@LS_LancerATH) October 31, 2020
The Lancers also feature Jaylen Grant in the running-back rotation. Quarterback Mason Mattingly is a capable ball-carrier, adding another dimension to the La Salle rushing attack.
Any effective run game starts with excellent blocking, and La Salle boasts that. Six-foot-four, 315-pound lineman Paul Haywood is a top 100-ranked prospect in the state and an OHSAA All-State selection in 2020.