2021 Bryant vs Rhode Island
Impact Transfers Have Created Plenty Of Buzz Around Rhode Island
Impact Transfers Have Created Plenty Of Buzz Around Rhode Island
After a 2-1 spring that saw promising contributions from Kasim Hill and Coby Tippett, Rhode Island has its sights set on a playoff berth.
Aug 31, 2021
by Roger Brown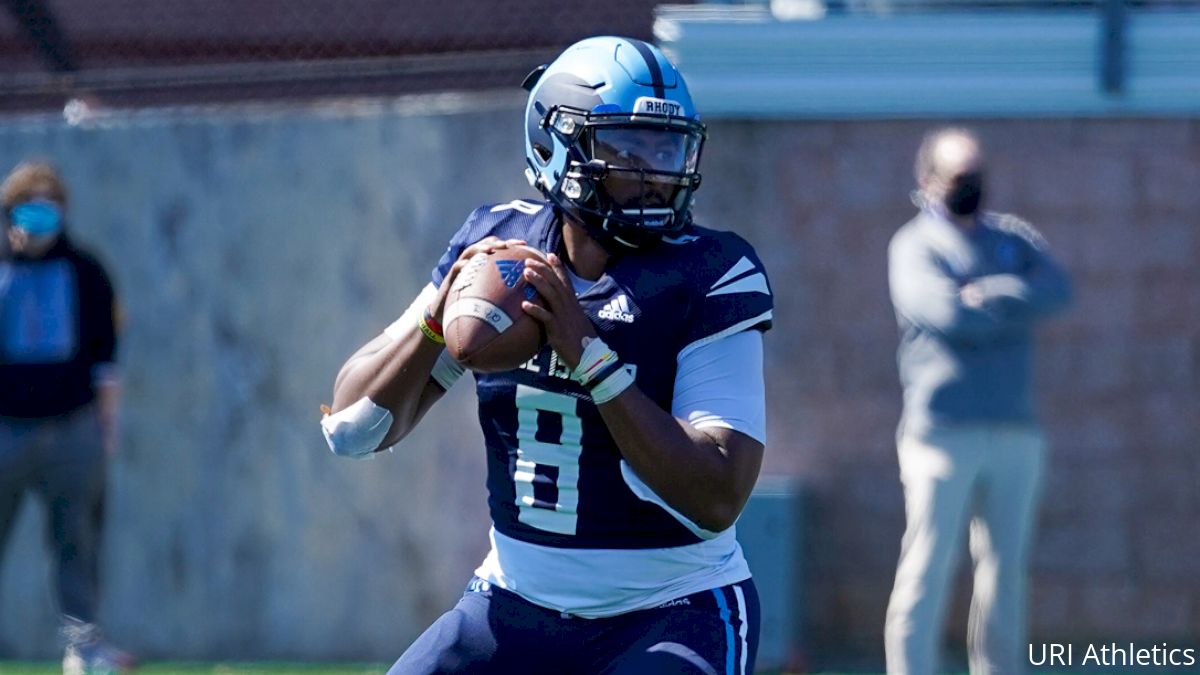 There's a fair amount of buzz surrounding the Rhode Island football team as it enters the 2021 season, as there should be.
Rhode Island's 2-1 record last spring was the program's second winning season since 2001 -- the Rams went 6-5 in 2018 -- so it's noteworthy when a Rhode Island team is picked to finish in the upper half of the 12-team Colonial Athletic Association. That was the case earlier this year, when the Rams came in at No. 6 in the CAA's Preseason Coaches' Poll. Rhode Island was also among the teams that received votes for the STATS Preseason Top 25.
"We feel really good about our football team," Rhode Island coach Jim Fleming said. "I think there is momentum. We got two wins in 2020 and we're gonna go ahead and build on that."
Defense
The Rams have one of the best defensive players in the CAA in safety Coby Tippett, who spent four years at Towson before transferring to Rhode Island after the 2019 season. Tippett had three interceptions, broke up four passes and recorded 10 tackles in Rhode Island's three spring games.
Senior captain Andre Bibeault has made 21 straight starts at defensive end, and is the team's leader up front. Bibeault, who is entering his sixth season, has 92 career tackles, including 11 tackles for loss.
There's also plenty of talent at linebacker, where senior Andre Blackett, redshirt junior Jake Fire and redshirt freshman Evan Stewart all performed well during the spring. Blackett led the team with 20 tackles in those three games. Stewart, a transfer from Boston College, recorded 15 tackles and two sacks; and Fire made 11 tackles. Fire started 11 of 12 games and was second on the team with 73 tackles during the 2019 season.
"The defense is a salty group," Fleming said. "I think we're solid up front. We're good at all three levels."
Offense
The Rams aren't lacking experience at quarterback. Redshirt junior Kasim Hill and redshirt sophomore Brandon Robinson each played in all three games in the spring.
Hill, a Maryland transfer, started in each of those three contests and completed 36-of-63 passes (57.1 percent) for 389 yards and two touchdowns. He also ran for 49 yards and a pair of touchdowns. Robinson, a transfer from Liberty, was second on the team with 63 rushing yards and averaged 21.0 yards per game on the ground. He had his most productive game against Delaware, when he ran for 43 yards and two touchdowns on nine carries and completed 3-of-6 passes for 85 yards.
The other playmakers include wide receiver Ivory Frimpong, who caught a team-high 14 passes for 186 yards and three TDs during the team's three spring games; and running back Kevin Brown Jr., a UMass transfer who was named the CAA's Offensive Rookie of the Year after he ran for 256 yards (5.2 per carry) in the spring.
The strength of the offense may be up front, however. Eleven linemen return, including all five starters.
Special Teams
Rhode Island could have a new all-time leading scorer before the 2021 season ends. Senior place-kicker C.J. Carrick has 203 career points, which is 53 shy of the program's scoring record held by quarterback Jayson Davis (2002-05).
The Rams also have an experienced punter in Davey Schaum-Bartocci, who has averaged 40.4 yards on 68 punts in 15 games with Rhode Island. He placed five punts inside the opponent's 20-yard line last spring, when he also had three punts of 50 yards or longer.
Schedule
Sept. 4 vs. Bryant (6 p.m.)
Sept. 11 at Albany (7 p.m.)
Sept. 18 at Brown (12:30 p.m.)
Oct. 2 vs. Stony Brook (noon)
Oct. 9 vs. Delaware (1 p.m.)
Oct. 16 at Towson (4 p.m.)
Oct. 23 at Villanova (3:30 p.m.)
Oct. 30 vs. Maine (1 p.m.)
Nov. 6 at Massachusetts (3:30 p.m.)
Nov. 13 vs. New Hampshire (1 p.m.)
Nov. 20 at Elon (2 p.m.)