2021 New Hampshire vs Stony Brook
Can Tyquell Fields, Re-Tooled D Lift Stony Brook To Greater Heights?
Can Tyquell Fields, Re-Tooled D Lift Stony Brook To Greater Heights?
Quarterback Tyquell Fields will look to bounce back from a shaky spring as Stony Brook heads into its 2021 fall campaign.
Aug 30, 2021
by Roger Brown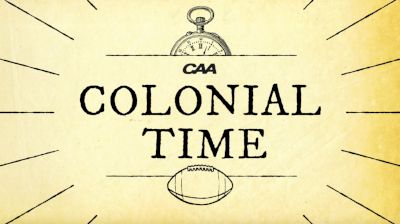 Since Chuck Priore became the program's head coach in 2006, Stony Brook has been known for its stingy defense. The Seawolves haven't played defense at their usual standard the last couple seasons, however.
Stony Brook finished the 2019 season ranked seventh among the 12 Colonial Athletic Association teams in scoring defense (27.3) and sixth in total defense (385.3 ypg). Stony Brook was eighth in total defense (362.5 ypg) among CAA teams in the spring, when it went 1-3 and allowed at least 31 points in two of its three losses.
Stony Brook was selected 10th in the CAA Preseason Poll, and to finish significantly higher than that the Seawolves will need to perform better on defense and will also need more from an offense that averaged 14.0 points and 120.8 passing yards per game during the spring. Stony Brook ranked last in the CAA in both of those categories.
"I think first and foremost, we chat about it all the time, it's being consistent at our tasks," Priore said. "I think whenever you are developing a football team it's figuring out your identity -- it's staying in touch with who you are and building those little fundamental things to be successful. Consistency is certainly one of them."
Defense
The Seawolves lost three defensive players from the spring: defensive back Augie Contressa, defensive lineman Sam Kamara and defensive back T.J. Morrison. All three signed with NFL teams as undrafted free agents.
The players who will have to step up this season include linebacker Reidgee Dimanche, defensive lineman Casey Williams and defensive back Greg Young. Dimanche started all 12 games in 2019, when he was second on the team in tackles (87), but he was injured in the spring opener against Villanova and did not play in the final three games.
"Casey will be anchoring the front for us, and then in the back end we're going to count a lot on Greg Young at the corner position," Priore said.
Defensive coordinator Rob Noel said the Stony Brook defense needs to make more impact plays, what he called "difference-making" plays.
"We have to be hungry every day to be great, whether we had a great practice or a bad practice," Noel said. "We have to be hungry every game we go into whether we won the week before or we lost. (In 2019) we might have lost a little bit of that hunger and were resting on the success we'd had in the past.
"I thought we took some good strides in the spring. I don't think we were where we wanted to be still as a defense, but I feel like what we did there is going to help us get back to that historically good Stony Brook defense this fall."
Offense
The Seawolves have one of the best offensive linemen in the country at the FCS level in redshirt senior Kyle Nunez, who received Third Team STATS Preseason All-American honors. He'll lead an experienced group up front.
The key to offensive success this season will be quarterback Tyquell Fields playing more like he did in 2019, when he accounted for 2,809 yards of total offense -- the most in school history. His 2,471 passing yards that season were the second most by a Stony Brook player.
Stony Brook struggled to move the ball through the air in the spring, however, when Fields completed 41-of-81 passes for 400 yards and had a 50.6 completion percentage.
"I think it was a difficult (spring) season for Ty," Priore said. "No. 1, and not to make any excuses, five of our top receivers did not practice in preseason because of injuries. Four of them were really never healthy, along with our tight end group, which was unavailable at various times. He also battled various injuries. He got hurt in the Delaware game, which kept him out of the second half of that game and then the whole practice week. And then he played pretty much three quarters of the Albany game with a pretty substantial knee injury.
"I'm certainly confident that he can return to what he did in 2019, but he also needs the parts around him. We need to protect the quarterback better, and we also need the guys on the outside to do their job and responsibilities. It'll be a group effort."
There's depth at running back with veterans Ty Son Lawton and Seba Nehket.
Special Teams
Stony Brook blocked four kicks during the four-game spring season. Tight end Anthony Del Negro had three of those blocks.
Both kickers return: place-kicker Angelo Guglielmello and punter Mitchell Wright. Guglielmello, a redshirt sophomore, missed two of his three field goal attempts and two of his four point-after kicks during the spring.
Schedule
Sept. 2 vs. New Hampshire
Sept. 11 at Colgate
Sept. 18 at Oregon
Sept. 25 vs. Fordham
Oct. 2 at Rhode Island
Oct. 9 at Towson
Oct. 16 vs. Delaware
Oct. 23 vs. Richmond
Nov. 6 at Maine
Nov. 13 at Villanova
Nov. 20 vs. Albany