CAA Articles
JMU Has Championship Chops In 2021
JMU Has Championship Chops In 2021
After playoff heartbreaker to close the last two postseasons, veteran presence and depth has James Madison built to bring home another title.
Aug 28, 2021
by Kyle Kensing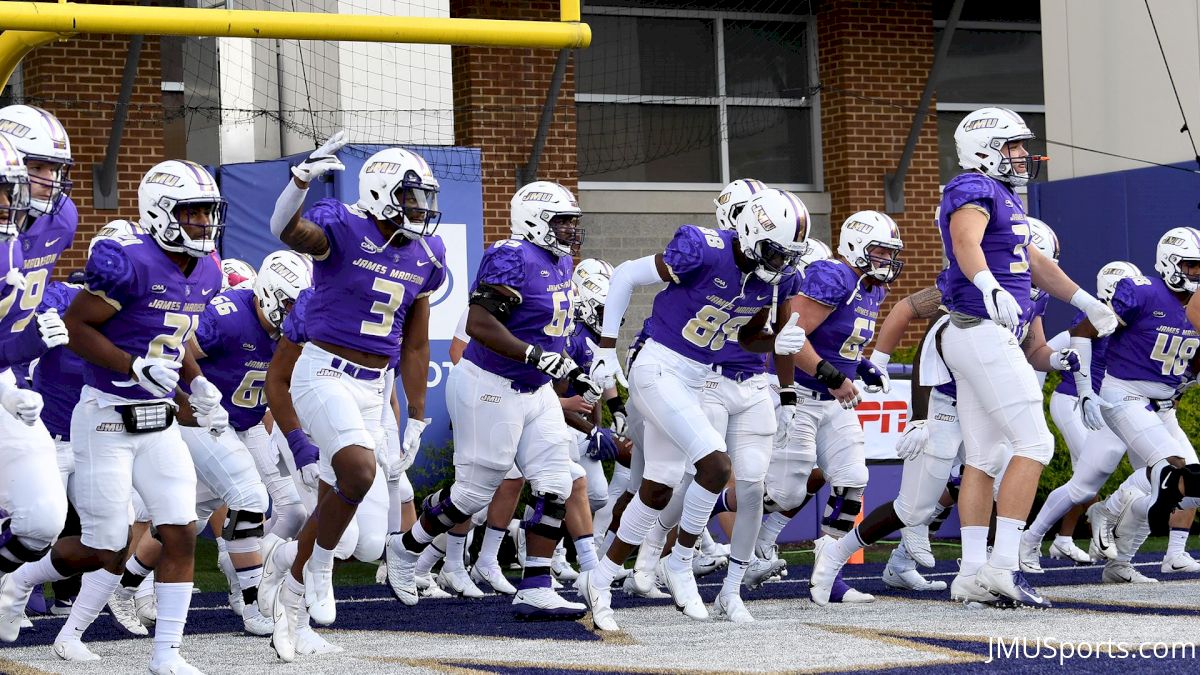 Were it not for a goal-line stand near-miss in the National Championship Game and road lead that slipped away in the national semifinal, James Madison could be talking three-peat heading into the fall 2021 season.
Rather than wallow in what-ifs, the Dukes embark on the program's 50th season focused on the championship opportunities ahead of it. First is the Colonial Athletic Association, which wasn't decided on the field in the spring; a school vote that went the way of Delaware determined the crown for playoff purposes.
With the CAA title in focus, the program's third-ever national championship comes into view later.
"That's who we are, year in and year out. We win championships," said Dukes coach Curt Cignetti. "Guys come here expecting [to win a championship...Everybody in the organization is accustomed to these expectations and committed to taking it a step further."
The next step after each of Cignetti's first two seasons at the helm came so close to national championships is obvious.
With the NCAA's eligibility rules in the wake of the COVID-19 pandemic giving upperclassmen the option to return — standouts like Cole Johnson and Mike Greene — and the spring season integrating newcomers, the 2021 Dukes don't need to go far to take that step.
OFFENSE
Cole Johnson wrote a remarkable comeback story over the course of just a few spring weeks. An underwhelming start in games against Robert Morris and Elon prompted a brief quarterback controversy, but Johnson took advantage of another chance after Gage Moloney went into COVID-19 protocols.
"Every game built on the previous game," Cignetti said of Johnson. "Really just played the position the way you want to play the position. He's entering the fall with a lot of confidence and belief."
Johnson's reemergence follows a trajectory not unlike that of former Dukes teammate Ben DiNucci, who capitalized on his final year by winning CAA Offensive Player of the Year and leading JMU to the National Championship Game.
"I'm definitely the veteran on the team, the old guy now," said Johnson, a sixth-year senior. "I feel a lot more confident going into this season."
Quarterbacks oftentimes take too much blame in defeat and receive too much credit in victory, but it's fair to deem Johnson's play the most central facet of the Dukes' championship prospects. The running-back rotation around him and offensive line in front of him just might be the best in the nation.
Johnson's case gets a boost with the return of his top targets Antwane Wells Jr. and All-CAA selection Kris Thornton. With the big-play threat Wells and reliable Thornton James Madison may have the best one-two receiving tandem in the nation.
Likewise, the offensive line could be college football's best, starting with the return of Liam Fornadel from injury. The All-American anchors a unit that also returns veteran tackle Nick Kidwell and center J.T. Timming. Youngsters who saw valuable snaps in the spring, like guard Cole Potts and tackle Tyler Stephens, contribute to the depth and versatility line coach Damian Wroblewski has in his room.
As for who's playing behind that line, Percy Agyei-Obese would be a no-brainer call for the Walter Payton Award based on his track record — which includes going for 1,216 yards and 19 touchdowns in 2019 — were he called on to carry as often as some of his national counterparts.
Coming to a stadium near you this fall...

Percy Agyei-Obese and the offense are ready to roll in 2021!#GoDukes pic.twitter.com/1d4I61j7ql

— JMU Football (@JMUFootball) July 27, 2021
The depth the Dukes boast at running back may not be conducive to individual accolades, but it's great for team success.
JMU features a back for an occasion, from the every-down stalwart Agyei-Obese to thumper Latrele Palmer and speedy change-of-pace option Solomon Vanhorse. Kaelon Black provided a heckuva sneak preview in March when he torched William & Mary for 170 yards and a touchdown.
Rhode Island transfer Zoe Bryant Jr., meanwhile, is a proven commodity against CAA competition, having led the Rams in rushing in both 2018 and 2019.
DEFENSE
James Madison's defense wasn't merely dominant in 2019; it was downright oppressive of offenses. The Dukes held opposing rushing attacks to 2.6 yards per attempt and fewer than 75 per game, picked off almost as many passes (17) as were allowed for scores, and just in general overwhelmed one team after another.
Replacing NFL playmakers John Daka and Ron'Dell Carter at each end spot could have been an impossible task at most programs, but coordinator Corey Hetherman sliding Mike Greene from the interior out to the edge ensured the Dukes kept a pro-caliber presence at end.
The versatile Greene remains the mantlepiece of the defense in the fall, but the spring previewed the emergence of another pass-rush star in Mikail Kamara. The freshman racked up three sacks and 4.5 tackles for loss, while fellow first-year contributor James Carpenter established himself on the interior with five tackles for loss and two sacks.
The line also adds Towson transfer Bryce Carter, and another playmaker at end allows Greene to slide back to tackle.
Kelvin Azanama adds to the unrelenting pass-rush, having posted team-highs of four sacks and five quarterback hurries, while also helping to contain the run. He and veteran Diamonte Tucker-Dorsey pack a potent punch in the linebacker corps. And, for Tucker-Dorsey as a fourth-year player, there's motivation to take his production to a higher level.
money year

— Diamonté (@TuckerDorsey_) August 21, 2021
Depth in the secondary was a point of emphasis in the offseason according to Cignetti, and the addition of transfers like John Ransom from Virginia Tech — who joins another former ACC cornerback, Greg Ross — brings what the coach called needed competition.
Whomever emerges in the secondary will be contributing alongside M.J. Hampton. The veteran safety is a problem.
Oh my pick-six and @jmufootball takes the lead!

MJ Hampton returns the interception 83 yards!!!#CAAFB on @flofootball pic.twitter.com/owoM3ILbDT

— CAA Football (@CAAFootball) October 12, 2019
SPECIAL TEAMS
Both placekicker Ethan Ratke and punter Harry O'Kelly are among the best at their jobs in college football. Ratke holds a bevy of JMU and CAA kicking records, including the career made field-goal and scoring marks.
O'Kelly, the Australian product, was a spring All-CAA selection and preseason 1st Team honoree.
Solomon Vanhorse has experience in the return game; as does Jack Sroba, who manned the majority of punt returns in the spring.
THE SCHEDULE
Sept. 4 vs. Morehead State - FloFootball
JMU cruised past Morehead State to kick off the spring season, 52-0.
Sept. 11 vs. Maine - FloFootball
CAA champions in the last two fall seasons, the Dukes and Black Bears have not played since 2017.
Sept. 18 at Weber State
One of the premier nonconference matchups of the FCS season is a rematch from the 2019 Playoffs featuring the 2021 favorites in the CAA and Big Sky.
Oct. 2 at New Hampshire - FloFootball
The Dukes rolled over the Wildcats in 2019, 54-16. The last head-to-head meeting between coaches Cignetti and Sean McDonnell was a 30-9 Elon win in 2018.
Oct. 9 vs. Villanova - FloFootball
A big fourth quarter powered James Madison past Villanova in an excellent 2019 contest. M.J. Hampton's pick-six was a catalyst for the Dukes' win.
Oct. 16 at Richmond - FloFootball
No love lost between in-state rivals JMU and Richmond. Both feature some of the best defensive line talent in the FCS.
Oct. 23 at Delaware - FloFootball
Not playing each other in the spring resulted in minor controversy, but the Dukes and Blue Hens get to settle it on the field in the fall.
Oct. 30 vs. Elon - FloFootball
Curt Cignetti coached Elon to consecutive playoff appearances in 2017 and 2018. His defensive coordinator, Tony Trisciani, now heads up the Phoenix.
Nov. 6 vs. Campbell - FloFootball
The Fighting Camels showed plenty of promise in their first season as a scholarship program last fall.
Nov. 13 at William & Mary - FloFootball
A 38-10 rout of the Tribe last March marked a turning point in the Dukes' run to the national semifinals.
Nov. 20 vs. Towson - FloFootball
A strong start buoyed James Madison to a grind-it-out win when these teams last met during the 2019 season.