2021 UTEP vs New Mexico State
After Tumultuous Spring, New Mexico State Relishes Week Zero Date With UTEP
After Tumultuous Spring, New Mexico State Relishes Week Zero Date With UTEP
New Mexico State opens 2021 as heavy underdogs against UTEP after a tumultuous year for its program.
Aug 24, 2021
by Roger Brown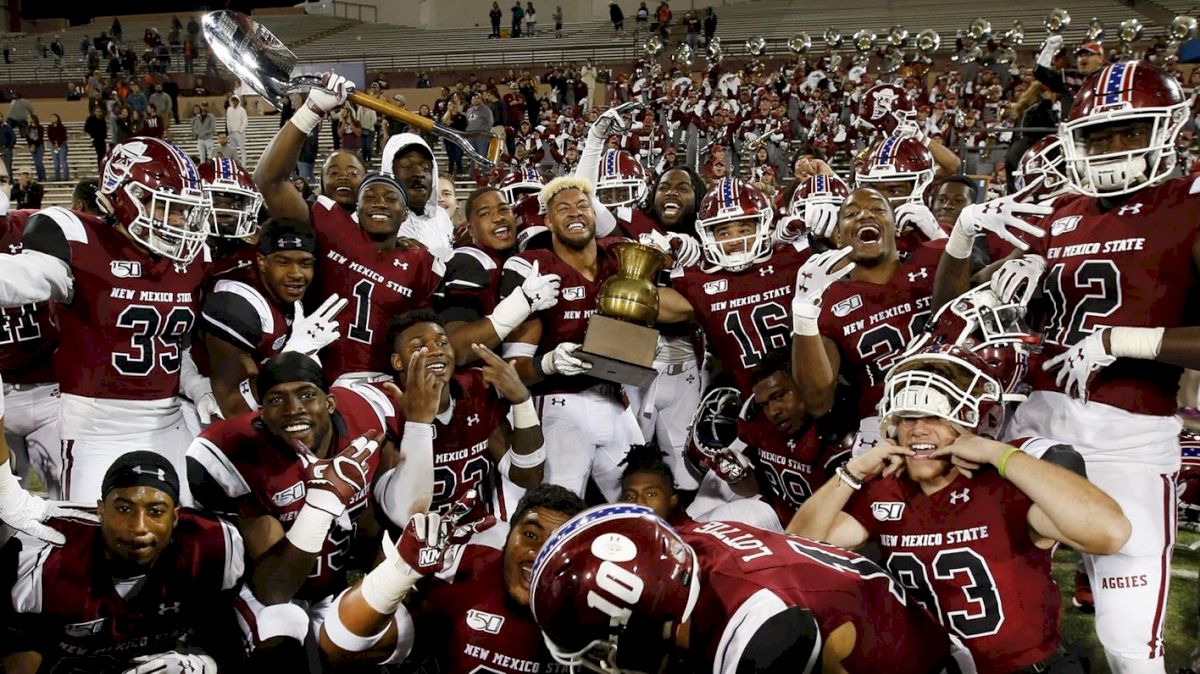 New Mexico State coach Doug Martin said he likes the fact that his team is facing UTEP in one of five Week 0 games this weekend. The way Martin sees it, the Aggies' opener couldn't have come soon enough.
New Mexico State had its 2020 season cancelled, and then played two games -- both against FCS opponents -- during the spring. The Aggies lost to Tarleton State (43-17) and beat Dixie State (36-29).
"I think our players are extremely excited about getting to play football games again," Martin said. "We played two games in the spring, but they were really more scrimmages for us trying to get everybody acclimated to playing again.
"We were off the football field for over 400 days. People think we just missed the games -- we didn't just miss the games. We didn't even get to practice for more than 400 days, so this has been a huge blow to our program. Something we're trying to overcome."
New Mexico State and UTEP will meet in the Battle of I-10 on Saturday ((:30 p.m.) in Las Cruces, N.M. UTEP leads the series 57-38-2, but New Mexico State has prevailed in the last three meetings after losing eight straight from 2009 to 2016.
UTEP coach Dana Dimel said opening the season against a rival made it easier for the Miners to remain focused -- and motivated -- during summer camp.
"It's always great camp preparation when you have a game Week 0," he said. "That's always something that gets your team on edge. When you're playing your arch-rival in your opener, I think that gets you really ready to compete and have a great camp; and also opening up on the road. There are definitely some challenges for us with those three things.
"We are also playing an opponent who only played two ball games last year, so there's not as much film to study, but they haven't had much turnover on their coaching staff so there are a lot of similarities to when we played them in 2019. We have all that film to study. We're just getting our guys ready to go and we're excited about our first opportunity of the season."
Quarterback Options
Although many expect JUCO transfer Jonah Johnson to start at quarterback for New Mexico State, the Aggies could use freshman Weston Eget at some point as well. Johnson took most of the snaps in the two spring games.
"Jonah does bring a little bit more ability to run," Martin said. "In the running game he becomes a weapon there. Westin can run. He can do some things, but Jonah is probably a little bit better in that area.
"They both have really accurate arms. They both have strong arms. I think the biggest thing is both of them give us something at the quarterback position we haven't had since 2017, and that's the ability to throw the deep ball. We've really been limited in stretching the field vertically in the last couple years, and that's really hamstrung our offense somewhat. I would expect both of these guys are going to have to play for us this year. Both of them are going to have to win games for us."
No matter which QB takes the snaps, he'll be operating behind an offensive line that may be the strength of the team. That group includes Ole Miss transfer Eli Johnson and left tackle Sage Doxtater, a redshirt senior who has started since his freshman season. Johnson started 12 games at center for Ole Miss in 2019.
The Aggies also added running back O'Maury Samuels to the mix. Samuels, who was a four-star recruit, sat out the 2019 season after transferring from Michigan.
Passing Judgement
UTEP returned eight offensive starters from a team that went 3-5 overall (0-4 Conference USA) in 2020. The Miners averaged 23.0 points per game in those eight contests, but will be looking for more from redshirt sophomore QB Gavin Hardison, who tossed five TD passes and was intercepted five times in seven games during the 2020 season. Hardison completed 108-of-199 passes for 1,419 yards (54.3 percent completion percentage).
Dimel said he expects better decision-making from Hardison, who is entering his second second as a starter.
"The big thing with Gavin is that all we've done is show him multiple pressure looks (in practice)," Dimel said. "Throughout camp he's seen a lot of pressure and is really understanding how the pressure can create mismatches with the speed that we have at receiver now. He's understanding how to take the matchups and take what they give us and get us into great matchups, which is going to come from being a more experienced quarterback."