2021 Don Bosco Prep vs St. John's
Don Bosco, St. John's College Bring Similar Styles
Don Bosco, St. John's College Bring Similar Styles
Two of the best high school football teams on the East Coast bring matching philosophies on physicality into an anticipated matchup.
Aug 25, 2021
by Kyle Kensing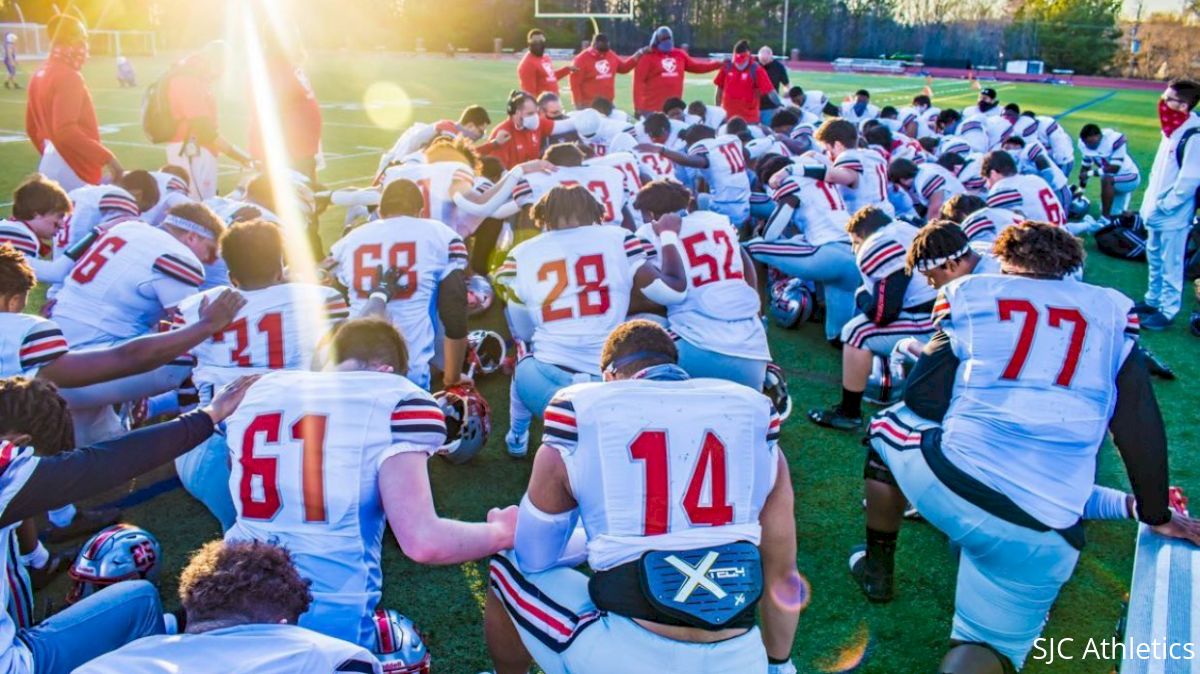 The adage Iron sharpens iron is popular in football circles for conveying how strengths and similarities bring out the best in athletes. It's a phrase St. John's College High School coach Pat Ward invoked when discussing the 2021 preparation of his team, and it applies to a high-profile, season-opening matchup with Don Bosco Prep.
"What coach [Dan] Sabella's built there is something I want to emulate," Ward said of Don Bosco.
The respect is mutual. Sabella, whose program is consistently among the best not only in New Jersey, but the entire Northeast, said kicking off with St. John's College in Washington, D.C. is an ideal way to open the season.
"When you play against top talent, you find out a lot about yourself and it's how you get better," Sabella said.
Sabella's sentiment echoes that of Ward. And it's not just the coaches' shared respect for the others' teams that makes Don Bosco and St. John's College similar. When the Cadets and Ironmen square off in the nation's Capitol Aug. 28 on FloFootball, expect hard-hitting, tough football, the kind that Ward said "brings out the best in us and [Bosco], too."
In other words, like iron sharpening iron.
The pairing of Atlantic Seaboard powers will show each team something about itself, as both Sabella and Ward noted, and the winner will earn some East Coast bragging rights and a boost in the national high-school rankings. But more so, this showdown of D.C. vs. Jersey is an exciting welcome-back for athletes who have been unable to travel for out-of-state competition in two years due to COVID-19.
"It's something that definitely attracts a lot of kids to our program," Sabella said, pointing specifically to games against such teams as St. John's College and in 2019, California-based national champion St. John Bosco.
"We play in a great league, but we have five teams in our division and know each other really well," Ward said. An opponent the caliber of Don Bosco provides a new challenge and a break-up of some monotony.
It's also a showcase for the standout players that fill both rosters — of which there are no shortage.
What to Watch From Don Bosco
New Jersey is known for the kind of tough-minded, blue-collar identity popularized in Bruce Springsteen's music. It's perhaps no coincidence that Sabella said blue collar is just what he wants from Don Bosco.
Leading the way of that pursuit is linebacker Timmy Hinspeter. He's a two-time team captain and according to Sabella, "plays the game you want the way you want it to be played, like a real Ironman."
Congratulations to our 2021 Bosco Captains! You join a special group of guys! @TimmyH_44 @BohmKyle @claudy_robinson @CBisontis @rossi_brayden #BoscoFootball pic.twitter.com/9vfk7moqCG

— Bosco Football (@DBP_Football) August 9, 2021
"He plays with a lot of raw emotion," Sabella added. :A lot of our guys feed off him. He's experienced, he's somebody who everybody looks up to and definitely sets the tone for us. "
Hinspeter, ranked one of the Garden State's 10-best linebackers by NJ.com, is headed to the Naval Academy after Don Bosco.
On offense, the Ironmen feature an offensive line with the state's top-ranked prospect in the 2023 per 247Sports.com, tackle Chase Bisontis, and guard Chris Moreno.
"We definitely have a lot of experience there," Sabella said of the line. "We have some new faces as well, but we feel as they continue to get experience, we should be really good up front."
The offensive line and wide receiver are two position groups with plenty of depth. Receiver Omaree Walker has the eye of recruiters from the ACC, and ranks in 247Sports' top 10 of 2023 New Jersey prospects.
What to Watch From St. John's College
Ranked No. 37 in the MaxPreps.com top 100, St. John's College, the Cadets start the 2021 season in position to make serious moves toward a national title. It's easy to look at the defense and see why.
St. John's College boasts a number of elite playmakers, including David Ojiegbe and SMU commit Isaiah Smith. The talented Cadets defensive line should make for an intriguing matchup with the stout Don Bosco offensive line.
Completing the SJC talent in the trenches is an outstanding back-end. Cornerback Joshua Thompson is headed to Stanford next year, a commitment reflective of a pursuit Ward said is central to the program's philosophy.
"If you have a 4.0, [a player can catch the eye of] Stanford, or Alabama, or Texas, or Princeton and Harvard," he said.
Likewise, Thompson's partner in the secondary — Shamori Stone Jr. — is pledged to Michigan.
Man-for-Man @SJCGridiron 🛡⚔️ has one of the most talented Defensive backfields I've seen in HS

☝🏽of them is @umichfootball commit @shomaristonejr . HARD WORKER. On-Field Development has been phenomenal

Ricardo Report @dcsaasports PreSzn Tour‼️#HiDefHigh #HDHS 📺 pic.twitter.com/DeU51U7qRh

— Chad Ricardo (@RealChadRicardo) August 11, 2021
Zahbari Sandy is also in the Cadets backline, and the 2023 recruit has garnered interest from a variety of ACC and Big Ten programs including Penn State and Louisville. The battle of two outstanding lines is mirrored in a matchup of elite secondary against elite wide-receiving corps.
SJC features its own noteworthy talent at receiver, too. Senior Josh Gary was one of the players Ward credited for making remarkable strides in the summer ahead of the Cadets' marquee opener. Sean Williams is another player to watch in the Cadets passing game.