CAA Articles
New Hampshire Eyes Return To Postseason In 2021
New Hampshire Eyes Return To Postseason In 2021
New Hampshire was picked to finish fifth in the CAA as the Wildcats look to start a new postseason streak in 2021 after missing in '18 and '19.
Aug 23, 2021
by Roger Brown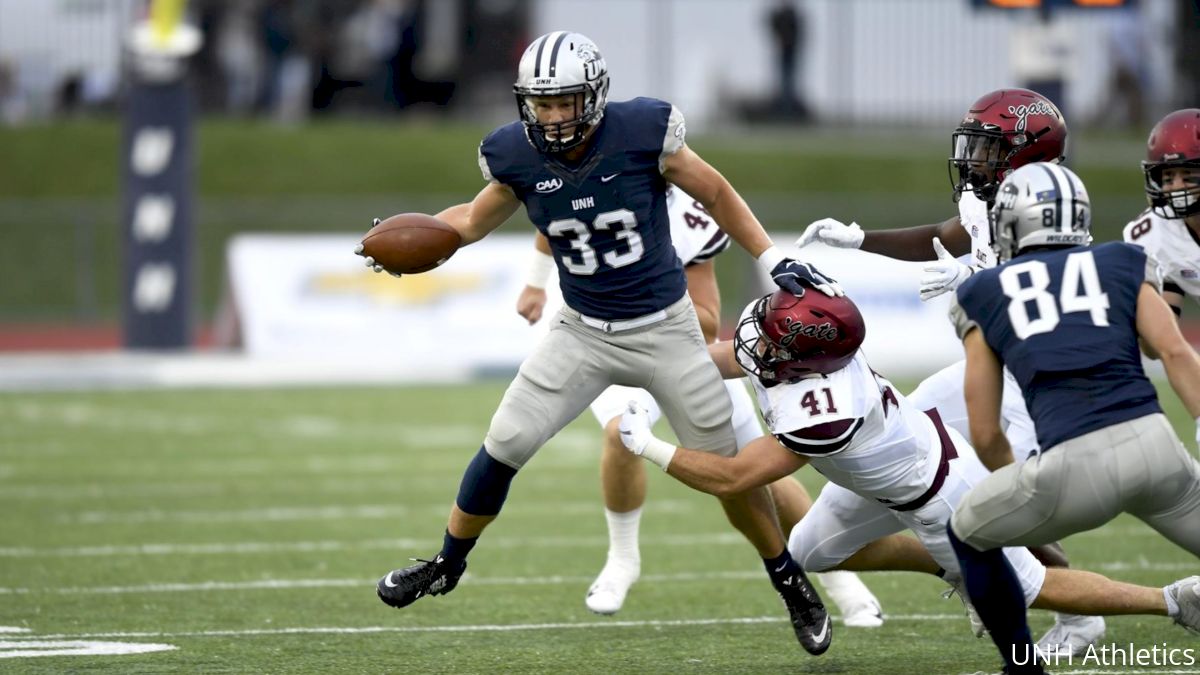 There was a time when it seemed like the NCAA rubber-stamped New Hampshire a spot in the FCS playoff field each season. The Wildcats qualified for postseason play 14 years in row (2004-2017), but haven't tasted the playoffs since that 2017 season.
New Hampshire failed to make the playoff field in 2018 and 2019, the team's 2020 season was cancelled, and its 2021 spring season ended after one game because of issues related to COVID-19.
The Wildcats were picked fifth in the Colonial Athletic Association's preseason poll, and enter the 2021 season hoping to start a new postseason streak.
"Historically we've had amazing football teams," New Hampshire quarterback Max Brosmer said. "We've lost that over the past (two) years. There's something brewing in our locker room right now. We want to come out and show the country what we've got, because people are sleeping on us."
Defense
Safety appears to be the strength of New Hampshire's 4-2-5 alignment. That group is led by senior Evan Horn, who entered the transfer portal before returning to Durham. Horn, a member of the CAA Preseason All-Conference Team, is New Hampshire's active leader in career tackles (174), interceptions (11), and sacks (seven), as well as punt return yards (165). He's started 23 consecutive games, and has 30 career starts.
The defensive line will be led by tackles Elijah Lewis and Niko Kvietkus, both of whom are returning starters.
Unlike the 2019 season, when New Hampshire was extremely thin at middle linebacker, that position now has plenty of depth. Oleh Manzyk and Zedane Williams figure to be the starters, with Ryan Toscano and Navy transfer Bryce Shaw competing for playing time.
"We have four pretty good linebackers there," UNH coach Sean McDonnell said. "To me, besides the safeties and the DTs, this is gonna be a big strength of our defense."
The question marks are at defensive end, where Brian Carter surrendered his final season of eligibility, and cornerback.
Offense
New Hampshire will be looking for more production from Brosmer, who completed 183 of 311 pass attempts for 1,967 yards as a freshman in 2019. He threw 12 TD passes and had 12 passes intercepted.
Unlike New Hampshire's abbreviated spring season, Brosmer will be working with a healthy set of receivers. There's also talent and depth at running back, where Dylan Laube and Carlos Washington will likely get most of the playing time. Washington was second on the team in rushing yards during the 2019 season (652 yards/4.4 ypc).
"Running back position -- I'm excited about that one," McDonnell said. "Washington and Laube are very, very good football players."
There's a handful of players with significant experience up front, and McDonell said that group needs to show improvement.
"Where we have to be good is the offensive line," he said. "That's the position where we have to take the next step to get back to where we want to go, sort of like the corners on the defensive side of the ball."
Special Teams
The return game appears to be in capable hands with Horn and Laube, but the Wildcats will be breaking in at least one new kicker since punter Drew Sanborn and place-kicker Jason Hughes have departed.
"Jordan Conn right now is the placekicker to beat," McDonnell said. "We have a plethora of kickers and punters and we have to figure out what they're going to do. I feel comfortable in the return game."
UNH had a point-after attempt blocked in its only spring game, a 24-20 loss to Albany.
Schedule
Sept. 2 at Stony Brook (6 p.m.)
Sept. 11 vs. Towson (6 p.m.)
Sept. 18 at Lafayette (12:30 p.m.)
Sept. 25 at Pittsburgh (TBA)
Oct. 2 vs. James Madison (3:30 p.m)
Oct. 16 vs. Dartmouth (1 p.m.)
Oct. 23 at Elon (2 p.m.)
Oct. 30 vs. Richmond (1 p.m)
Nov. 6 at Albany (1 p.m)
Nov. 13 at Rhode Island (1 p.m)
Nov. 20 vs. Maine (1 p.m)