2021 Mater Dei vs Duncanville
Powerhouses Mater Dei, Duncanville Tangle In Texas
Powerhouses Mater Dei, Duncanville Tangle In Texas
Prep powerhouses Mater Dei and Duncanville face Aug. 27 in Texas for a matchup of nationally ranked prep powers.
Aug 21, 2021
by Kyle Kensing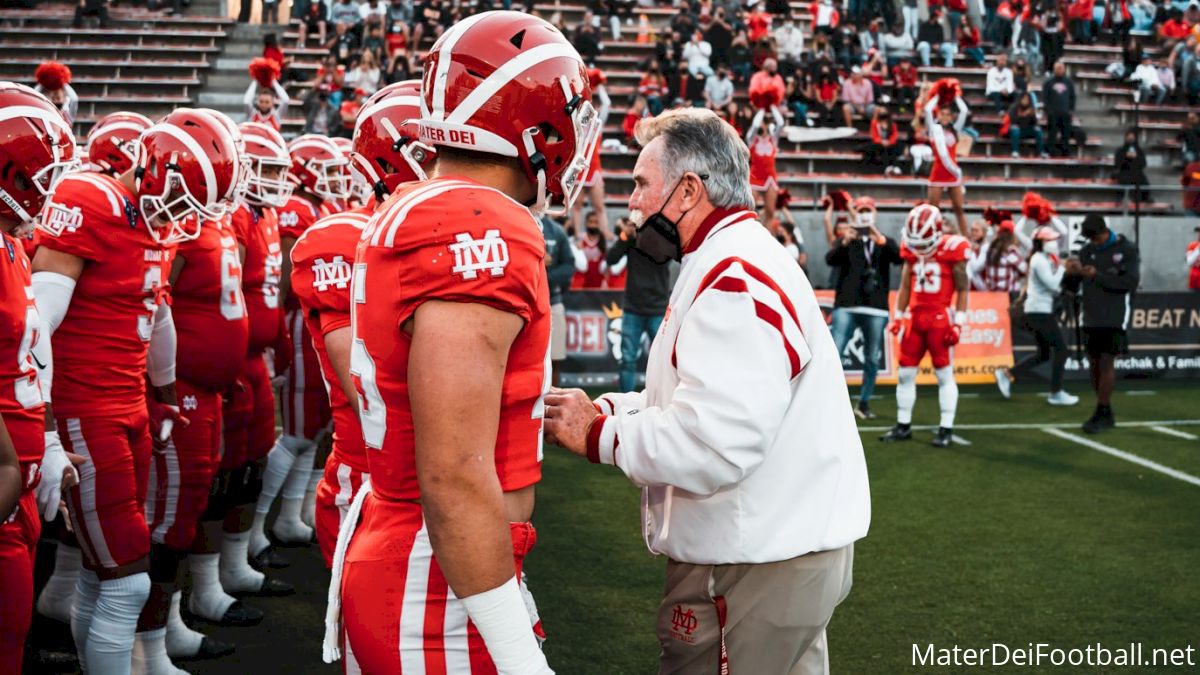 Fall Friday nights all over America, and especially in Texas, high school football is a tradition as woven into the cultural fabric as fireworks on the Fourth of July.
So when the COVID-19 pandemic dimmed the lights on high-school fields around the nation, it functioned as one of the darkest reminders of the virus' impact. Prep teams returning to a true autumn season marks an important milestone in this era — even if it's not entirely normal.
---
Who: Mater Dei vs. Duncanville
When: Friday, Aug. 27 at 7:30 p.m. CT/5:30 p.m. PT
How to Watch: FloFootball
---
"It's 80 percent normal with a 20 percent [unusual element]," said Mater Dei (Santa Ana, Calif.) coach Bruce Rollinson, whose team faces Duncanville (Texas) High School in one of the most highly anticipated games of the 2021 season, Aug. 27 at 7:30 CT/5:30 PT on FloFootball.com.
To the 80 percent normal, Mater Dei returns to an autumn schedule after sitting out last year due to California state regulations. The Monarchs played a five-game slate in the spring entirely against opponents from the California Interscholastic Federation Southern Section's Trinity League. In typical years, Mater Dei faces opponents from around the country — like Duncanville.
That makes the matchup of the nation's No. 1 and No. 15-ranked teams, per the MaxPreps.com poll, something more closely resembling normal. But challenges remain.
The Monarchs' trip to the Dallas-Fort Worth metroplex marks the season opener for both teams, but was originally scheduled to be Mater Dei's second game. An Aug. 20 date with fellow CIF Southern Section powerhouse Corona Centennial was cancelled due to contact tracing and replaced with a scrimmage.
"Kids are resilient, but you still have to be careful," Rollinson said. "We're hoping to go all the way to early December, and you've got to try to keep the worry away from them but yet, every morning, it's something different [for which to prepare].
"At least we're going to see somebody else beside whacking at each other every night," Rollinson said of moving the opener to a scrimmage.
That tune-up leads the nation's top-ranked team into the opener with a Duncanville team with designs on a Texas state championship — and possible national title.
The Panthers went 10-2 in 2020, ultimately losing a 34-27 thriller to powerhouse Southlake Carroll in the 6A semifinals.
Duncanville coach Reginald Samples told the Dallas Morning News, "It's not about a state title," so any talk of the national championship associated with the Panthers' matchup against No. 1 Mater Dei can presumably be written off as just noise for now.
Regardless how it shapes the national rankings, or sets either team on its course for a state championship, the return of Friday night football around the country pops off like a Fourth of July firework most prominently from Texas.
What to Watch from Mater Dei
In Bruce Rollinson's nearly four full decades at the helm, Mater Dei has routinely produced some of the most high-profile high school football players in the nation; recent examples include Detroit Lions wide receiver Amon-Ra St. Brown and Georgia Bulldogs quarterback JT Daniels.
The 2021 Monarchs are no exception with playmakers up and down the roster. Quarterback Elijah Brown burst onto the scene as a freshman last spring, passing for 15 touchdowns against just one interception in five games.
Now a sophomore, Brown is throwing to a wide-receiving corps that features UCLA commit Cooper Barkate and Notre Dame commit C.J. Williams, while sharing a backfield with Oklahoma-bound running back Raleek Brown.
But the deepest and most impactful position group on a stacked Mater Dei lineup might be the linebackers corps. The group includes David Bailey, 247Sports.com's No. 3-ranked linebacker in the class of 2022; Texas commit Eoghan Kerry; and highly touted 2023 prospects Tre Edwards (USC commit) and Leviticus Su'a.
"They all played in the spring season and were a force," Rollinson said. "Could this be one of the best groups?...Yeah, we're excited about the potential of that unit."
And that's before listing off Lyrik Fata, a senior who Rollinson said sustained a turned ankle and on whose status the team is awaiting. In the meantime, Kerry — a transfer into the school in the summer of 2020 — earned high praise from Rollinson.
"He just keeps getting better and better and better," he said. "And the other kid we thought had potential in the spring, Malaki Te'o, really showed up."
#3StriperSpotlight: SR LB Malaki Te'o

Welcome back, Malaki. 👏

\|/ pic.twitter.com/zZ9oaAHgyp

— Mater Dei Football (@MDFootball) August 17, 2021
Around that deep linebacker corps include cornerbacks Domani Jackson, a future USC Trojan and the No. 1-ranked prospect in California's 2022 class, and San Diego State commit Josh Hunter.
What to Watch from Duncanville
A preseason favorite to win the UIL 6A state championship, Duncanville heads into 2021 loaded at every position.
The Panthers' prowess starts on the lines, where they boast two of the most celebrated players in the Lone Star State with defensive end Omari Abor and Florida State-bound offensive tackle Jaylen Early.
10000000% committed 🍢🍢 pic.twitter.com/wUjmg9s54B

— Jaylen Early (@EarlyJaylen) August 2, 2021
When Early heads to Tallahassee next year, he won't be alone: Duncanville tight end Jerrale Powers is also committed to Mike Norvell and the Seminoles.
Other Panther linemen with Power Five college commitments include Oregon State pledge Quincy Wright, a 6-foot-2, 270-pound interior presence and offensive tackle Cameron Williams, who in the future will be Wright's rival at Oregon.
Duncanville's experience on both sides of the ball fuel the lofty expectations awaiting the Panthers in 2021, but perhaps the most intriguing spot on the roster is one in which a new starter takes over. Duncanville has a quarterback competition ahead of the season opener, with Solomon James and Ja'Meir Willis vying for the job.
"We have a young kid that has a lot of potential and we think is our future, and we've got a senior kid with some experience," coach Reginald Samples told the Dallas Morning News. "We're excited about the quarterback position. They're competing."